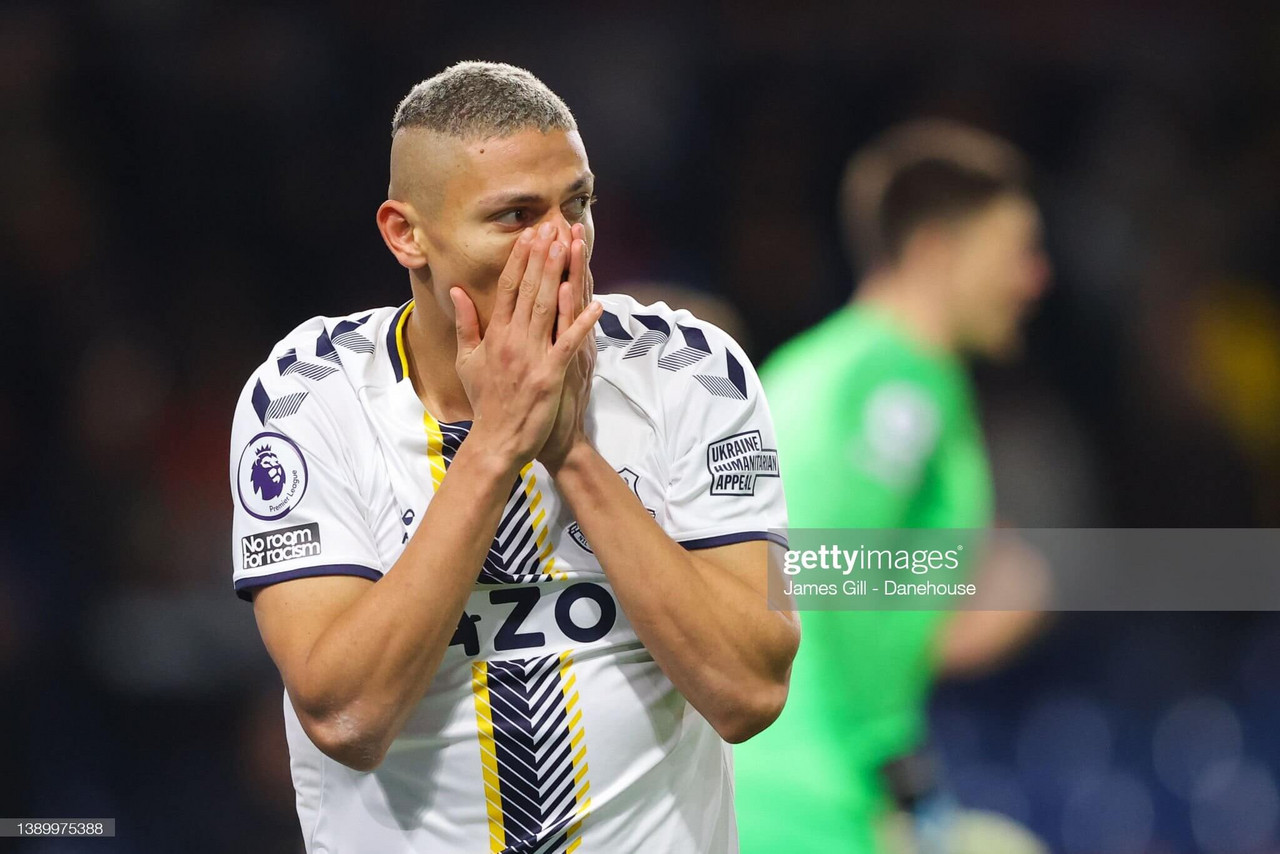 Sixty-eight years and counting, but for how much longer? Everton's 3-2 defeat at the hands of fellow relegation strugglers Burnley leaves the Merseyside club's unbroken top-flight stay in real jeopardy. Time is running out for Frank Lampard's team and points remain unforthcoming. Losing to Burnley only drags them further into a bleak future.
The topsy-turvy game at Turf Moor showcased, once again, Everton's inability to hang on for precious points. They were 2-1 ahead before goals from Jay Rodriguez and Maxwel Cornet secured one of Burnley's most vital Premier League triumphs in recent years. However, it was the words of Burnley manager, Sean Dyche, at full time that were the most damning.
Dyche roused his players at the break by reminding them that Everton have "forgotten how to win". Such a cutting comment will have hurt Everton, but it's true. Since taking over in February, Lampard has overseen just two league wins, against Leeds United and Newcastle United, along with cup victories over Brentford and Boreham Wood. And over the course of the campaign, Everton have been as dismally poor as their 24-point tally suggests.
Everton have won on seven occasions in the league this season, and six of those have been at Goodison Park. Their sole triumph away was at Brighton & Hove Albion in August in the relatively halcyon days of Rafael Benitez's short-lived reign. That away record of 11 defeats, three draws and 33 goals conceded is by far the worst in the division.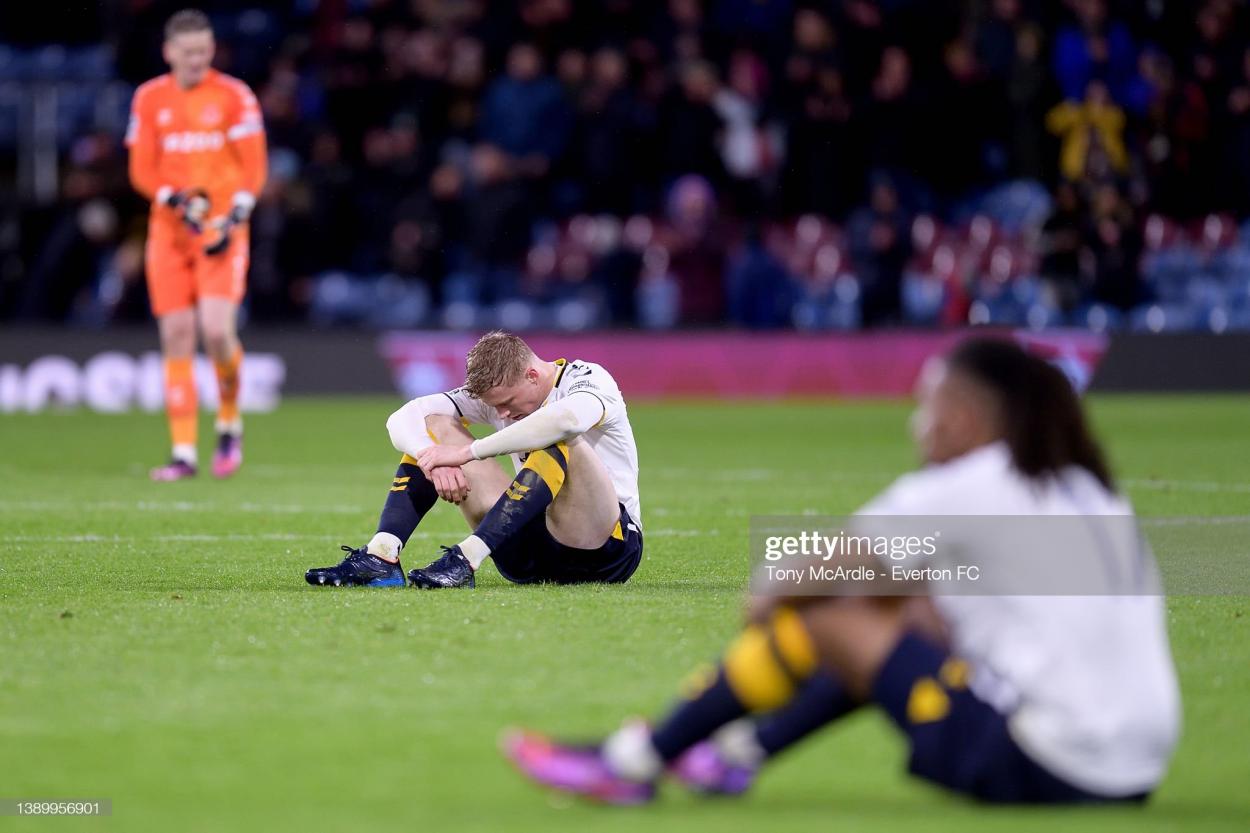 The debacle at Turf Moor, seen by many Everton supporters as a must-not-lose if not necessarily a must-win game, only added to the worrisome picture. They have now picked up 12 points since October 1 and have lost seven successive away fixtures in all competitions for the first time since 1961. Such statistics are damning and don't appear to be changing any time soon.
To add insult to injury, Burnley's opening goal came via a corner; the tenth time this season that Everton have been undone from such a route to goal. With their 17th place in the table now just relying on the one point they have over Dyche's side, they face the prospect of dropping into the relegation zone when they meet Manchester United on Saturday and Burnley host bottom-side Norwich.
After this coming weekend, Everton have home matches against Leicester City, Chelsea, Brentford and Crystal Palace along with trips to face Leicester at the King Power stadium, Liverpool, Watford and Arsenal. Out of the nine games remaining, including United, Lampard can only realistically call on three of them to yield points. However, putting all eggs in, say, the Watford match would prove foolish — Everton will need more than that.
Where points, and wins, come from remains to be seen. Rediscovering that winning feeling is proving a painful exercise. Everton's campaign has moved from disjointed to disappointing and now onto disbelief. What's next? Despair?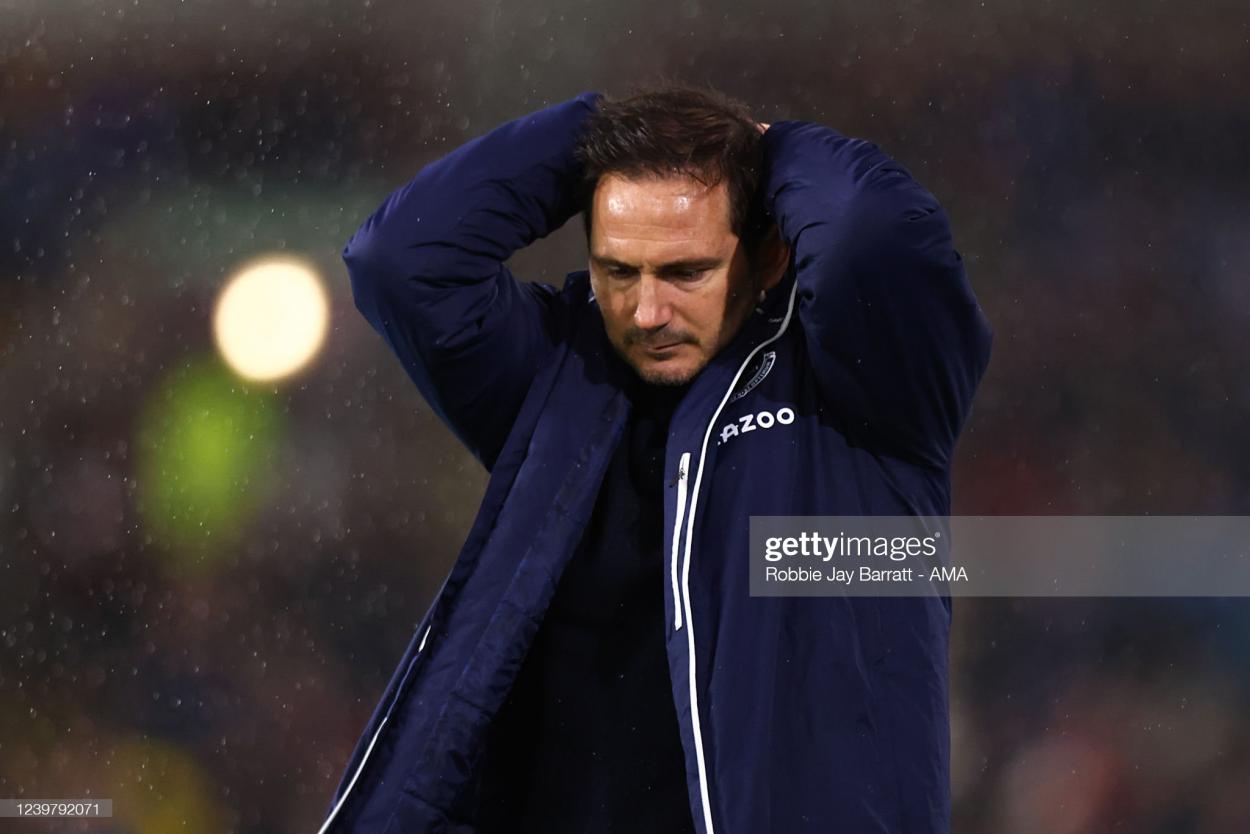 Lampard has urged his players to ignore the doom and gloom talk, but confidence is visibly non-existent in this Everton squad. There are shortcomings both in defence — where Michael Keane and Mason Holgate show they are not a capable first-choice pairing with Yerry Mina probably quite content to sit out the rest of the season injured — and attack — with Dominic Calvert-Lewin currently unable to buy a goal and Richarlison often emitting a sulking vibe.
The cases of Dele Alli and Donny van de Beek remain mysterious. They arrived mid-season with minimal football and evidently a lack of character to rise to the challenge; it only highlights further the disconnect between Everton's reality and their misplaced approach. The early impact of summer signings Demarai Gray and Andros Townsend now seem a wistful memory.
Positives? Well there is still over a month of the season to play out. But for Everton that is probably more of a concern than an advantage. The changes to reinvigorate Everton are needed more widely across the club, not just by Lampard in the dugout who has possibly bitten off more than he can chew with this job. Sixty-eight years and counting, but for how much longer?