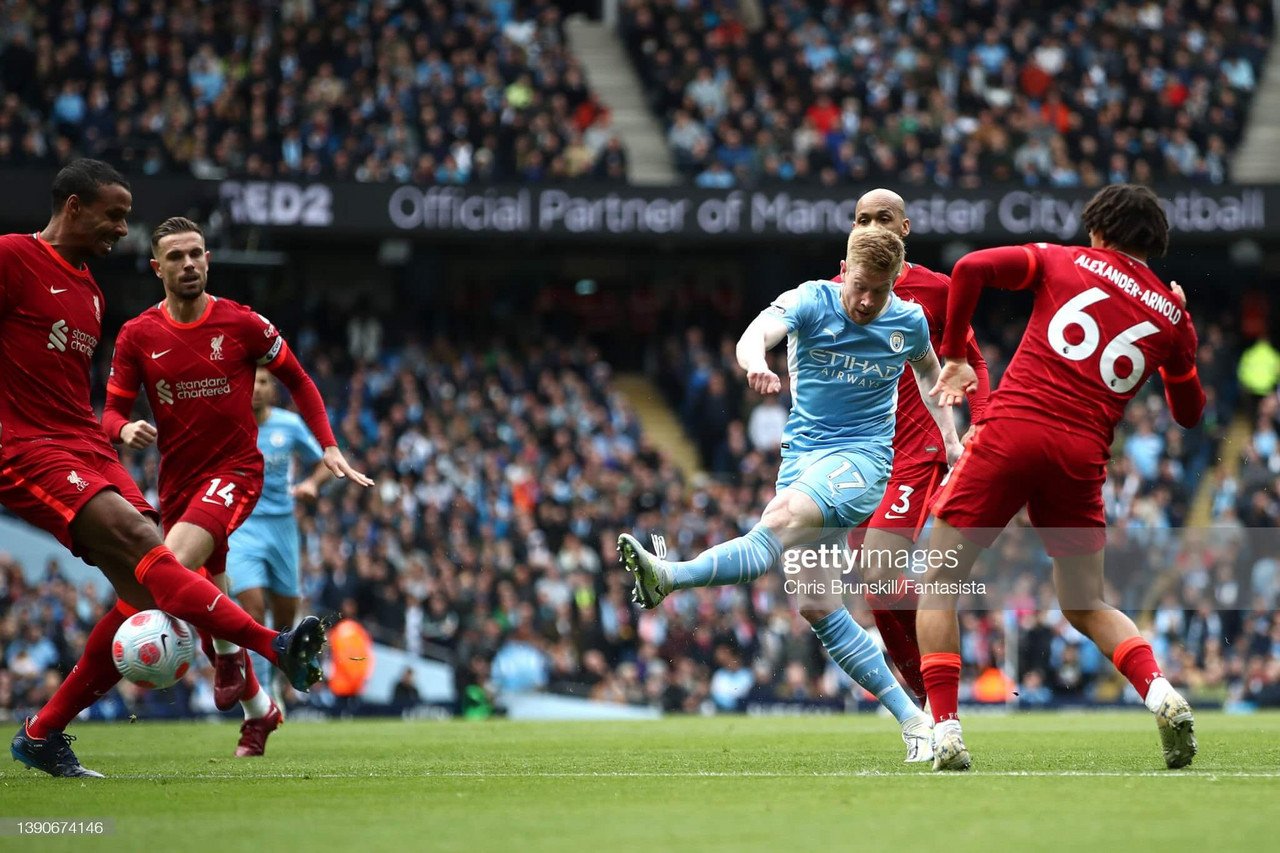 Kevin De Bruyne had no idea how he managed it. When Manchester City travelled to Anfield last October, the Belgian was short of match fitness, struggling with continual pain in his left ankle and yet somehow managed to complete a gruelling 90-minute shift. Not only that, but De Bruyne also managed to score the 81st-minute equaliser.
Little did De Bruyne know that that goal could win City the Premier League title this season. Had Liverpool won that day then — with all subsequent results following as they have — Jurgen Klopp's team would now be two points ahead at the top of the table. De Bruyne's influence was clear then amidst the painkilling injections required to enable him to take to the filed. Likewise, on Sunday, his presence was felt in different circumstances.
Back in the autumn, it seemed that De Bruyne would only be able to play a limited number of games this season having had a tumultuous few months: departing City Champions League final loss to Chelsea early with a broken eye socket and then missing crucial Belgium games at the European Championship due to the ankle injury. The start to his campaign was disjointed to say the least.
But now, just as City bear down on another Premier League crown, along with the ambition of matching that success with triumphs in both the FA Cup and, most importantly, Champions League, the Belgian playmaker is running the show.
The 30-year-old scored another crucial goal at the Etihad Stadium against Liverpool to maintain City's upper hand in the title race. The pressure, intensity and joy that emanated from an absorbing 90 minutes of football was kick-started by De Bruyne's strike in the fifth minute which went in off Joel Matip's leg. It proved the start of an epic 2-2 draw.
'Assists please him'
De Bruyne was instrumental as he led from the front, charging at Liverpool's defence from the kick-off and doing the very same well into the fourth minute of second half stoppage time. By the end, with the tension there to be cut with a knife, Virgil van Dijk was left to upend the driving Belgian; an acknowledgement from one pro to another that they had given them a tough afternoon.
Positioned in the No 10 role with Raheem Sterling ahead of him, and Gabriel Jesus to the right with Phil Foden on the left, De Bruyne got to work in hustling Liverpool's midfield and defence into a frenzy. Apart from a 15-minute spell at the start of the second half, the home side were in greater control and that told with Fabinho having an uncharacteristically shaky first half; giving the ball away for De Bruyne's early goal and later producing a poor tackle on Bernardo Silva.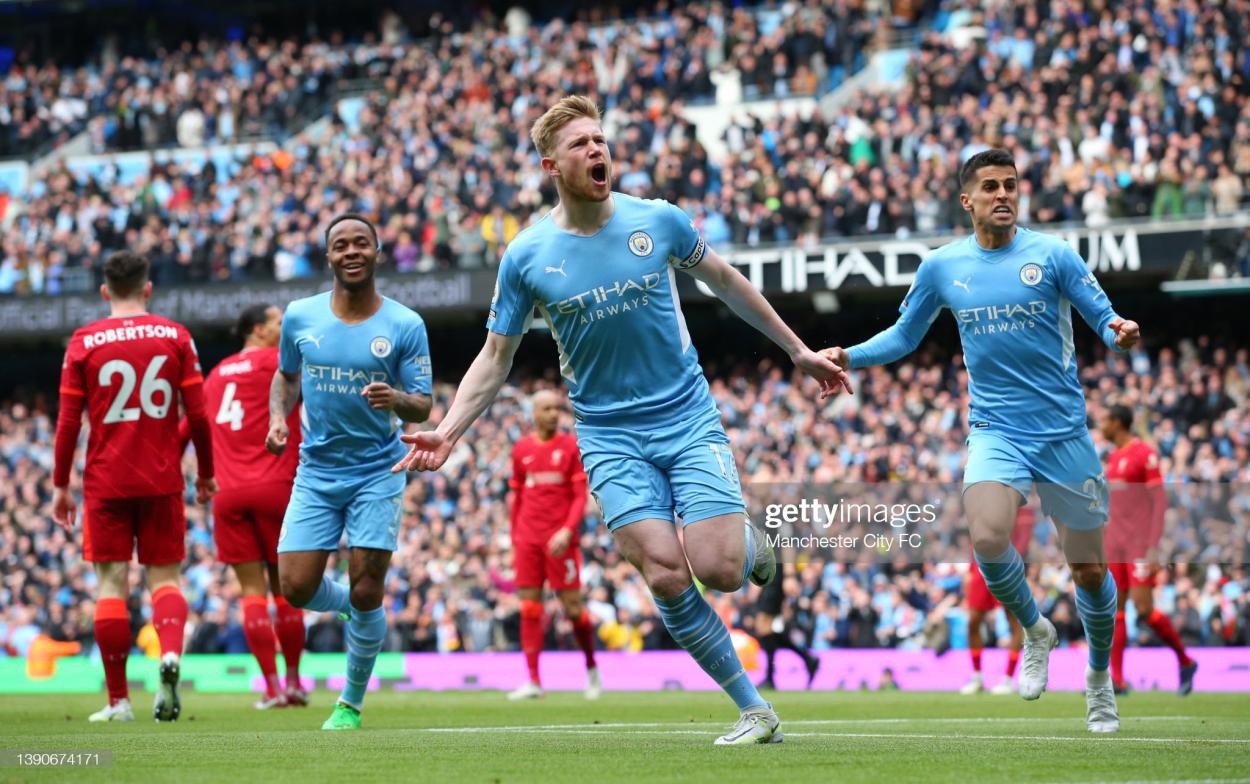 The extent of De Bruyne's flourish in recent weeks — he scored the sole goal against Atletico Madrid in last week's Champions League quarter final first leg too — that he will be tipped as a possible Player of the Season contender. He has scored six goals in six games and few would bet against him scoring a hatful more in the run-in.
"In the first part of the season he struggled," Pep Guardiola admitted afterwards. "Because of injuries, he needed time, but now he's strong. Now he scores a lot as well as creating assists. Assists are his favourite part of the game because it pleases him, but I said to him: 'You have to score more to reach another stage,' and now he's scoring a lot of goals."
Having scored 14 for the season, and provided five assists, it is easy to get caught up in the numbers, but De Bruyne brings so much more. "His vision for the last pass today was exceptional," his manager eulogised of the pass which set Riyad Mahrez free for a fine chance late on which the Algerian spurned with a overhit chip.
Full of talent and hard work
To watch De Bruyne is to see a player giving his all and the energy levels he possesses are extraordinary. Naturally red in the face and puffy cheeked, the Belgian gives off a flustered look but the way he goes about his work is so calm and collected; which was even more apparent in the congested pinball-like middle third during yesterday's game.
Over the game, he won back possession six times in addition to winning four duels. They say hard work beats talent when talent doesn't work hard but this particular talent often gives the impression of working harder than anyone else.
On the whole, it was a game from which both managers were content to take a point. Guardiola rued missed chances but had seen the deployment of Jesus against Andy Robertson test the Scot; and the wider aim of getting in behind both teams' full backs was noticeable throughout and presented the majority of the openings. Klopp would again be pleased by the potency of his front line who took their two main chances.
Little could separate them however, just like back in October, and there's only one point between them in the standings. Yet, another game ticked off is all that matters for City and the tireless De Bruyne.