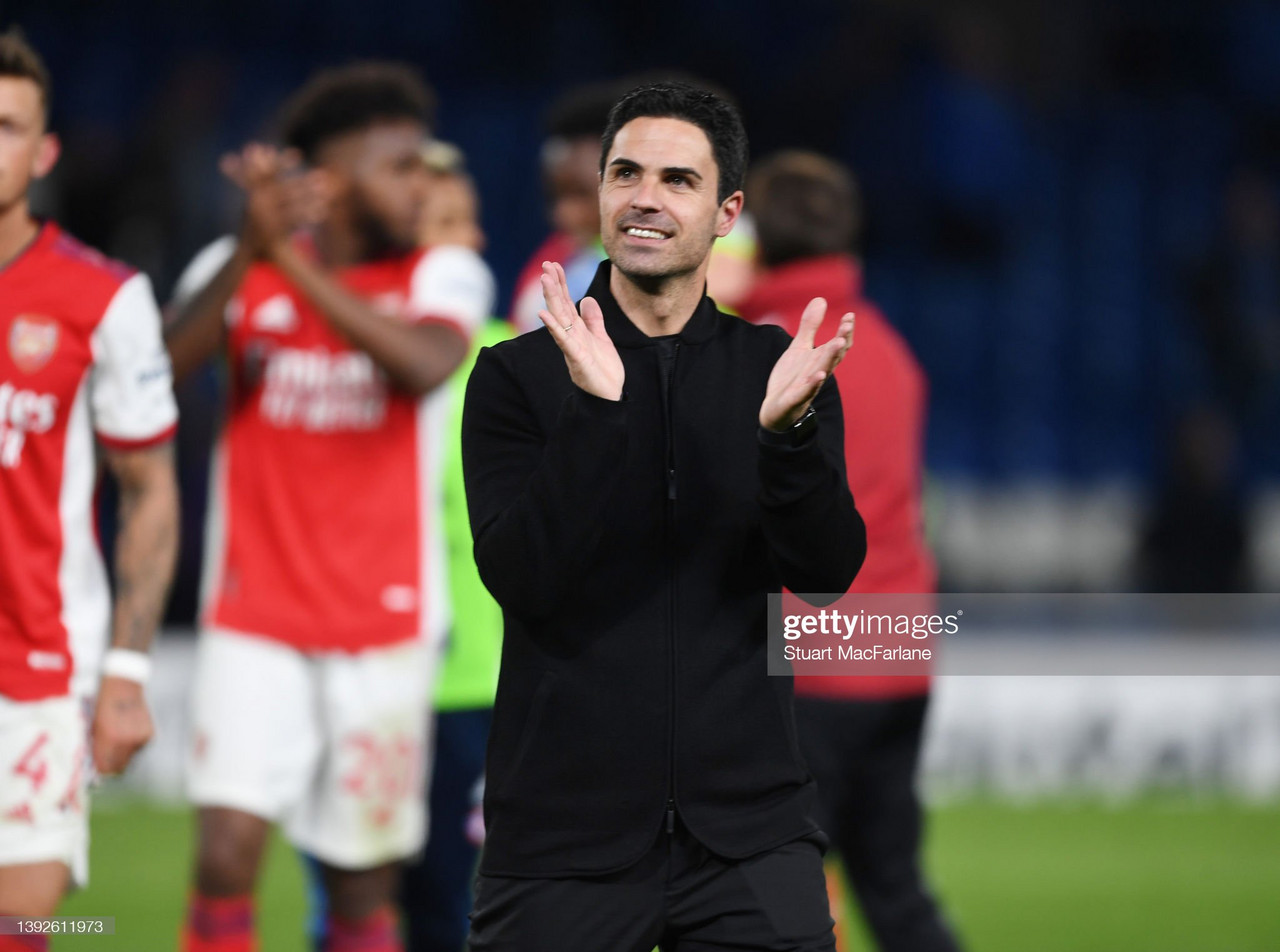 A poor run of three consecutive league defeats for Arsenal came to a welcome end on Wednesday evening, and in spectacular fashion too as they defeated London rivals Chelsea in a thrilling contest at Stamford Bridge.
The first-half in particular was a sight to behold from a neutral perspective, with the Gunners twice going ahead through Eddie Nketiah and Emile Smith Rowe before the hosts pegged them back on both occasions thanks to goals from Timo Werner and Cesar Azpilicueta.
In the second period, Arsenal shored up their defence without sacrificing their attacking threat, and that was ultimately reflected in the scoreline at full-time as another strike from Nketiah and Bukayo Saka's penalty sealed a crucial three points for the visitors.
Manager Mikel Arteta addressed the media after the match — these were his most noteworthy quotes.
On a big win
The importance of this victory for Arsenal cannot be overstated, not just for what it does for their position in the table — they are now level on points with 4th-placed arch rivals Tottenham Hotspur — but also for the fact that it's put an end to a worrying recent stutter which momentarily cast their ambitions for Champions League qualification into serious doubt.
But Arteta made sure that it was exactly that ambition which ultimately powered them victory on the night, stressing that he was delighted with how his squad responded to recent disappointments to escape their rut in emphatic style.
"I said to them, 'if you want to be playing Champions League football, you have to come to the biggest stadiums and beat these top teams.' I'm really proud of them tonight, but I'm more proud of how they've reacted to the defeats over the past few weeks — that's what reinforces me and gives me a reminder of how lucky I am to be here."
On the intensity of the match
Meetings between these two never fail to entertain, but this one especially will surely go down as a classic — it was breathtaking, exhilarating end-to-end action from start to finish.
The manager conceded that such a contest is never as enjoyable for those on the pitch and touchline as it is for those watching, however he was impressed with his side's display in such a challenging, taxing encounter.
"It was mentally really demanding," admitted Arteta. "For some of these players it is the first time they are playing in the Premier League and the demands of games like this are huge, but they showed real maturity, composure and quality against a top, top side with a very good manager."
To pick just one main positive from Arsenal's performance would be to undermine what was, in reality, a mightily impressive collective display — but, without a doubt, Nketiah shone brightest on a night when all four of the Gunners' goals were scored by Hale End academy graduates.
He had started in the defeat to Southampton at the weekend due to Alexandre Lacazette's bout of covid but, with the Frenchman available once again for the trip to Stamford Bridge, Nketiah's placed was cast into doubt — however, Arteta showed faith in him, and the 22-year old repaid that with a magnificent individual performance.
"If there is one player that I have been unfair with, it's him. If Eddie hasn't played more, it's my fault because as manager I have missed something or haven't had the courage to play him more. Today he showed me how wrong I was."
On the penalty
When Azpilicueta's stoppage-time tussle with Saka resulted in referee Jonathan Moss awarding a penalty, Arsenal knew they had been gifted the perfect opportunity to seal those three crucial points — that spot-kick had to go in.
And, although he was not the designated taker on the night, Saka took it upon himself to take the penalty he had earned, his first since the Euros final in the summer — in doing so, the 20-year old showed a nerve and self-confidence which impressed Arteta immeasurably.
"I thought Gabi was going to take it and when I saw Bukayo took it, honestly I thought back to the summer and what happened," he said. "But he learned so much [from that] and that's why he's having the season he is now. For him to have this courage — because I'm sure it would have been in the back of his mind — is top order, even if he had missed it."
On the supporters
The soundtrack of this victory was, "we've got super Mik Arteta, he knows exactly what we need!" It was belted out relentlessly by the visiting Gunners at a below-capacity Stamford Bridge due to sanctions imposed upon Chelsea.
The manager was grateful for the support he and his players received on the night, and stressed that they'll need it again when they face off against Manchester United at the Emirates Stadium on Saturday.
"To our fans I can only say what I've said all season: through difficult moments they've been right behind the team. We've had disappointments in the last few weeks but look how they were today again. They have to be with us at the Emirates on Saturday, they need to be really noisy to help us win the match."