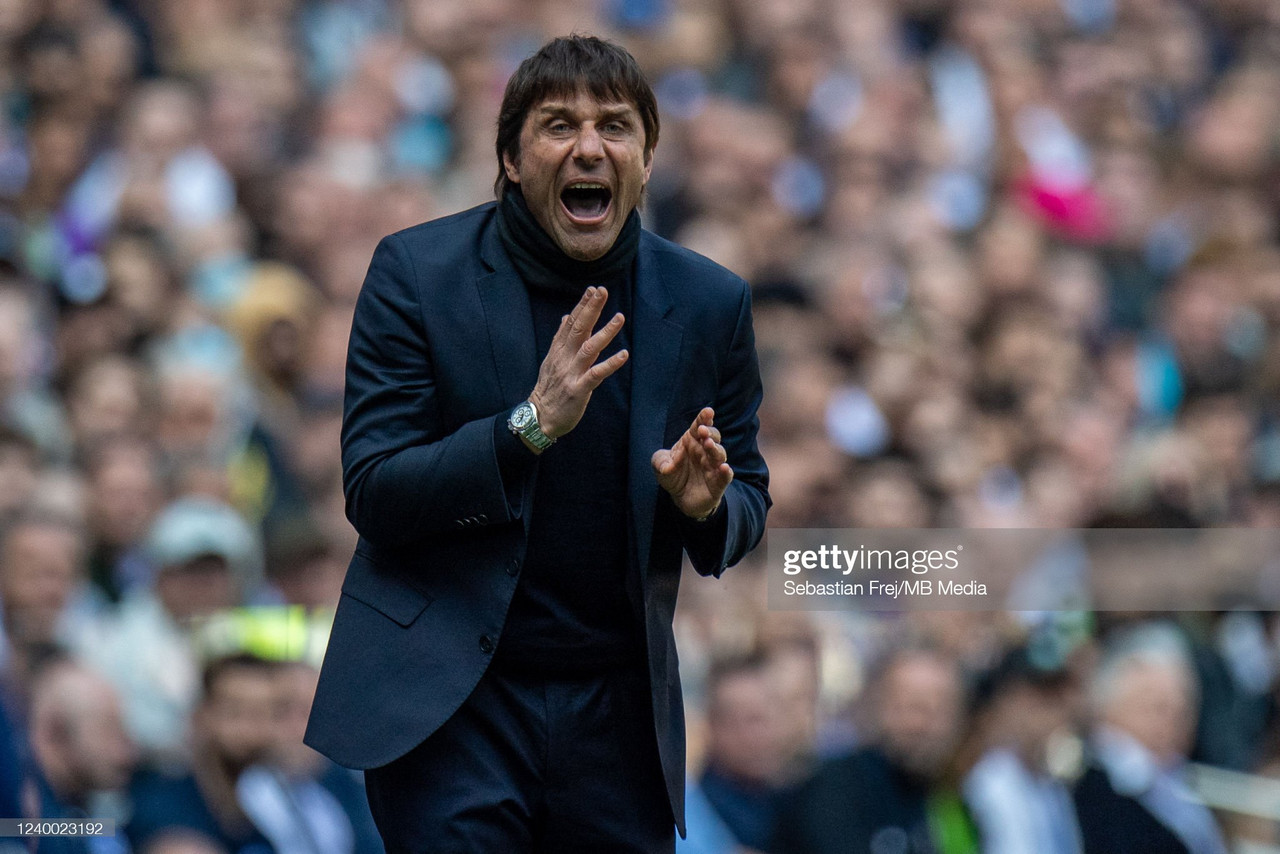 Tottenham Hotspur picked up their first draw of 2022 and just their fourth of the Premier League season when they shared the spoils with Brentford in west London on Saturday evening.
And it's a point they'll likely more than happily take, too, given it was a flat, lacklustre display from Spurs who were ultimately fortunate that the Bees failed to capitalise on their superiority. It does mean, however, that they lose ground to north London rivals Arsenal in the race for Champions League qualification.
Head coach Antonio Conte addressed the media after the match — these were his most noteworthy quotes.
On struggles in attack
On top of the equally listless performance in the defeat to Brighton last weekend, Tottenham have now gone two consecutive matches without registering a single shot on target, while their total for the season is four, twice as many as any other Premier League side.
For a team which contains spectacular attacking talent, not least in the wizardly feet of Harry Kane and Heung-min Son, that's a quite incredible stat which Conte is trying his best to wrap his head around.
"In the last two teams we've struggled offensively because we found two teams that were very good defensively," he said. "We are working on these aspects in our training, to win when 10 players are behind the ball. When you score so many goals and become a dangerous team your opponent pays more attention to close the gaps when they face you."
Asked if the problem could perhaps be located in the way his team is set up, the head coach refuted the claim, stressing that it's more about finding that elusive equilibrium between defence and attack.
"We've been poor offensively but I think it's not a problem with the system, it's more the way we attack," asserted Conte. "We have to try to find the right balance offensively and defensively. Before we conceded more goals but we scored a lot; now defensively we are better but in the last two games we haven't scored because we played against two teams with great attention and who played good games defensively."
While Saturday saw Christian Eriksen face off against his former club, he also had the opportunity to play against one of his previous managers — the Dane was Conte's player at Inter Milan when he suffered a cardiac arrest at Euro 2020 last summer.
The Italian couldn't stress enough how delighted he was to see Eriksen back on another football pitch.
"[His cardiac arrest] was only 8 months ago and I'm pleased to see him playing football. For sure Christian is showing great joy, and when this type of situation happens when you risk finishing to play football and to do your passion, to have another opportunity, now he is enjoying it."
On Brentford
Criticising Tottenham's performance is perhaps beside the point, as their hosts were man-for-man the inferior team by quite some distance but nevertheless ultimately deserved to win.
Conte was complimentary of his side's opponents on the day and stated that it had taken rigorous pre-match preparation to ensure they didn't cause Spurs even more trouble.
"You have to study your opponent. When you study Brentford you know very well the risk they have during set-pieces, in every situation they are dangerous and this week we worked to stop them. It is not simple to play against Brentford because they also play good football, have a good manager and good players and they are having a fantastic season."
On maximising efforts to improve
This draw saw Spurs lose ground on Arsenal in the sprint for fourth, but all is not lost just yet — they are still only two points behind their north London nemeses and host them on 12 May in what will doubtless prove a pivotal clash.
However, after the last two matches, the standings aren't enough to give Conte solace; the head coach wants more from his players in their last five assignments of 2021/22.
"I'm trying to exploit and improve every single player, and for this reason, with five games to go we are talking about Tottenham in the race for the Champions League which means the players have improved a lot. But we have to know that this last month, if we've given 120% maybe it's not enough and we need to lift to 150% to get this target."