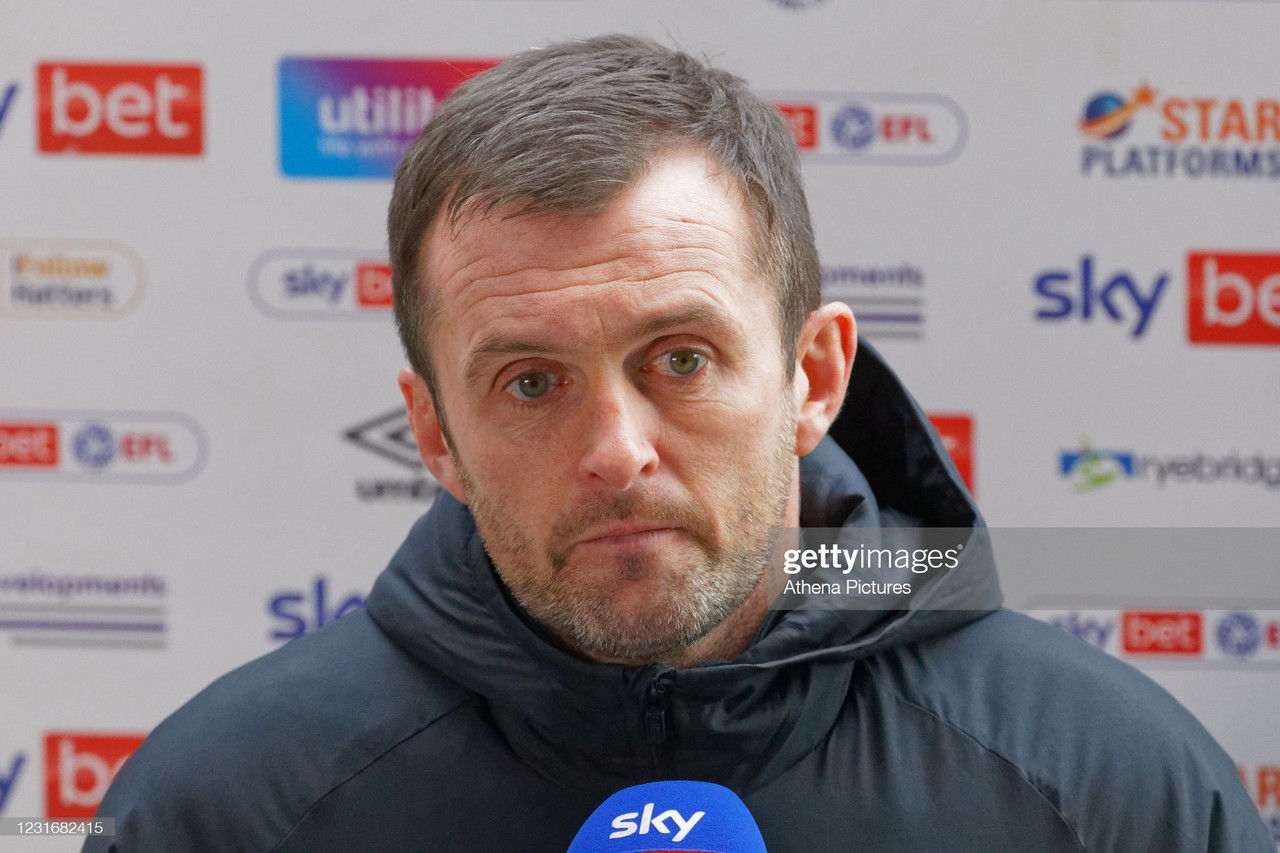 Nathan Jones cut a proud figure amongst his players and staff following victory against Reading which clinched a playoff place for Luton Town.
In this vital win, Harry Cornick's clever goal at the expense of Orjan Nyland was the difference between the two sides. Now, attentions turn to the semi-final first leg against Huddersfield Town.
Speaking to BBC Three Counties Radio, Jones reflected on momentous day where Luton actually ended up five points in the clear.
Kenilworth Road keeping an eye on the scores?
"We were aware of the scores today. But I'm just pleased we won today so we didn't have to rely on anyone else. As it is we've got to 75 points. If someone said at the start of the season you could have 75 points – which was in our presentation – we would have taken 75 points all day long.
"We've been magnificent all season with what we've had to contend with, it came down to the last game of the season but we were here two years ago to beat Blackburn to stay in the league, and now we have an opportunity to play definitely two games to get out of the league. What a wonderful place to be, I'm so proud of the whole football club."
Nathan Jones continued the heavy praise for the football club and also looked back at negatives which have perhaps made the team stronger.
"We've had people celebrating here. QPR celebrated like they won the World Cup, we had Fulham last week.
"We've had to go through a lot of psychology here and show that we're a wonderful football club. It's not the manager, it's not the CEO, it's not just the board, it's not just the fans, collectively we are stronger and that is what we have to keep doing."
Thoughts behind team selection and integrity of the league
Despite the constant presence of injuries in the squad, jones fielded a strong side to get the points today. It was bolstered also by some important returns from the medical room.
"There might not have been any second chances. There might not have been keeping players for the playoffs because we might not have got there."
On the integrity of the league:
"(At Fulham) I wish I'd lost 20-0 and played the youth team, I really do, but such is the integrity of the league. You have to play your strongest side. Credit to Bournemouth today, they got promoted in midweek it would've been easy for them today but they've won. Preston beat Middlesbrough. it just shows the integrity of the Football League."
Bree and Cornick honourable mentions in a top team display
James Bree was a key component in the day's victory. As was Harry Cornick - the forward's cheeky goal was the important difference between the sides.
(On Bree) "He's been outstanding all year. What a kid. I came in and he won't mind me saying. I said to him 'defending doesn't mean enough to you. You either defend properly or you won't have the top career you deserve.' He was outstanding for me in those last nine games and he's been outstanding since he came back (from injury).
(On Cornick) "I'd had a go at Harry, I thought he could've been bolder at certain things but he's got the goal that effectively secures our Championship playoff status and I'm very happy with that."
On to Huddersfield over two legs in the semis
Now, Huddersfield are in between the Hatters and a place at Wembley. Jones assessed the situation.
"Look, we'd have taken anyone to get in there. We're happy which ever team we faced. Both (Huddersfield and Forest) really tough games. Forest have been flying and in phenomenal form. Over two legs they would've been tough.
"We haven't beaten Huddersfield this season, so look there's so many permutations to think about. But what a wonderful prospect, especially Friday here, at the Kenny under the lights."