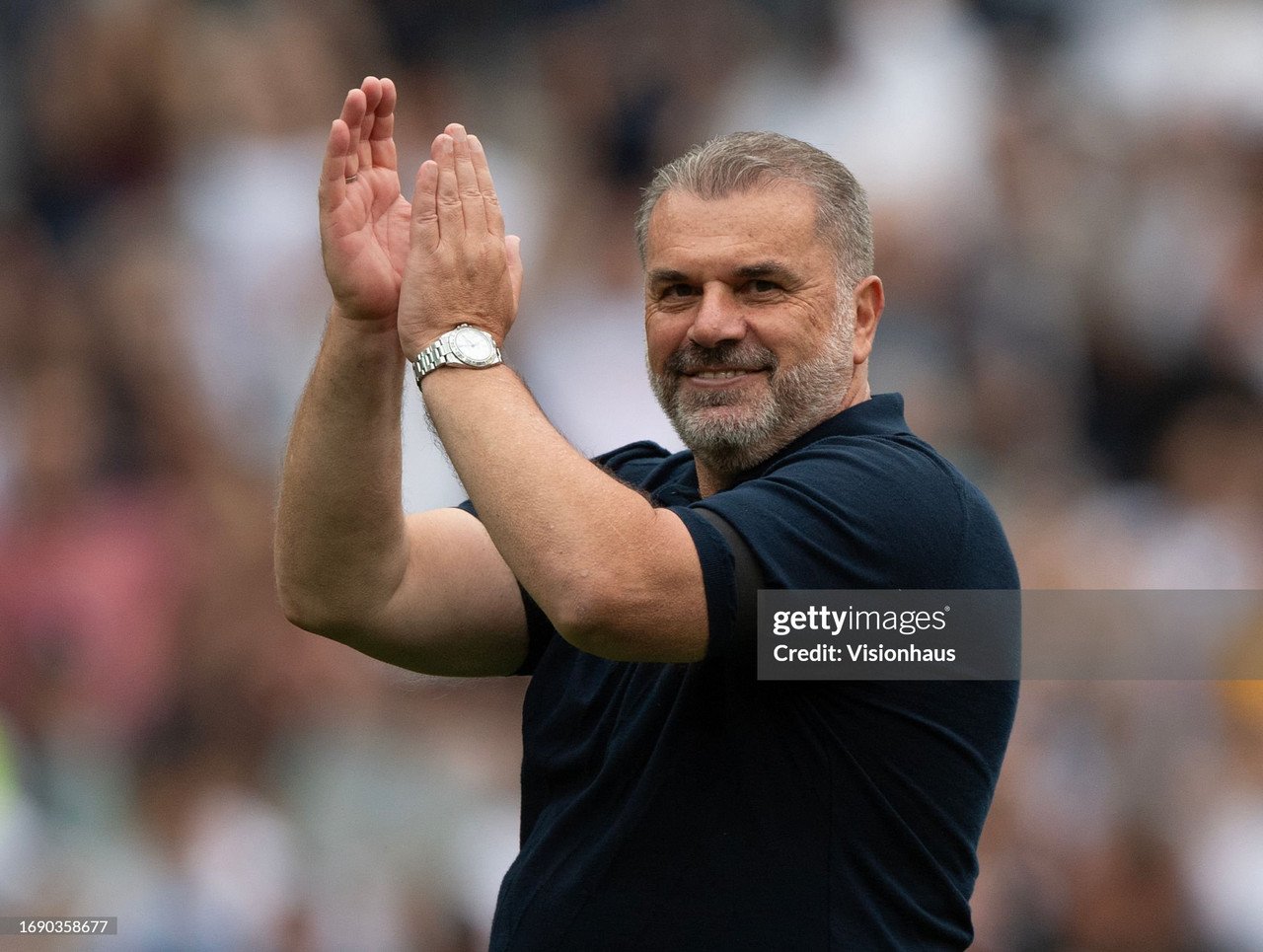 Tottenham Hotspur manager Ange Postecoglou believes 'you've got to stick your head up and see the sun' to grow ahead of Spurs' trip to Arsenal on Sunday.
In response to a question about learning from experiences, the Australian's metaphor symbolises the need for Spurs' young players to play in the biggest matches, especially a North London Derby.
The Lilywhites have not won at the Emirates Stadium in the Premier League since November 2010, with it often being the match every year the squad crumble under pressure. Earlier in the press conference, Postecoglou didn't want to focus on history, instead focusing on how impressive Arsenal are as a team.
Postecoglou also provided updates on Richarlison and dismissed any similarities to Mikel Arteta.
Arsenal have enjoyed a renaissance under Spaniard Arteta, despite narrowly missing out on the league title last season.
It's led to the Gunners being considered as one of the favourites for success this season. Postecoglou believes everyone at Arsenal deserves credit for trusting the process, even if it led to short-term pain.
He said: "I think Arsenal have done a great job in understanding that they were probably heading in a direction that wasn't going to be successful. Once Mikel Arteta came in, they stuck to the process irrespective of short-term gains that may have been made by going in a different direction. I think he's been outstanding and really strong from the start.
"He had a real vision for the football club and the club have backed him. Most clubs that end up having a successful period do it by having a clear vision, but the problem is a lot of clubs [change] things at the first sign of something not going in the direction they had hoped for. Credit to Arsenal and credit to Mikel.
"They've backed each other and reaped their rewards, but that's not a blueprint for us to follow. We've got our own blueprint, and you don't have to follow anyone's timescale or process. What you need to do is have a clear idea of what you want, see progress to that end, and try to stick to it."
Tactical tweaks for derbies
Local derbies bring out the fiercest reactions in football, whether that it was from the players, staff, or fans. It can lead to a hostile atmosphere at the ground, which often forces away managers to tweak their tactics in response.
However, Postecoglou is not interested in that and insists he will only focus on how his team want to play.
"I'm not really bothered by what Arsenal want for a game any more than what we want for a game. It's about us challenging ourselves to be the football team we want to be and the kind of progress we want to make is the football we've started playing. It's as simple as that.
"What the opposition may or may not want becomes a midpoint for us. There are always natural adjustments you make during a game. We've started this way because it's how I believe we'll be successful because 'm trying to create something that's pleasing to the eye," he said.
Postecoglou added: "You understand [the significance], irrespective of the magnitude on a global scale, whenever you're playing your rivals, because until you meet again, the bragging rights sit in one part of the city. That doesn't change anywhere in the world. They're usually based on something significant, and I think there's an added edge when it's geographical as well.
"You don't want to lose in your own neighbourhood. It happened to me in Australia, Japan, and Glasgow. I love being part of it. You understand it is only one result, but it's more significant than that to the supporters. One way or the other, you come out of it with a memory that lasts with you forever."
At the end of the press conference, Postecoglou suggested his young squad must learn from the experience of a North London Derby.
"It's important, but it's their first time as leaders. When you're not leaders, it's easy to worry about just their performance. This is the experience that I want the group to have to help us grow. It's the only way to grow. You don't grow by being in the shade, you've got to stick your head up and see the sun," he finished with.
Richarlison's performances
Former Evertonian Richarlison came off the bench to salvage all three points against Sheffield United last weekend. A powerful header and simplistic assist were enough for the Lilywhites to gain a dramatic victory in stoppage time.
Richarlison opened up on his mental struggles during the international break, but Postecoglou believes his football will only help him.
He said: "He's training well. He seems to be at ease with himself. It does help when some things go well, but as I said after the game, that's the balance Richy has to get with his life. The more you'll be able to keep balance in your own life, the better you'll overcome issues.
"If his football's going well – there's no reason why it shouldn't because he's training well and a fantastic footballer – hopefully that helps him in other areas of his life. That's the same for all footballers. He looks like he's in a good place, but that doesn't mean his issues have gone away. It's up to me to find a way to tackle them and hopefully, his football can help."
Dismissing similarities to Arteta
Arteta and Postecoglou have both had remarkable rises through the managerial ranks. Arteta's first job was with Arsenal, whilst Postecoglou has hopped from continent to continent, eventually landing in N17.
However, the Australian doesn't think there are many similarities between the two of them, despite recent media suggestions.
He said: "No, we're not close. The football world is a funny one because there's an assumption that we've got all the spare time to hang out with each other. It's not what exists. In terms of similarities, I'm 58 and he's whatever [41]. I've had 26 years of experience, he's had five.
"He's managed in one country, whilst I've managed in a few. Not sure how he's got a great head of hair! He's a lot fitter than I am!
"There are not many threads there I can join between us. We're people, mate. We're all different. Even the way he plays, that's different to my [style]. That's the beauty of the game; even teams that you think have similar philosophies make tweaks. That's why you can't copy. You can see someone do something really well, but they bring their own personality to it."