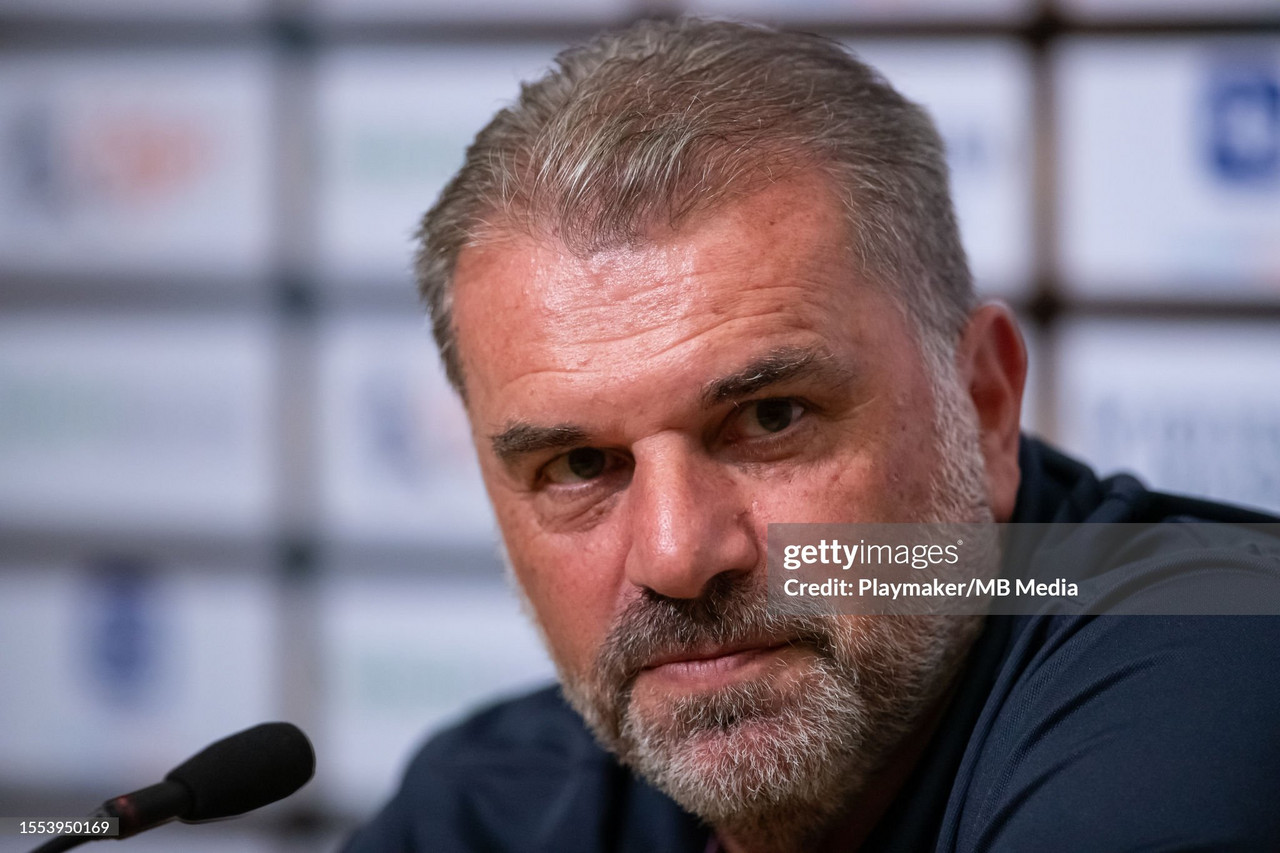 Ange Postecoglou believes Arsenal are an 'outstanding' team after their success last season, and is expecting a tough match in one of the league's fiercest rivalries.
Tottenham Hotspur travel to North London rivals Arsenal on Sunday, knowing they must defy history to gain a result. The Lilywhites have not won at the Emirates in the Premier League since 2010 - when they dramatically came from 2-0 down to win 3-2.
Ivan Perisic suffered a complex anterior cruciate ligament injury midweek, which is likely to force the Croatian to watch from the sidelines until the end of the season. Postecoglou provided an update on the former Inter Milan star, suggesting both the winger and the club are disappointed, especially after an impressive start to the season.
Postecoglou also provided an update on Alejo Véliz and the challenge of going away to one of the league's best teams.
Ahead of their trip to the Emirates Stadium, Perisic's serious anterior cruciate ligament injury overshadowed training midweek.
Postecoglou admitted he is disappointed for the winger, but confident he will come back just as strong.
He said: "Disappointing, for Ivan more than anything else. Just one of those things that happens sometimes. Obviously, he got a pretty significant injury in training. As I said, disappointing for him - I've only worked with him for a little while - but you can see why he's played for some of the biggest clubs in the world.
"He's the ultimate pro with the way he trains and the way he plays. It's disappointing for us as he's been really important so far. We don't have great experience in the group and he's been that level head in big moments. He's very strong-willed and I have no doubt he'll get back to the levels he was at for club and country."
The Australian also confirmed that Giovani Lo Celso - despite positive feelings last weekend - Bryan Gil, and Rodrigo Bentacur are a few weeks away from featuring for Spurs.
"Apart from Ivan, everyone from last week is in good space. In terms of longer-term ones, they're still two or three weeks away. Hopefully in the next few weeks, they'll slowly get involved in training," he said.
As previously mentioned, Tottenham have not won in the league at the Emirates Stadium since November 2010. The North London Derby is one of the fiercest rivalries in the world, with tempers often boiling over onto the pitch.
Postecoglou understands the significance of the match - especially due to his history with Celtic - and is expecting a tough match on Sunday.
He said: "It's fair to say people have given me an indication as to how they feel about this game; that's great. I've been involved in derbies - one very significant one; you understand what it means to supporters of both clubs. They add significance to the fixture. They [Arsenal] are a very good football side. They had an outstanding season last year and strengthened this year. They're a group that has, for the most part, grown together. You can see that there's a real belief in them, so playing at their place will be a challenge for us."
"We're going to have quite a few who haven't played in this fixture. It's not just a derby and away from home, it's the challenge of playing a very good football side. Again, as much as we want to talk about them, it's the experience that makes you grow.
"If you allow the players to go out there and express themselves in the best possible way and not be too many restrictions around them, it's much better than going through the experience then you can reflect on it. From our perspective, we've tried and create an environment here. We train hard every day preparing for a difficult game at the end of the week.
An advantage of no midweek football
Arsenal beat PSV 4-0 on Wednesday night, marking their return to the Champions League in stunning fashion. As the rain poured, it rained goals at the Emirates Stadium.
After Spurs, underwhelming season under Antonio Conte, they are without European football, but Postecoglou does not believe that gives them an advantage.
He said: "I don't know how them playing in Europe and us not being in the Champions League because we were not good enough last season gives us an advantage. I don't think it gives us an advantage; we would have much preferred to have a Champions League match midweek in preparation for a derby"
"They're a very good football team. I can't get away from that. Irrespective of past results, it was always going to be a tough game. I've never put too much stock on previous results, records, and history. I wasn't involved in any of those and some of the players weren't involved in any of those. So there's no point looking at the historical context of the fixture. What's really more relevant is they're in good form, we're in good form.
"There's no other reason than to be successful. If I didn't think we'd be successful, then I wouldn't play this against any opposition. From my perspective, I don't set up my teams to play nice football, I set up my teams to win. You have to believe in that against all types of opposition."
An update on Veliz's progress
Tottenham delved into their South American market in the summer, as Argentinian forward Alejo Véliz joined from Rosario Central.
The youngster featured for the U21s in the Papa Johns Trophy midweek and looked bright, despite struggling to find the back of the net. Postecoglou remains confident Veliz will feature for the first-team in the future.
He said: "He's only had one week of training with us and game time with the U21s. Great to have him on board; no expectations with him around his contribution. Being a player in the attacking third, he'll get opportunities. We've still got to let him settle and get him involved in training consistently and a game or two more with the U21s. We've been really encouraged by the way he's gone about things.
"The way he's adjusted to life here. He's only a young man coming from the other side of the world. Watching him the other night, he's got great attributes and great movement. He's a real sort of number nine with the way he attacks the box."