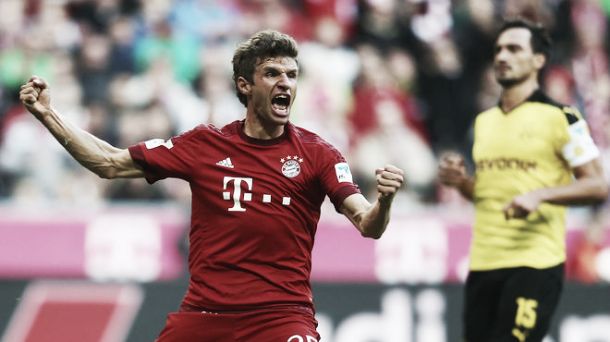 FC Bayern Munich have told Manchester United to halt their consistent pursuit of star, Thomas Müller, according to reports from Bild.
The German star scored twice against Borussia Dortmund on Sunday as he extended his Bayern goal tally to 79 in just over 200 games.
Manchester United are rumoured to have tabled two bids for the forward in the summer, with the second being a £71million offer that was turned down by Bayern.
The Red Devils ended up 'settling' for young Monaco starlet Anthony Martial, who has started his United career well to this point.
However, Van Gaal may not be taking no for an answer, and could continue to make offers if these comments are anything to go by.
Now, Bayern CEO Karl-Heinz Rumminegge has told United to back off in a rather humorous way.
According to Christian Falk of Bild, he said: "I told Woodward that I can't switch off my email account, so he should stop sending offers for Thomas Müller."
Missing piece?
Shortly after Manchester United had been soundly beaten 3-0 by a well-drilled Arsenal side, Müller recorded his sixth and seventh goals against Dortmund with a brace to send his side clear at the top.
The German may not be the quickest or the strongest, but he is certainly a very intelligent player, and one whom Louis van Gaal would understandably love to lead his forward line.
'Bayern will make history' - Müller
The 26-year-old Müller insisted in an interview with the official Bayern site that his team will achieve big things this season.
"These were big points of course," Müller said. "We're now seven points clear, and if you consider also the way in which we won today, this is a signal."
He added that Bayern are keen to "ensure [they] keep things up when [they] return from the international break". The Oberbayern-born forward continued, saying that "nobody gifts you anything", but the current situation is a "good one". Müller claims that the attitude of the Bayern players 2is second to none", and that they are "all hungry".