Being an 1860 Munich fan can only be incredibly frustrating. The club that has been plagued by inconsistencies and drama, go into their 13th consecutive season in the 2. Bundesliga itching for a successful campaign.
After an indifferent 2015/2016 season, fans were let down once again. However, with a change in head coach, as well as a busy Summer transfer market, there is a sense that success is due. And light at the end of a long-dark tunnel is coming.
From the outset, it's important to firstly consider the previous season's issues before directing attention towards the present.
Defensive trial and tribulation
The first of the major issues clear in the previous campaign was defensive instability. Ironically this was a main area of focus coming into the 2015/2016 campaign, as a multitude of defensive players including Jan Mauersberger, Rodnei, Milos Degenek, Sertan Yegenoglu and Ohis-felix Uduokhai were used to secure the ongoing defensive woes.
However, this in turn made it difficult to find the strongest formula which made results inconsistent, at least for the start of the season. Overall, 1860 conceded an average of 1.35 goals per game with 46 over the entire season, subsequently meaning that clean sheets became a vacant property and games had to be chased rather than held.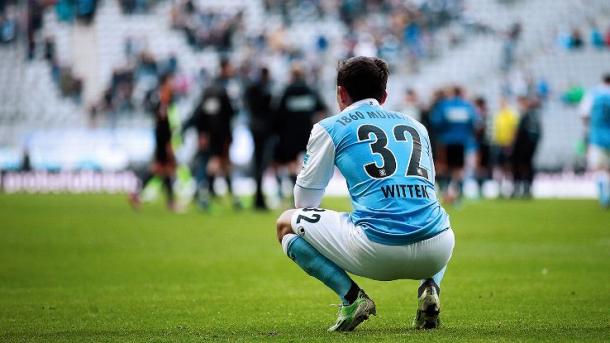 Offense turned to noffence
To further the struggle, goal scoring and creating chances was just as large of an issue. Even with creative players Michael Liendl and Levent Ayçiçek at hand, 1860 Munich were still not able to carve out the opportunities necessary to allow them to compete with those at the top. Glimpses of inspiration were found through Austrian international Rubin Okotie; who became the team's top goal scorer at eight goals.
Yet, other players lagged far behind - the second and third goal highest goal scorers only managing half of what Okotie did. Now considering the fact that Okotie left the club this summer, a big concern will have to be addressed as to how and where goals will be made next season.
Weigl leaves the Allianz
Replacing Julian Weigl was another one of the biggest issues that 1860 Munich faced at the beginning of last season. Being crowned captain of the side at just 18 years of age speaks for itself, becoming the youngest captain in the club's broad history.
Transfers were made to try and fill the void left by Weigl's exit, PSG youngster Romuald Lacazette was one who was made out to perhaps replicate Weigl's innate ability on and off the ball, however this is still yet to come to fruition as the Frenchmen has struggled to settle into the German style of play. Therefore, finding someone that can stimulate the midfield in a similar fashion to what Weigl did will be essential to achieving success in the coming years.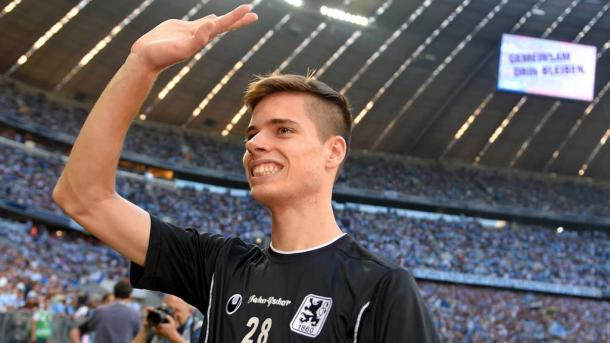 Moving away from the previous season and the manner at which 1860 Munich had failed, it can be assumed that the multi-billionaire Chairman Hasan Ismaik will be looking to bring a sense of stability and style that hindered last season's form. A change in head coach going into the new season along with substantial transfer movements may do just this.
Runjaic promises stability
From the outset, 1860 Munich is a club that has, throughout recent history, been plagued by managerial issues and inconsistencies. Starting the 2015/2016 campaign with Torsten Fröhling and changing twice after, establishing an endowed foundation was made more difficult than it had to be.
Taking over from Daniel Bierofka; Kosta Runjaic is the new man at the throne presently. The Croatia born head coach goes into the coming season as one of the younger managers in the league at 45 years of age; his managerial career beginning only 12 years ago with 1. FC Kaiserslautern.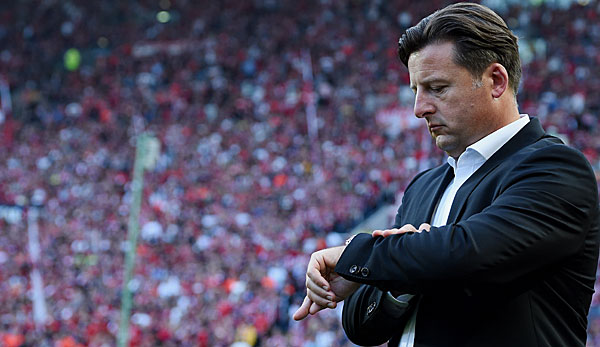 Despite the prematurity of his career, Runjaic has seen varied amounts of success. Fittingly in 2012, he was called upon to bring MSV Duisburg out of relegation in the 2. Bundesliga; he succeeded in this, however the club later became bankrupt making his good work seem rather ineligible.
The main man is also no stranger to winning runs, an example coming from 2011/2012 season with SV Darmstadt 98, in which he got crowned champion of the Regionalliga Süd and promoted the side to the THIRrd division. Whether or not Runjaic will be able to do the same with 1860 Munich is another question, but whatever you think of this appointment, what you can't doubt is that he can bring a broken team together and make them perform.
More recently he was made to resign in his second term as head coach at 1. FC Kaiserslautern, after a poor start with just TWO wins in eight games. Due to this, expectations for now will understandably be limited. And if Torsten Fröhling's poor start last season is anything to go by, Runjaic will need to hit the ground running if he wants a prolonged stretch at the Allianz.
Busy Summer transfer market inspires hope
Going into next season, it's important that 1860 Munich patch up the holes that were left from previous seasons. One way to do this is through transfers, and bringing in fresh players who are willing to fight for the club. Therefore, this has been made a big emphasis since the opening of the summer transfer market in June.
Youth players called on
To begin, Nicholas Helmbrecht alongside teammates Florian Neuhaus and Moritz Heinrich have been promoted to the first team by Runjaic. Between them, Helmbrecht is the most accredited player coming from the second team, with 1817 minutes played over and five goals to his name. His versatility to play on both right and left wings of attack is what sets him apart from most players, playing a total of 13 games on the right and 11 on the left altogether.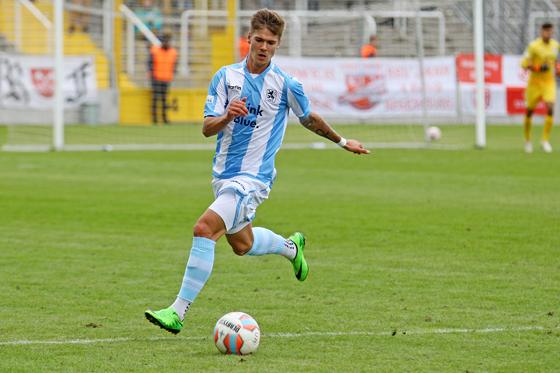 Florian Neuhaus is another promising youth prospect, and is the youngest of the three players at 19 years old. The German youngster comes to the first team after notching thirteen goals and seven assists with the 1860 under 17's and under 19's squad. In many senses his short term on the 2nd team was prolific, and it will be hoped amongst supporters that he will be able to do the similar in the future.
These two in particular will be looked towards when goals are desperately needed, and they will undoubtedly be eager to make a statement in the first team scene next season.
Unlike these two, very little is known about Moritz Heinrich as he only featured in one game against Ingolstadt II throughout the entirety of last year. Despite this, something must have made Runjaic promote him, so it will be interesting to see what he can offer the first team as well.
Busch & Stojkovic reinforce at right-back
With the departure of right-back Gary Kagelmacher who left to play in Estonia, the right-back position is one that needed reinforcement coming into 2016/2017. This was clearly noticed behind the scenes at 1860 Munich and therefore two new players have been brought in. The first of these being Marnon Busch, who has been loaned out from Werder Bremen after he found himself out of favour in the first team scene.
In terms of playstyle, you can expect Busch to be a player comfortable on the ball, injecting small bouts of his fast pace in order to bring play forward and create an attack. This season will be the first one away from the Weserstadion, which will undoubtedly make the move refreshing for both player and club.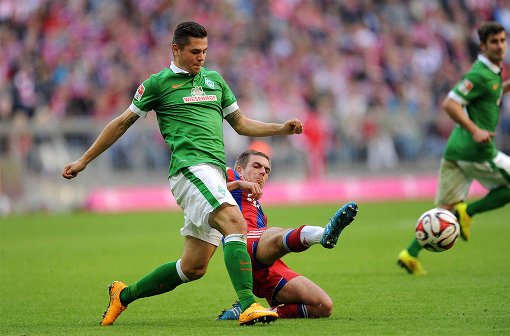 Filip Stojkovic is another right back that comes to Munich with bags of talent, this time from the heights of Serbian football. With a permanent deal as opposed to being a loanee, the Montenegro international may be able to beat Busch to the first team sport at right back. To further this point, his stats are also considerably better than Busch's; Managing a goal and 12 assists in Serbia overall.
Matmour comes back to his stomping ground
Karim Matmour is a man that is no stranger to 2. Bundesliga football, the 31-year-old comes back for his 5th season in Germany after two seasons playing in Kuwait and England. The Algerian came up with Borussia Mönchengladbach and the prolific youth set-up they have slowly nurtured over the years, then going on to play for a multitude of German clubs later on in his career including the likes of Eintracht Frankfurt and SC Freiburg.
With a total of 163 appearances and 21 goals in the 2. Bundesliga, fans will be hoping that he will be able to find his form again next season.
Jan Zimmermann switches from Heidenheim
Previously playing for familiar 2. Bundesliga side 1. FC Heidenheim 1846, Jan Zimmermann has built up a solid reputation as a goalkeeper over his years playing in Germany. The 31-year-old made 17 clean sheets in total last season, nearly double of what Vitus Eicher and Stefan Ortega managed at the Allianz altogether at 1860, making the move a very clear upgrade.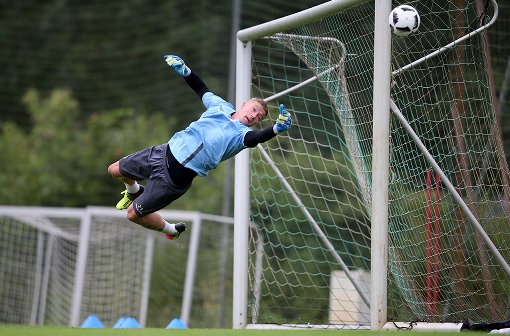 Victor Andrade loaned in
The one-year loan of Victor Andrade from Benfica is one of the more high profile signings. The Brazilian will be hoping to find playtime in Germany after only 25 total appearances last season, coming off the bench in most instances to run at players with his supreme pace. The left and right wing position is the most competitive at 1860 currently, Matmour alongside Florian Nehaus and Helmbrecht will challenge him to perform consistently to avoid dropping out. However, assuming he starts the season well, I can see him individually occupying this role.
Olic returns to the Allianz
Since July, the striker has been without a club after being released by Hamburger SV at the end of last season. The one-year contract at 1860 should give the 36-year-old security and a solid club to play out what could be his last season playing in Germany. Despite his age, Olić has kept a reasonable pace to his game, also being able to prevail physically due to his height and strength whilst bringing a wealth of experience and goal-scoring ability to Munich.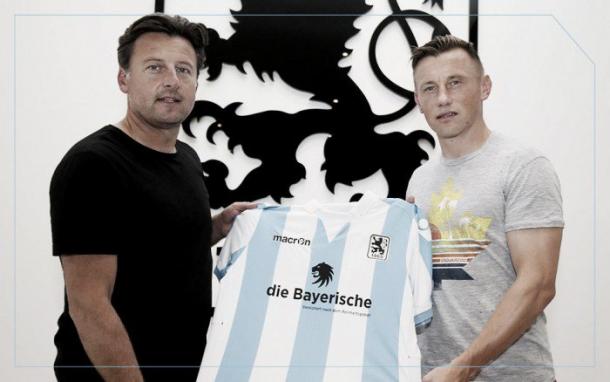 Perdedaj set to solidify the midfield
Last season the 25-year-old played in the 2.Bundesliga with FSV Frankfurt, participating in 30 games in total and notching three goals, two assists overall. Yet, still failing to keep them in the second division. It must be due to the relegation that Perdedaj has decided to join Runjaic and 1860, playing naturally as a Central-midfielder Perdedaj will face competition from Kai Bülow and Daniel Adlung.
Departures - Runjaic gives no time to stragglers
With the influx of new players at the Allianz, players that haven't been able to make a name for themselves have been given no time by Runjaic, as 12 players have left the club since the opening of the summer transfer market.
The large majority of these have been free-transfers, players who fall into this category are forwards: Rubin Okotie, Stephan Hain and Rodri. Midfielders: Richard Neudecker, Dominik Stahl and Defenders: Vladimir Kovac and Guillermo Vallori.
Most of these players leave after falling out of favour and seeing little to no playtime at all in the previous season.
Notably, Rubin Okotie was one who played a more influential part in the previous season, scoring eight goals and becoming the leading goal scorer at the club. Still with replacements, this loss shouldn't be felt too hard.
Christopher Schindler and Gary Kagelmacher have also left the Allianz, however with a price-tag as opposed to being on a free-transfer. Both featured in the previous campaign however to a varying degree of success.
The former captain Schindler will undoubtedly be missed, he moved to Huddersfield for just under 2 million Euros in a swap deal for Karim Matmour. Overall, he made 166 appearances at the club, which won him over at least in the fans minds. His departure will have rocked the boat internally so it will be up to Runjaic to find or nurture the replacement.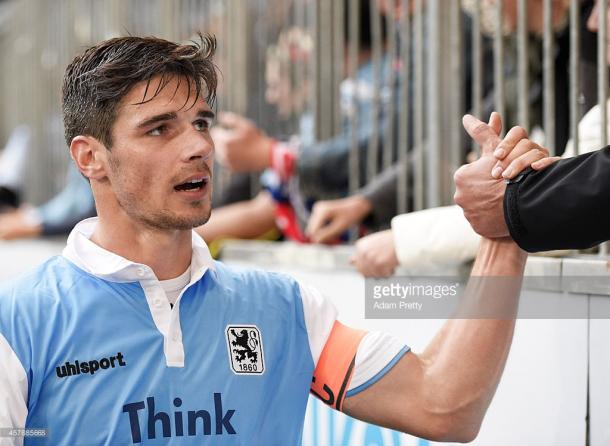 Pre-season success springs a sense of hope
For any team, pre-season is a good indication for how the beginning of the coming season will go. And for 1860, things are looking good after notching three wins out of five so far, two of them coming against top Bundesliga sides Borussia Dortmund and Werder Bremen.
The 1-0 victory over Dortmund was the biggest shock of the lot, with Jan Zimmermann saving a Gonzalo Castro penalty and keeping out Ousmane Dembele on several occasions. Levent Aycicek was the one to sail 1860 to victory as he struck a ball into the net from just outside the penalty area.
The struggle to score and also keeping victories has clearly been worked on by head coach Runjaic, a strong defensive line has been established with Wittek and Busch playing wide consistently whilst the centre-back position remains interchangeable, Milos Degenek will likely start, however with who is the main question.
The confidence in defence has even spread to attack, since pre-season began 15 goals have been scored in only seven games, admittedly nine of them did come against Austrian side TSV Pöllau in what was an absolute massacre.
Still, to score goals consistently and more importantly hold them and turn them into 3 points is what matters. Runjaic will be hoping that this winning form continues into the beginning of the season so that he can avoid having to make up for it later.
Going into the next season
In terms of a possible starting XI, something like the two lineups is what we could be seeing in the first game of the season against SpVgg Greuther Fürth. The 4-2-3-1 was the formation used most consistently in pre-season, against Borussia Dortmund it allowed the front three to get space in behind and create chances whilst also having defensive stability with two holding midfielders.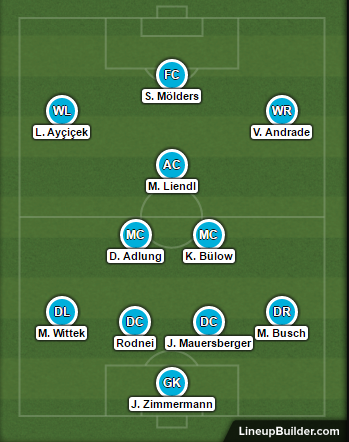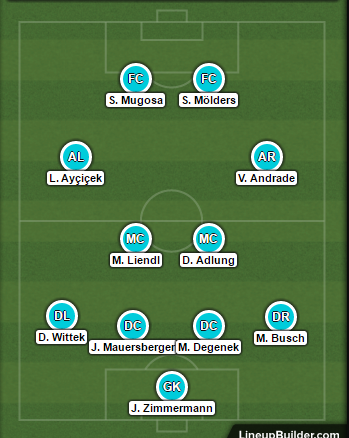 It isn't impossible that Runjaic will play a 4-2-2-2 style so that he can get the most out of his attacking options Olic, Mölders and Mugosa. In the pre-season game against Werder Bremen a pair at the front worked wonders, Mölders and Mugosa were able to link up well and created opportunities for each other. However, they seemed to have built up a solid partnership, this will be another avenue that Runjaic will be able to explore if the more conventional 4-2-3-1 isn't working.
Key Players
Zimmermann – keeping clean sheets will be vital for if 1860 can progress out of mediocrity, shot-stopper Jan Zimmermann will have to step up and make it happen.
Degenek/ Mauersberger – The two centre-backs will be the ones to organise the back-line, failure to do so could mean disaster.
Aycicek – "the technician" will hope to be able to carry his good pre-season form into the season, he will play a large role in attacking set-ups.
Olic – The Croatian needs to avoid injuries and playtime to get back to past form, however if he does, the skies the limit for what 1860 can do in the coming campaign.
Mugosa – Goals will be on Mugosa's mind after an average last season, the Montenegro international will have to work to find himself consistently finding play.
Can consistency be found?
This is the big question that will be surely answered in the coming months for 1860 Munich fans, if the past is anything to go by, Runjaic will have to hit the ground running to secure a long term stint at the Allianz.
What can't be ignored though is that the recourses are there for a solid season in the 2nd division. With the vast introduction of new talent, it will be up to them and the players who remain at the club after last season to push for success. Whether or not 1860 have truly found a winning formula is yet to be seen, and it's difficult not to question this considering the fact that the club has found itself in this position before. However, pre-season does suggest that 1860 are prepared for the challenge.
Taking into account all of the factors going into the next season, I think a mid-table finish is what Runjaic and his team will be looking for as they begin the campaign. It's not impossible that 1860 could make a run for promotion, stranger things have happened in the world of football. But for the sake of logical thinking, anything more than a mid-table finish shouldn't be expected. The Lions play in there first game of the season against SpVgg Greuther Fürth on the 7th of August.