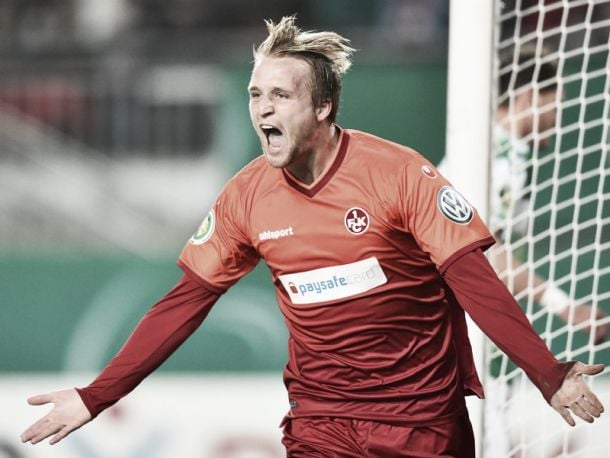 Two simple first-half finishes from Philipp Hofmann earned Kaiserslautern a place in the DFB Pokal third round. It was a scare costless win at the Fritz-Walter Stadion, the perfect confidence booster for their promotion push.
Bouyed by a last-gasp equaliser against Fortuna Düsseldorf at the weekend, Kaiserslautern would have been hopeful of progression to the third round of DFB Pokal action. The effects of that game had taken their toll and this was evident in Kosta Runjaic's team selection; Tobias Sippel, Dominique Heintz, Chris Löwe, Alexander Ring, Marcel Gaus and Kerem Demirbay were rested, giving Marius Müller, Tim Heubach, Jean Zimmer, Markus Karl, Karim Matmour and Amin Younes some much needed game time. For Greuther Fürth and Frank Kramer it was a case of giving players a second chance, following their 2-5 thrashing against FSV Frankfurt. Exactly the same side started, with hope of getting a reaction out of them. Unfortunately, this was far from the case.
The first chance for Kaiserslautern was taken, after an opening ten minutes of dominance, Amin Younes collected a wonderful through-ball before crossing for Philipp Hofmann. The hosts' couldn't have wished it to fall to anyone better, as the poacher slid the ball home and under the despairing Tom Mickel. He was not enjoying his time of replacing Wolfgang Hesl, after conceding five goals to Frankfurt, another knock to his confidence was not needed.
Things would not get any easier for the stand in stopper or Fürth, as Kaiserslautern quickly doubled their lead. It was almost a carbon copy of the first goal, but this time it was Michael Schulze who crossed for Hofmann. This time, the striker was called upon to head home, but the result was exactly the same, as Hofmann earned his brace. Pace on the break was killing the visitors on the break, as they seemed totally shell-shocked after falling a goal behind.
The pressure continued; Schulze was getting forward at any opportunity, while Younes was orchestrating the play centrally. Whether it be corner, cross or through-ball, the shamrocks look uneasy and unable to deal with the danger. Even when Fürth got on the ball, it was rushed and untidy, it was quickly given away due to the hard work and pressing home the home side. Lucky not to fall further behind, a debatable yellow followed for Jean Zimmer (for diving) when it could easily have been a costless-kick right on the eighteen yard line.
Hofmann had two brilliant chances to notch up his hat-trick just minutes after the re-start, but the woodwork and Mickel were proving hard to get past. The visitors came out of their shell and tried their best to force the issue, though set-pieces and crosses were proving easy picking for Marius Müller. Both sides were attempting to stretch their lead, but when Karim Matmour lifted the ball over Fürth's 'keeper, the offside flag denied him a wonderful goal.
Despite the pressure from dead-ball situations, it was an easy progression for Kaiserslautern who were never really tested. The second-half was extremely comfortable, a few hand-bags were dished out towards the end but that was more in frustration than anger. A tough test awaits both teams, when they return to 2.Bundesliga action. The Shamrocks travel north to Union Berlin, while the red devils face RB Leipzig in the weekend's biggest match; they'll be eager to win, for very different reasons.