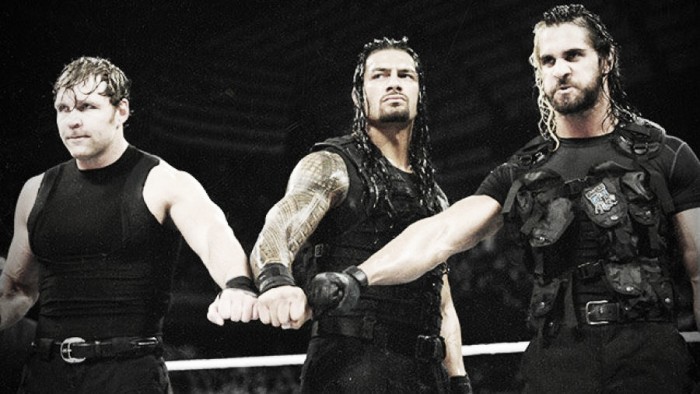 With The Miz referencing and disparaging The Shield while interviewing Roman Reigns on MizTV last Monday on RAW, as well as a 3-on-1 Miztourage beatdown on "The Big Dog" later in the show (Miz, Bo Dallas, and Curtis Axel did the signature Shield fist pose afterward), all signs point to a reunion of "The Hounds of Justice", likely at the next RAW-exclusive pay-per-view Tables Ladders and Chairs.
The probable return of one of the most popular factions in recent WWE history is yet another attempt by the company to boost their network subscriber numbers. Will a Shield vs. Miztourage match entice people to sign up? This writer believes, especially if they have multiple matches with other teams down the line.
Fans will pay to see The Shield
On paper, the obvious criticism of The Shield's possible first match as a team since 2014 would be the quality of their projected opponents. While Miz has improved his standing thanks to a great run on SmackDown Live last year, he still comes across as a chicken heel to some, who can't earn victories without outside interference. His underlings Axel and Dallas are even worse off; they have almost no in-ring credibility after spending years as enhancement wrestlers. Most fans might struggle to buy into the Hollywood trio beating down one member, let alone all three. That could be a problem, but not a big one.
I can listen to the argument that a more legitimate threat should force Reigns, Dean Ambrose and Seth Rollins to come together. That's more than understandable. A six-man tag match involving some bigger names opposite The Shield would be preferable but in this case not necessary. Assuming this match occurs in late October, The Shield will be the star Autumn attraction.
For a show that is not one of WWE's "Big Four" supercards, advertising The Shield as the featured event can gin up interest in a way that few other non-Brock Lesnar matches can right now. It's kind of an apples-to-oranges example, this is is comparison to other sports as buying a ticket to see a big star on the opposing team. Plenty of fans would still come to see their home club, but a portion of that crowd also paid good money to watch the big star player that they might only get to see a couple times a year at the most. Is a Shield return against the Miztourage that much different than a casual fan going out of his or her way to see LeBron James, Mike Trout, or Aaron Rodgers?
The fans who want to see a re-formed Shield expect to get Ambrose, Reigns, and Rollins decked out in their SWAT team gear, marching through the crowd to the better version of Reigns' music. They want to see their signature spots like the triple powerbomb. Most importantly, the fans want to see them win. A match against Miz and his cronies pretty much guarantees that.
Also, this doesn't have to be the only Shield match. WWE could use the popularity of "The Hounds of Justice" to prop up their needless gimmick PPV this coming month, especially if there is not a Universal Championship match on the card. If the fan support for the group leads to more Network subscribers, that could leave the door open for bigger matches later in the year. They could have a match at Survivor Series against The New Day. Perhaps the creative team can weave Ambrose, Reigns, and Rollins' histories with Braun Strowman, Cesaro and Sheamus for another big match this or next year.
Can WWE make this work?
Of course, all of these scenarios depend on Vince McMahon and the creative team's abilities, and they haven't earned the benefit of the doubt from their patrons. WWE could easily botch the build of this hypothetical Shield/Miztourage match; they could book the Miz and his boys like jokes throughout the build similar to The Rock and John Cena vs. Awesome Truth or they could have them unrealistically beat up The Shield every week, killing the interest of reunion altogether.
If, and this is a big if, the WWE can keep fans clamoring for a Shield reunion until October 22, they can generate some buzz for an (outside of Asuka's debut) otherwise missable show. As is often the case with the promotion, it all depends on the execution and a story that fans can "believe" in.