 Manchester United manager Jose Mourinho has revealed that he would have no qualms about dropping club captain Wayne Rooney, per the Manchester Evening News.
Despite scoring once and providing two assists in the Red Devils' first three Premier League games of the season so far, the Englishman's performances have come under scrutiny from some fans.
Mourinho not afraid to leave Rooney out
The Portuguese was also left unimpressed by Rooney's first-half display against Hull City on Saturday, suggesting that his captain's performance "was like the team", declaring that "he was okay" but "a little bit slow in the transitions."
Mourinho continued by saying "I can take him out" before adding that "it's no problem for me to take him out" and that it's "no problem for him to be out."
Rooney has been substituted off in all three of his league appearances this season but was not replaced until the 93rd-minute against Hull – allowing him enough time to set up Marcus Rashford's last-ditch winner to seal a 1-0 win only moments before.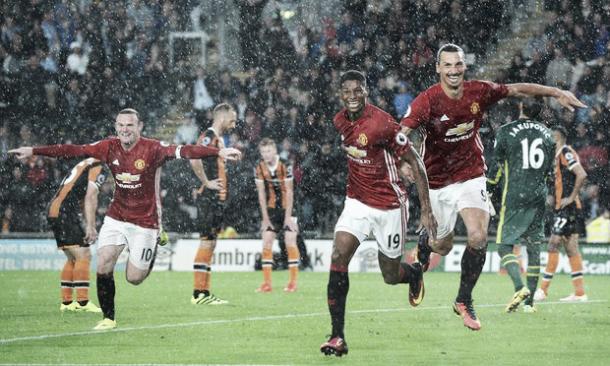 That somewhat vindicated the Portuguese' decision to keep Rooney on, as Mourinho explained further: "I was just reading the game and feeling that playing with the two strikers, Marcus and Zlatan, I needed Mkhitaryan and Rooney just inside because the full-backs were the ones playing really wide on the touchline."
Rooney no longer untouchable
Those words will be welcomed by players such as Juan Mata and Henrikh Mkhitaryan, both of whom have been kept out of the team by Rooney at some stage this season. Mata has been shunted out to the right side to accommodate for his captain to play in a more central area, whilst their Armenian teammate is yet to start a match this season.
A lack of Rooney in the side could also point to a change of formation which would be better suited to other players at the club. Paul Pogba has previously expressed his belief that he performs best on the left a three-man midfield, preferably in a 4-3-3, and that set-up could also allow players like Anthony Martial to thrive with more freedom in their wide attacking roles.
However, the news should also be greeted positively by Rooney himself. England's record international goalscorer hasn't been seriously threatened with the prospect of being dropped for some time, with both Louis van Gaal and more so David Moyes seeming reluctant to drop the striker during their respective spells in charge at Old Trafford.
Being dropped could enable Rooney to improve his performances, which is ultimately what all fans want to see. After all, the last time the Englishman was dropped from the starting XI – during a 2-0 away defeat against Stoke City last December – the striker reacted by scoring seven goals in his next nine starts.