Manchester United defender Luke Shaw is a doubt for the club's next match against Feyenoord after picking up a hamstring injury in Saturday's Manchester derby, according to the Manchester Evening News.
Shaw was replaced by Anthony Martial after playing 84 minutes in the 2-1 home loss to Manchester City on Saturday and is now expected to miss Thursday's Europa League away game.
Shaw absence expected to be short
Shaw's injury doesn't seem to be serious, though, as he is expected to miss the Feyenoord game in a bid to ensure he is fresh for the club's following fixture against Watford on Sunday.
However, after pulling out if the England squad due to a complaint about the same leg he broke against PSV Eindhoven last September, it isn't clear whether this is perhaps a repercussion of that problem.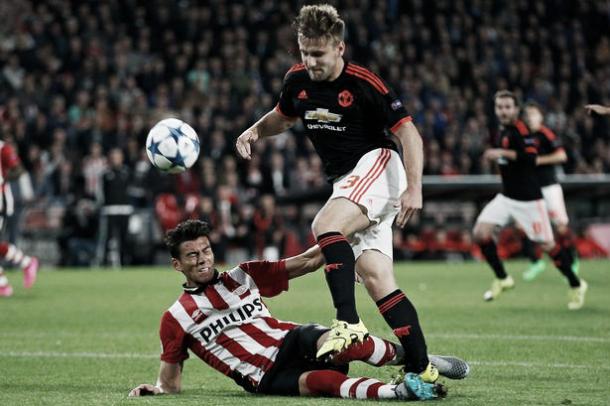 Shaw was eventually declared fit to play against City but there had been doubts about the left-back's inclusion in the days leading up to the derby clash.
Rojo will get chance to displace Shaw
He will be re-assessed before manager Jose Mourinho picks his travelling party for the game in the Netherlands, but in the event that Shaw isn't included in that squad, Marcos Rojo is expected to replace the Englishman.
Rojo hasn't featured for United in the Premier League this season and hasn't been included in the matchday squad for the club's last two games. However, the defender did come off the bench in last month's Community Shield triumph over Leicester City.
The Argentine is said to be one of a host of players that will get an opportunity in the Europa League fixture, with that competition seeming to be less of a priority for Mourinho.
Rojo's compatriot Sergio Romero is expected to be given an opportunity in goal, whilst Memphis Depay is also amongst the players set to be allowed a chance against the Eredivisie outfit – the league in which the winger thrived for PSV only two seasons ago.