The 18-year-old scored on his Premier League, UEFA Europa League, EFL Cup, England senior and under-21 debuts, and the former Everton man thinks that the Manchester United youth product should earn a place in the starting XI that will host the champions, Leicester City, on Saturday.
Marcus Rashford came on as a 54th minute substitute in the EFL Cup against Northampton when the score was tied at 1-1. He then proceeded to assist Ander Herrera's goal and score the third himself to ensure Manchester United a place in the competition's next round.
Neville thinks Rashford should start in the weekend
The Sky Sports analyst, who was part of the punditary team for the game at Northampton, thinks that "this kid is special" and "has to start [against the Foxes on Saturday]".
Phil Neville believes that "when a young lad is in such good form you've got to let them fly. You've just got pick him. It puts others under pressure, but this kid is special and he's scoring goal".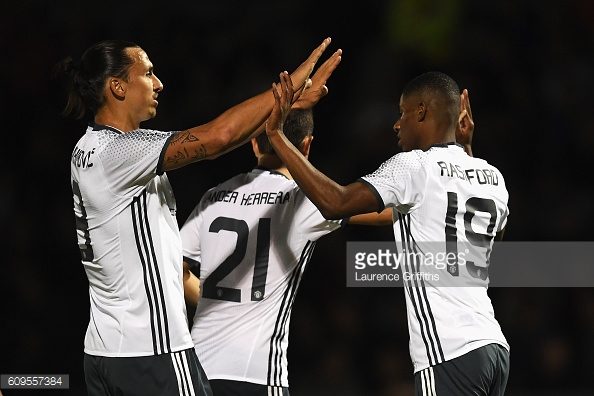 A partnership is in the making between Marcus and Zlatan
Speaking about Rashford's abilities, the former United player thinks that, "The biggest quality he's got is his temperament. To play for Manchester United is not easy, especially at a young age."
The youngster's adaptation with first team players led Neville to say, "He's making it look easy - he's getting quicker, he's getting stronger and the relationship between him and Zlatan Ibrahimović is going to be special."
The draw for the quarter-finals was made after the game and threw up a titantic tussle between the two Manchester clubs. United will host Pep Guardiola's Manchester City in the third round of the EFL Cup. The game will be played in the week commencing October 24th.