 When Manchester United lined up against West Bromwich Albion at The Hawthorns, no less than nine players that were signed by Sir Alex Ferguson made the starting line-up.
Two players, Ben Foster and Jonny Evans, were WBA players but even so that is astonishing when you consider that Sir Alex retired in 2013.
Two of United's starters - Jesse Lingard and Marcus Rashford - came to prominence under Louis van Gaal, but they were both players that the Dutchman inherited from Ferguson's tenure.
The entire defence was a Fergie defence. That statement must be qualified because again van Gaal deserves some credit for turning Antonio Valencia and Ashley Young into attacking full backs.
Valencia had played at right back on occasions, but it was usually when the kitchen sink was being thrown. It was never his normal position under Sir Alex. The Young of today was totally van Gaal's creation.
Moyes had a top squad
What exactly does that tell you? First and foremost it is clear that anyone who felt pity towards David Moyes for inheriting an 'aging' squad were a little misguided.
Without question, the team that Moyes took over needed an injection of quality, but an overhaul wasn't wholly necessary. That was no different to any title-winning team that Sir Alex produced. The best time to strengthen is when you are on top.
Moyes' didn't sell any of Ferguson's players, so there are various theories that can be deduced from that.
He may have felt that they were good enough, and his priority was to add to the squad. He may have felt he wanted to see the players up close before making any decisions, thinking that his six-year contract allowed him to do that.
It's possible he already knew who he wanted to replace, but his inability to bring players in meant he had to make do.
Whatever his reasons for keeping the faith it was Van Gaal was the one who started to erase the Fergie era. He got rid of a number of players and it was interesting that players like Danny Welbeck and Javier Hernandez were players that Jose Mourinho stated he would have never let go.
Mourinho is one of the best managers in the world. He has handled big players, big personalities. He has handled superstars and grafters, so it is fair to say he knows quality when he sees it. So his comments on some of the outgoings may tell a story.
Had Marouane Fellaini been available for the West Brom game it is quite possible that no van Gaal signings would have started the game. Had that happened, both of Moyes signings would have.
Arguably, had Michael Carrick not suffered this season through a mysterious illness, he could have made it an eighth Ferguson starter for United.
So Mourinho has respect for the Fergie players. He has respect for the Moyes players. The van Gaal players seem to be on borrowed time.
He has already got rid of three of van Gaal's players in Morgan Schneiderlin, Bastian Schweinsteiger and Memphis Depay. Daley Blind and Matteo Darmian look vulnerable, Luke Shaw has never endeared himself to Mourinho and even Marcus Rojo maybe surplus to requirements.
Only Anthony Martial (and Sergio Romero if he wants it) looks to have a certain future under Mourinho, and even he has had his run-ins with the boss.
Mourinho's big guns missing
Yet where are Mourinho's own signings? Unavailable were Paul Pogba who was suspended, and Eric Bailly who was injured. They would have started the match without question.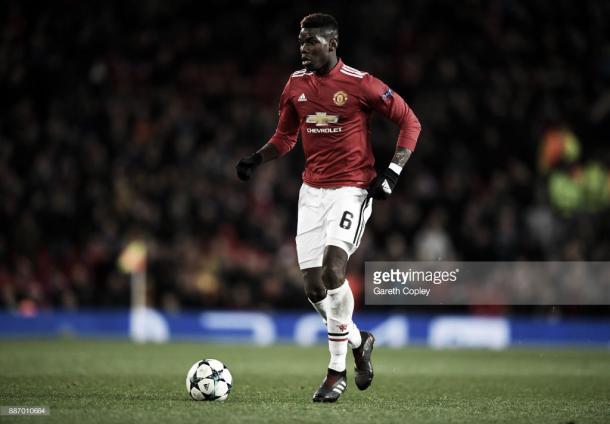 Nemanja Matic and Romelu Lukaku started and Zlatan Ibrahimovic was on the bench as he is still being eased back after injury.
Victor Lindelof is still a work in progress, he also made the bench, and that left Henrikh Mkhitaryan. The mercurial forward seems to have created his own love and hate relationship with Mourinho and after some recent uninspiring performances cannot even make the squad these days.
Mourinho has admitted he may look to add personnel in January. One of the players that have popped up on the rumour mill is ironically Jonny Evans. That would be madness.
Not that he could not play for United, he could. It was a surprise when van Gaal sold him. As it was with Michael Keane, who was heavily linked to United in the summer, and who could also fit in. Even Ryan Shawcross, a Ferguson cast off could do a job. What would be the point though?
None of those players would improve United as a team, only as a squad. Yet with the likes of Axel Tuanzebe and Tim Fosu -Mensah, who is currently on loan to Crystal Palace, waiting patiently in the wings any signing at that level would be detrimental.
Regardless of the players' origins, and if Mourinho has an agenda against van Gaal's boys, under him the team have won trophies and still look capable of winning more. The play is not always dour either.
There are still differences though. A free kick in a dangerous area with four added minutes on the clock would never have been played into the corner under Fergie's watch. Not against WBA away in a league game anyway.
Similarly, with one minute on the clock left, a direct freekick centrally would have certainly seen David Beckham, Cristiano Ronaldo or any number of gifted players take a pop. it wouldn't have yet again been played into a corner.
Depending on how long Mourinho wants the job, and how long he continues to deliver trophies, then all of the previous managers' players and maybe his own will eventually fall by the wayside.
Sir Alex never always got it right. David Bellion, Eric Djemba-Djemba and William Prunier are just a few names to send shivers down United fans spines.
He didn't get too much wrong though. As it stands, Sir Alex's influence is still quite heavy.