Two years ago, both Manchester clubs appointed high profile managers in Jose Mourinho and Pep Guardiola. A power struggle had to develop, just as it had done previously in Spain.
After one season, it was Mourinho who was feeling the happier of the two. United finished below City in the league, but two major trophies to City's nil meant first blood to the reds.
One season on, and not only have the tables been turned, but it looks now like the gulf between the teams is immeasurable. City won the League and League Cup and destroyed everything in their wake.
United were runners-up, but the 19 point deficit was telling. United needed an injection of quality if they were going to reduce the gap, never mind overhaul City.
The summer started well, with young and highly rated Diogo Dalot joining from Porto and Fred coming in from under City's noses. Yet United only added one more player, Lee Grant, as third-choice goalkeeper.
The World Cup obviously put a lot of transfer activity on hold, and with the Premier League voting to close the transfer window before the season started, the pressure was always going to be on to recruit top quality.
Moaning Mourinho
And so it proved. Mourinho was not shy in pointing where the blame lied. Ed Woodward. That said, all summer Mourinho was not shy in complaining about one thing or another.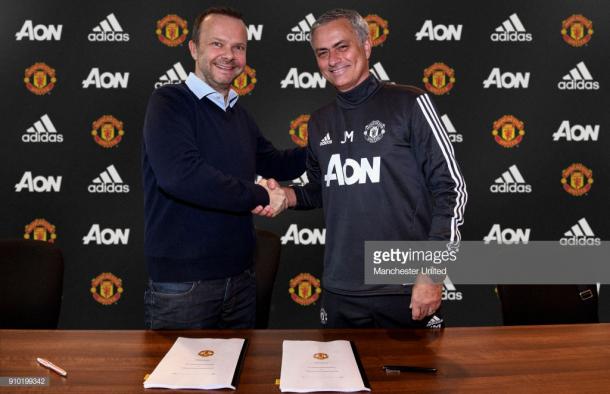 Almost before a ball was kicked on the summer tour of the US, he was bemoaning the lack of first-team regulars within the group. On the pitch, the team struggled and Mourinho kept up the narrative.
All of the young players that must have been on cloud nine being part of the tour had to constantly hear that they were not first teamers. They would have known that, but they didn't need the manager ramming the point home.
He praised the likes of Marcus Rashford and Phil Jones who cut short their holiday to join the group, but the negativity had fed the media and it was hard to shake off.
Mourinho's public persona doesn't tie in with what goes on behind the scenes. Luke Shaw, a player who has been criticised on numerous occasions by Mourinho, launched a staunch defence of him and that does tell a story.
The public doesn't see that though and the bad vibes surrounding the lack of transfer activity continued up until the window closed. It actually got worse after the window shut.
Once again, as the deadline approached it transpired that United were willing to buy pretty much anyone.
Mourinho had stated he gave five targets to the board back in May. Harry Maguire was by far and away the number one choice. Yet at the last minute, Diego Godin became another in a long list to reject United.
He had not been on the radar - in the media anyway - and after United allegedly met his release clause, he chose to stay in Spain.
United had tried hard with Maguire and got nowhere, and it is not clear what happened with Toby Alderweld, Jerome Boateng and Yerry Mina though the price tag and agents fees were reasons reported.
There appears to be a standoff with Mourinho and Woodward and it is not healthy. Mourinho likes the ready-made players, the board prefer younger players with potential and sell on value.
In many ways, the board are wrong. They knew what they were getting with Mourinho and if they are not prepared to back him then this could be the beginning of the end.
Yet Mourinho has hardly been denied funds. He has spent a King's ransom in his time at Old Trafford, and whilst it was clear there was a lot of rebuilding to do he has made plenty of signings for plenty of money.
Squad marginally better
So when United went into the season they had two new signings, plus the returning Andreas Pereira, and had lost Daley Blind and the retiring Michael Carrick.
For a team that was second in the league and had the second-best defensive record then, the doom and gloom really were unnecessary, even if the desired additions didn't come in.
A hard fought victory albeit in an unconvincing performance against Leicester City was a reasonable tonic.
United had lost to Brighton, West Brom, Newcastle and Huddersfield last year. The performance in each of those games was abysmal. If United could cut out those type of performances, then that alone would see them close the gap.
Yet two games in and another defeat to Brighton have meant that Mourinho now is under severe pressure. He will point to the calamitous errors in defence and maybe say "I told you so".
Unfortunately, the two main culprits were his signings. Victor Lindelof and Eric Bailly - in particular - were the villains of the piece, yet the whole team were listless. They looked almost afraid.
Attitude wrong
Paul Pogba, who's veiled barbs towards Mourinho and subject of transfer speculation himself, was and is another summer hangover. After winning the World Cup and having a great tournament he should be flying.
Yet he admitted that he and the rest of the team were not at the races, not just in terms of quality but in terms of attitude too. That is inexcusable.
Next up is Tottenham Hotspur and a repeat performance could end in embarrassment. United have tended to be better against the top teams, and they probably won't need motivating.
It's the lack of leaders that is probably the root of the problem. Pogba was captain against Brighton and if he admits to a poor attitude what hope is there of him motivating others?
It's early days. The panic button shouldn't be pressed just yet, but unless performances improve and United put some sort of a run together then the knives will be out and they will be pointing at Mourinho.