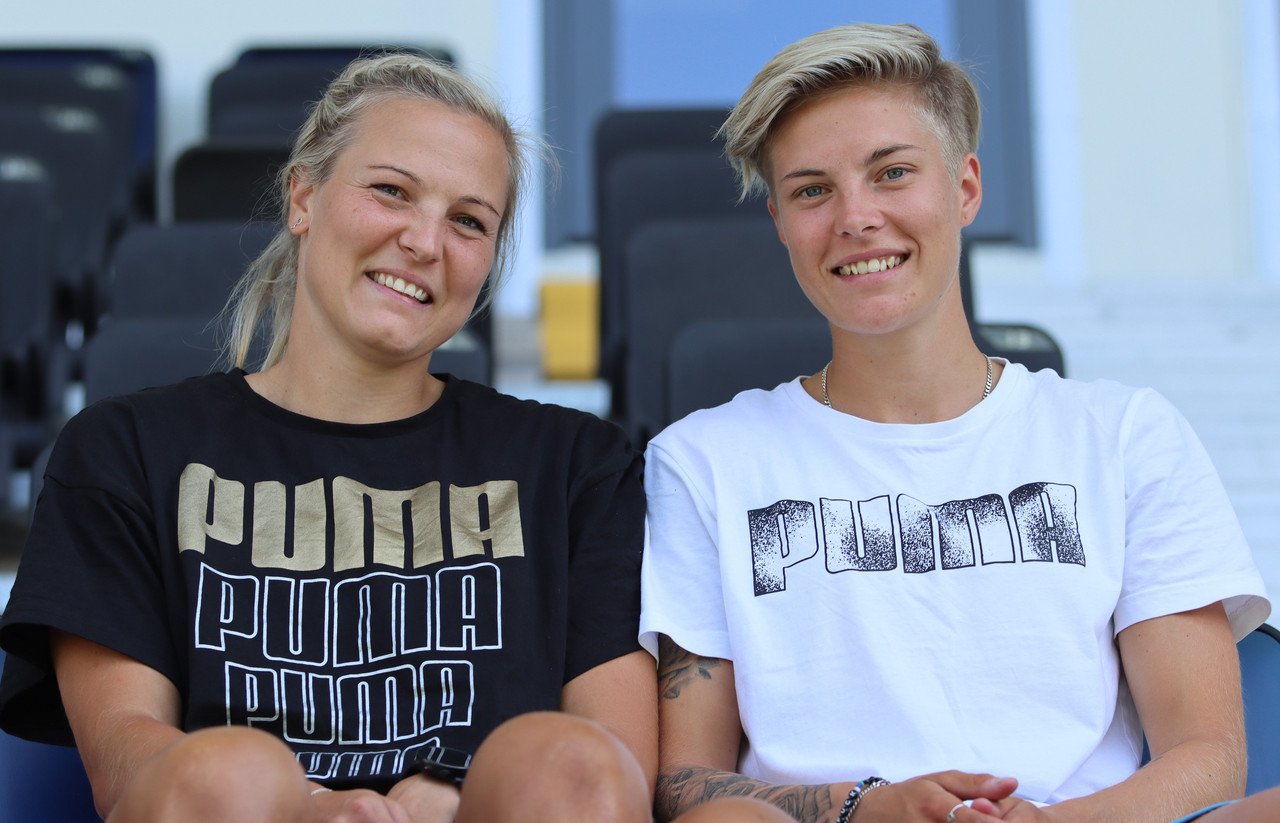 Every year, during the month of June – the LGBTQ+ community celebrates Pride in a number of different ways. Not just a month for celebration packed with events, Pride is also an opportunity to peacefully protest and raise political awareness of current issues facing the LGBTQ+ community and beyond.
A strong team in many ways
Power couple Lina and Lisa Hurtig are not just professional footballers. They are also married. They met on the pitch, they fell in love and the rest is history. A beautiful one. Together they've achieved great things. In 2017 they won the title in the Damallsvenskan, they've played in UEFA Womens Champions League, and together they travelled to France for the World Cup last summer - Lina as a national team player for Sweden, Lisa, without a doubt, as Lina's biggest supporter. Think you've heard this or read a story like this before? Well, that's fine. You need to hear and read about it again. And again. The LGTB+ community tirelessly work to bring awareness and it can never stop.
For football fans around the world it's no news that the game can give us so much more than just the game itself. It can also bring joy, love and togetherness into our lives.
"Lina is my soulmate, it's her and me. We have had the luck to find ourselves within each other. It's as simple as that" Lisa says.
Looking back to the 2019 World Cup, as mentioned before this was a different experience for Lina and Lisa. Things happened both on and off the pitch, at games, in between them and after.
"It feels like things are always developing after a big tournament and I didn't recognize the things Lisa did get to experience and hear about since I was playing and I was in my own 'bubble'. But one thing I did notice was that the number of followers on my Instagram account increased massively." Lina says
"I was a little surprised, I must admit that. Because people were coming up to me in the stands asking me about our relationship telling me that it was so inspiring to see that we could be so open about it. When they also asked me how it was for us back home in Sweden I was surprised that a country like France for example, hasn't gotten any further with this yet." Lisa continues.
Having role models and being one
To LGBTQ+ youths within football, it seems important to have role models in their lives. So, do the Hurtigs have their own role models and do they see themselves as role models?
"I don't see myself as a role model. I have a hard time to even see it like we're standing up for something since I don't think about it that way. We are just being ourselves and it feels weird to be a role model just by being myself." Lina says.
"A role model for me is every single person that dares to be themselves and live their lives as they want. I admire people who do just that. That's a true role model for me and if I am a role model, that's how I want us to be looked at." Lisa reflects.
It's sometimes been a question of whether LBGTQ+ rights are something you should fight for or just celebrate during Pride. So, how do the Hurtigs celebrate Pride:
"We celebrate our love for each other every day. But we do think that Pride month is important because people can come together in different ways than in every-day-life. But instead of protesting or fighting for our rights to be ourselves, we see Pride as a way to show our values and how we live our lives. We want to contribute to make people more aware and to become less ignorant because ignorance is often the biggest problem. People intend to be scared and suspicious if they don't have the right knowledge."
"Love is a great thing. To be in love is a privilege that we wish everyone to experience; whether it's love between two men, two women or between a man and a woman. It's just love. And every adult should contribute to not just other adults but also to today's youths and encourage them to be themselves and love who they want. Love has no limits!"
The football season ahead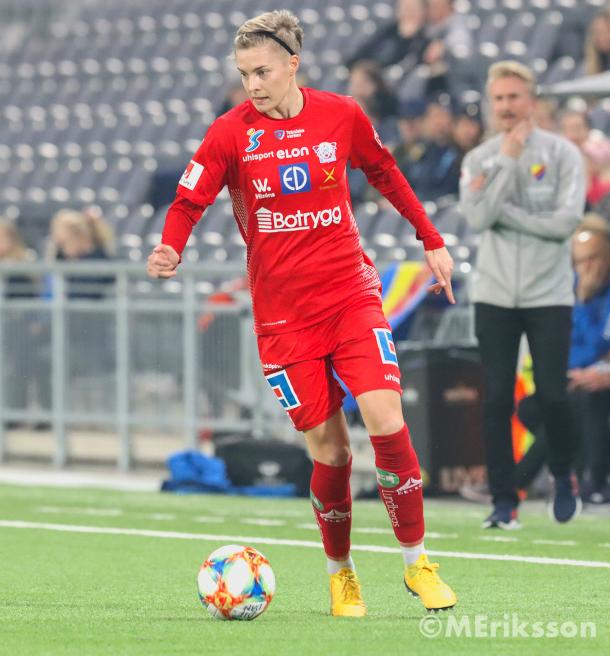 The Swedish League, the Damallsvenskan, kicks off this weekend. Many footballers around the world have felt that these past months have been strange and been taking its toll on them:
"It feels great that we finally can start playing games again. It's been a strange and long preseason for us. I really believe that every player has been handling this very individually. As a professional footballer you have to perform and improve all the time and that makes the job hard from time to time even on a regular basis." Lina says.
"Of course it's been affecting us. Although we have been able to train as usual we have been careful outside training sessions. We haven't met so many friends and we have tried to avoid going to the supermarket when we know there have been a lot of people there. I think we have handled this situation very well overall. We are very satisfied with our lives outside football; we live in a nice house with a nice little garden to hang out in." Lisa tells.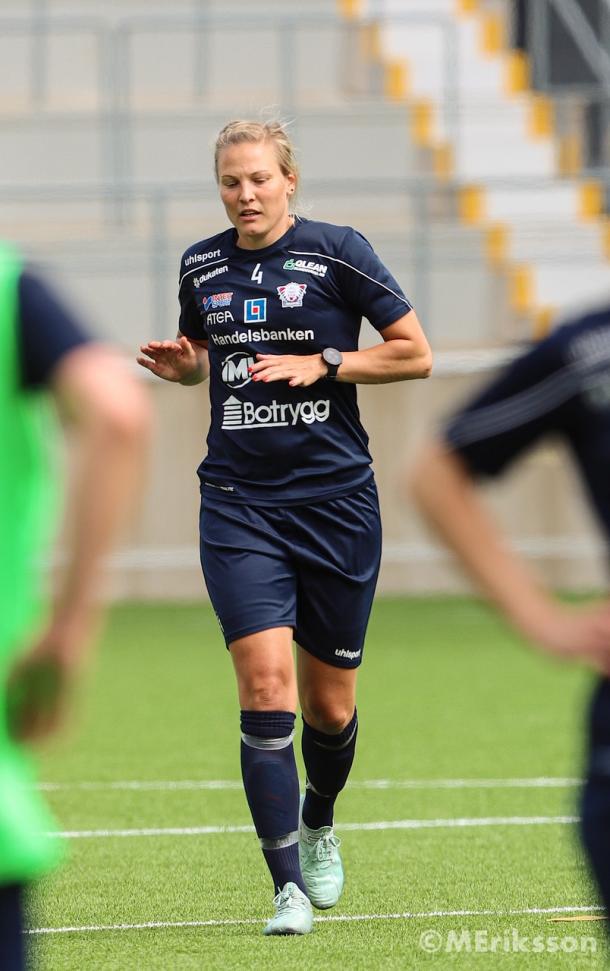 Ambitions and goals for the season
Linköpings FC finished 5th in the table last season. The question is: Will the team be able to improve that result? Linköping start their journey in the Damallsvenskan on Saturday 27th of June at 14:00 BST.
"We want to win every game. We have a really great team this year and every training session is fun to go to. It's a great environment to be in at the moment!" Lisa says.
"The best part about playing football is just that; to play football. And my dream is to win the UEFA Champions League some day." Lina finishes