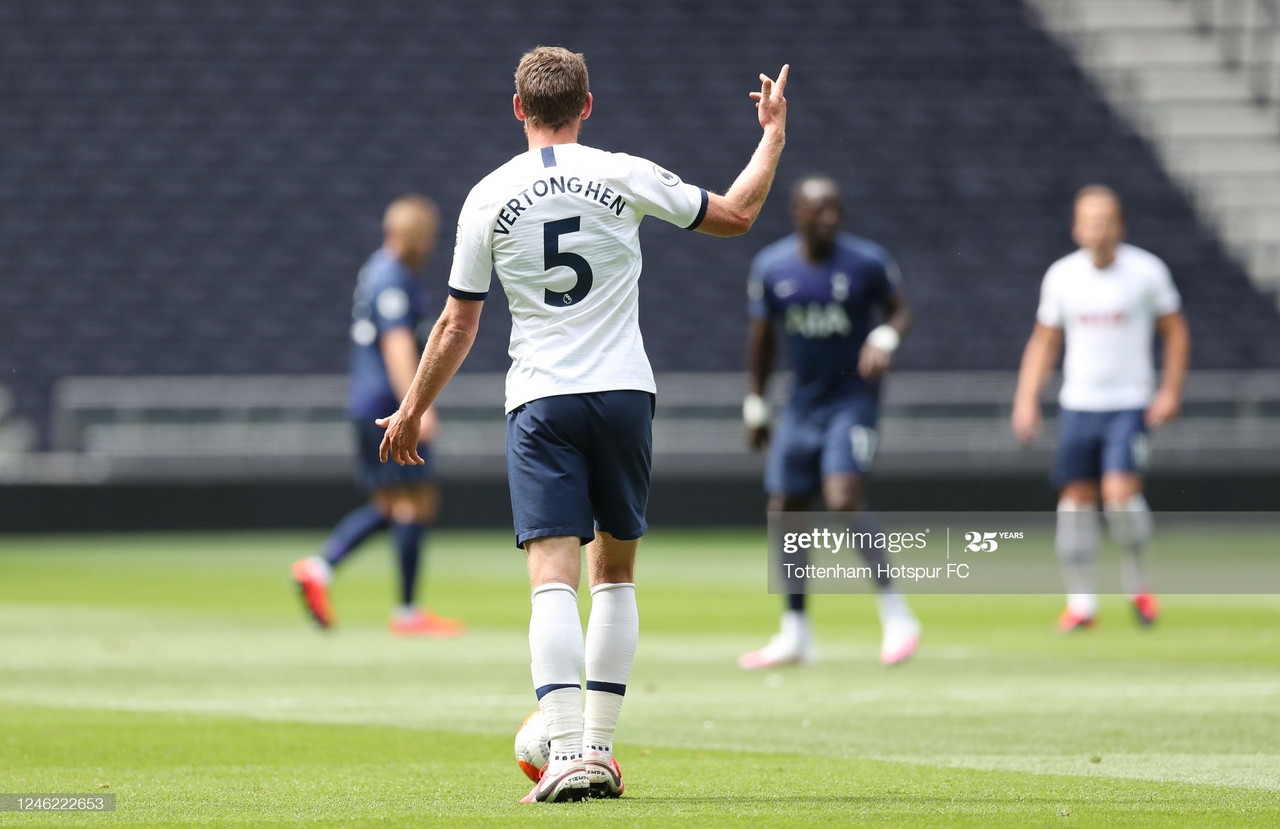 Very rarely a defender that has appeared in a World Cup semi-final and Champions League final, played well over 200 Premier League matches and +100 caps for his country come along for free and considering the financial implications upon the transfer market caused by COVID-19, this sounds like the bargain beyond all bargains.
There should be no more interested party than those in the Chelsea camp, considering their well documented defensive problems and the fact they are in dire need of adding balance to their extremely top-heavy squad.
And who is this mysterious figure that could solve some of Frank Lampard's rearguard woes? This is where the diehard Blues fans might want to turn away.
Jan Vertonghen has recently become a free agent after leaving Tottenham Hotspurs following eight years of fine service, so would it so inconceivable for Chelsea to snap up the Belgian before he's whisked away to a far off land?
Putting history aside for the future
If you are a Chelsea fan and have returned in a rage of "But he played for our bitter rival" or "Chelsea and Spurs players should never swap alliances".
Granted, there is evidence of those who have changed allegiances across the capital which has not settled well the respective set of supporters. Gus Poyet, vital to reshaping the landscape of Chelsea, moved to Spurs in 2001. 12 months later after a League Cup tie between the two sides, the Uruguayan ungratefully kissed the badge of his new team in front of those who used to sing his name from the Stamford Bridge terraces.
William Gallas went one further by joining Arsenal after winning the Blues first league title in 50 years, before eventually ending up at White Hart Lane, becoming the only man to be brave enough (or stupid enough) to play for Londons three titans.
If Vertonghen were to follow on those hallowed footsteps, there would be understandable bad blood between himself on the Chelsea contingent. He was involved in the infamous 'Battle of the Bridge', among many other heated contests against Chelsea, in which Spurs sacrificed their chance at winning the league.

Nasty challenges and even ugly scenes throughout the match made their crescendo come the final whistle, for which Vertonghen was personally involved wrapped up in with, shock horror, Diego Costa.
However, Chelsea must look beyond the past if they are to start planning for a brighter future under Lampard. This cannot be achieved without first addressing their defensive woes, for which Vertonghen would certainly improve. The Blues boss will know all about the importance of strong back-line to challenge for trophies, having been involved in Jose Mourinho's master class in organisation during his maiden season in England.
He will also have witnessed his rivals do so in the same manner: Manchester United under Alex Ferguson and more recently, Jurgen Klopp leading Liverpool to the top of the pile in impenetrable fashion. Vertonghen has also learnt first hand from Mourinho, after the Special One took over from Mauricio Pochetino earlier in the campaign, with his philosophy gradually beginning to evolve as Spurs conceded just three goals in the last six Premier League matches.
Can the old dog teach new tricks?
Chelsea have shipped 54 league goals in 2019/20, the worst defensive haul since 1997, owed largely to the inconsistencies in team selection, individual mistakes and a lack of authority in pressure situations.
Vertonghen is clearly still a completely capable defender and few could doubt he would still improve a Premier League defensive, despite being the wrong side of 30 and not being a regular during his final farewell at the Tottenham Hotspur Stadium.
Throughout his stint at Spurs, he was not prone to errors, often oozing calmness to those around him, aided by the partnership he formed alongside fellow countryman, Toby Alderweriald. That kind of character would be key for the likes of Kurt Zouma and Fikayo Tomori by teaching them the trade, and to become that calming influence when inevitable mistakes do occur.
Lampard did inherit a relatively inexperienced squad last summer. A blessing and a curse, he has integrated the youngsters fantastically well with the elder statements, yet naivety from his players and managerial style has led to surprising defeats and sloppy mistakes. Having played in the biggest ties in both domestic and international football, and coming within touching distance of the Premier League crown, Vertonghen is aware of what it takes to reach the highest peaks, which is a valuable asset both on the pitch and in the dressing room.
There is no mistaking this is would not be a long term solution as Vertonghen's career starts to wind down. Age is a major factor of course, although John Terry played every minute of the 2014/15 campaign at 34, a year older than Vertonghen is now. If Lampard can utilise him to stabilise the bottom of the ship and improve those coming through, it would certainly be a very shrewd signing indeed.
Versatile Vertonghen
Left-footed centre- backs are somewhat of a premium in the modern age, hence the huge attraction surrounding former Chelsea man Nathan Ake. Vertonghen fits that bracket brilliantly, although he is not just tied down to one position.
His favoured position is on the left side in a back four, yet he has been known to slot comfortably at left back, but also at wing back and occasionally, as a central midfielder
This kind of versatility is golden for any manager, especially one like Lampard who is still figuring out his best system. Some of his finest results have been under a 3-4-3 formation, selecting three right footers at the back, one of those being the equally adaptable, Cesar Azpilicueta.
Vertonghen could easily slot in on the left, providing a greater balance along the back. His pace is starting to fade, which would not be so much of an issue with covering defender. Marcos Alonso seems to have saved himself from being sold, for now, after asserting back in at wing-back. If the Spaniard did set sail, Vertonghen, as a makeshift left back, wouldn't be the worse option, although his pace has started to fade. And in Lampard's whirlwind approach to pressing opponents, his legs may start to crumble quicker than expected.
He may not be the favoured option for Chelsea fans, he may not be the best option out there, but what Jan Vertonghen can do is add pure quality to a department that is crying out for an overhaul. Plus, Roman Abramovich will be licking his lips at the thought of a free agent on his bank statement...