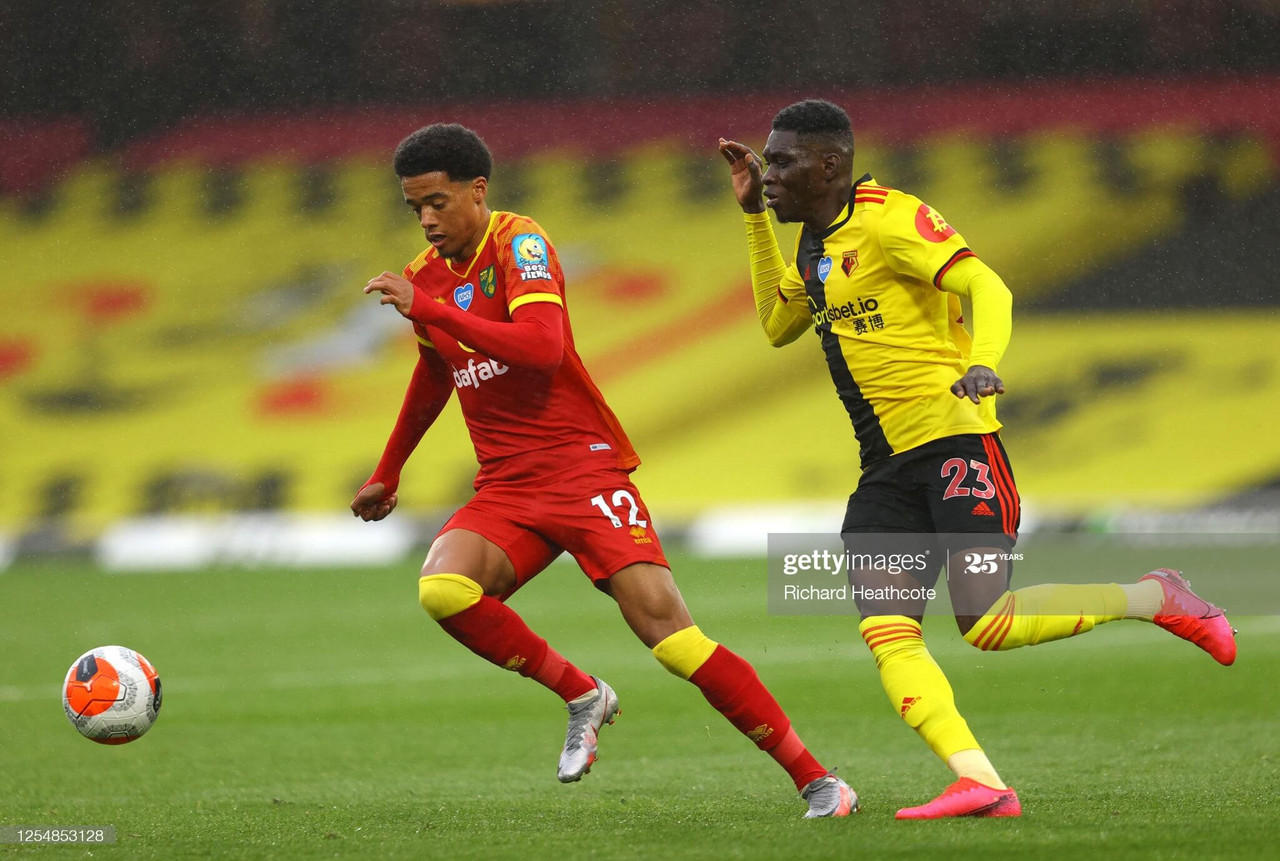 After the conclusion of the Premier League season last Sunday, the transfer window is officially open.
It is widely expected to be a low-key summer for champions Liverpool, understandably unlikely to pursue first-XI additions.
But Jurgen Klopp might still look to frugally bolster the depth of his squad.
In the past, the Reds have looked to relegated outfits for bargains, discovering diamonds in the rough.
Andrew Robertson, signed from 18th-placed Hull City for a mere £8million in 2017, has gone on to establish himself as one of the best left-backs in the world.
Midfielder Georginio Wijnaldum, who had dropped to the second tier with Newcastle a season earlier, has made nearly 200 appearances for Liverpool since his £25million arrival.
And though injuries have restricted his involvement in his second season, Xherdan Shaqiri proved a snip at £13million in his first year on Merseyside after Stoke City's demotion.
Could this approach bring more joy for Liverpool in 2020, with their spending power limited?
Chief rivals Manchester City have already swooped for a player who shone despite his team's struggles, agreeing a £41million fee with Bournemouth for Nathan Ake.
So, let's assess five players from the 2019/20 doldrums who could potentially improve the Liverpool squad.
The focus will be on centre-backs, full-backs and forwards, perhaps the thinnest areas of the Reds' ranks.
Ben Godfrey - Norwich City
The highly-rated Norwich centre-half is our first candidate. Liverpool need additional cover for Virgil van Dijk and Joe Gomez after Dejan Lovren left to join Zenit St Petersburg.
Would he fit in at Liverpool?
There are arguably similarities to be drawn between Godfrey and Gomez, just one year his senior.
The pair are of a similar height (6"0 and 6"1 respectively) and neither particularly excel in the air, instead imposing themselves when the ball is on the turf through their speed and their power.
Importantly, Godfrey is an assured passer of the ball, whether building from the back or picking out long-balls. Liverpool's incumbent duo excel in this respect.
Is he good enough?
Depending on his next move, Godfrey, the current England Under-21 captain, could be set for a first senior cap in 2020/21.
It is testament to his ability that his reputation has survived, or even grown, amid Norwich's desperate defensive plight, which has seen them concede 75 goals. He has had to shoulder much of the burden, having been their only consistently-fit centre-back for the first half of the campaign.
He has emerged as one of the few Canaries destined to remain in the top flight.
His attitude is also worthy of recognition. When the season he was suspended, he spoke to the Athletic of his drive to extract 'two percent' more from his game by poring over video analysis footage.
Estimated valuation
The CIES Football Observatory measure Godfrey's value at £18million-£27million.
But Norwich beg to differ. Sky Sports reported earlier this month that the 22-year-old, whose contract lasts until 2024, has been attributed a price tag of £50million.
"Right now we are in the situation where we are financially absolutely solid and don't have any pressure at all to sell," manager Daniel Farke says. "So I am quite relaxed."
Verdict
On talent alone, Godfrey would be a good addition to Liverpool's defensive department. However, the Reds will not entertain Norwich's prohibitive valuation.
If the player hands in a transfer request, they could be persuaded to lower their asking price, but it would have to be almost halved to persuade Liverpool.
Jamal Lewis - Norwich City
Is a deal for Godfrey's equally youthful team-mate Lewis more realistic? Goal's Liverpool correspondent Neil Jones identified the well-regarded left-back as a possible target.
Would he fit in at Liverpool?
It is important to understand that Liverpool's full-backs are their foremost creative avenue, and so the contribution of many of their counterparts will naturally pale in comparison.
This is certainly the case here, with Farke reining in his defensive width.
Indeed, Lewis delivered only 44 crosses over the course of the season relative to Andrew Robertson's 210.
His offensive strength lies principally in his dribbling, and like Godfrey he is a confident distributor.
Is he good enough?
On the surface, Liverpool would be paying for a defender who initially struggled to tie-down a place for the league's bottom side.
It was only in February, when competitor Sam Byram sustained an injury, that Lewis secured the spot.
Some of the statistics fail to encourage. For example, he did not provide an assist in 2019/20, a mark against the name of a full-back in this day and age, and he fashioned only one big chance.
In fact, he averaged only 0.04 expected assists per 90 minutes.
However, it should be stressed that Lewis is very raw indeed and he has shown flashes of immense promise, not least against Leicester in March, when he produced a fantastic half-volley to win the match for his side.
On top of that, Norwich captain Grant Hanley believes Lewis' 'ultra-professionalism' will be central to the successful career that awaits.
"I don't think I've seen a young lad with his professionalism or his temperament," Hanley told the Athletic. "He never flaps. He never lets things get on top of him.
"And I think in the long run that will 100 percent work out for him and the lad will get what he deserves."
And let's briefly return to those assist figures. Robertson's xA/90 at Hull City? Only 0.01 better.
Great coaches can take players up multiple levels.
Estimated valuation
The CIES Football Observatory have given Lewis, whose contract runs for another three years, an identical valuation to Godfrey.
But while opposite full-back Max Aarons could be the subject of a bidding war with Bayern Munich among the suitors, Lewis' quieter campaign could limit Liverpool's competition and stabilise the fee.
Verdict
If Norwich indicate a willingness to sell the Northern Ireland international for somewhere between £15million and £20million, Liverpool may be tempted.
Lloyd Kelly - Bournemouth
Another option the Goal report picked out, Kelly was supposedly monitored by the Reds last summer before he made the move to the South Coast.
Would he fit in at Liverpool?
There are some similarities between Kelly and Lewis. Both like to run with the ball, both are very energetic, and neither have tangibly contributed a great deal going forward up to this point.
In Kelly's short stint in the Bournemouth team, he only delivered six crosses.
He is arguably a stronger defender than Lewis, very rarely coming off second best in a duel. That may be the result of his experience playing at centre-back.
His versatility will be seen as an excellent asset.
Is he good enough?
Liverpool's interest was piqued by Kelly's performances at Bristol City in 2018/19. There, he was effectively an ever-present, scoring twice and assisting two more in 48 appearances.
But this season, injury has struck. His integration into the side was delayed by a ligament injury at the outset, and shortly after his recovery he spent another extended period on the sidelines with a hamstring problem.
He did, however, play in each of the last seven matches for Bournemouth.
A rather embarrassing error in the eventual victory against Leicester aside, he impressed.
"Lloyd Kelly deserves special mention because of the lack of football he's had," manager Eddie Howe said early in that run of matches. "I think he's shown in his last two games the promise that I've been talking about that no one's seen, how highly I rate him and where I think he will go in his career.
"Sometimes you get thrown in the deep end and you find out the most answers. And I think with Lloyd, the last two games he's been immense for us. It's just the start of the journey for him. There's a lot more to come."
Estimated valuation
Kelly is only 21 and his contract still has four years to run, yet CIES data places his value at just £3.6million-£6.3million.
Bournemouth, under reduced pressure to sell if the lucrative Ake deal goes through, may demand slightly more.
Verdict
If Kelly's price tag is indeed short of £10million, Liverpool might well revive their interest, particularly if rivals are sleeping on his potential.
Ismaila Sarr - Watford
On then to forwards and a name that will evoke some pain for Liverpool fans. In what will go down as a historic Premier League event, Sarr mesmerisingly inspired lowly Watford to an emphatic victory against the hitherto unbeaten Reds in February.
Would he fit in at Liverpool?
Compared to his compatriot Sadio Mane and Mohamed Salah - who could be labelled inside forwards - Sarr is more of a traditional wide-player.
He is principally a supplier rather than a finisher, crossing the ball twice as many times as Mane and Salah.
His shot tally, meanwhile, is only equivalent to that of Liverpool's right-back, Trent Alexander-Arnold, though constraints of possession and system have to be borne in mind here.
Sarr played almost entirely on the right for Watford but, crucially, he is comfortable on either flank. In France, he was deployed on the left on 30 occasions, contributing nine goals and four assists in that time.
Versatility would be an indispensable quality in any attacking addition for Liverpool.
Is he good enough?
There is little cause for hesitation this time. Yes.
Neither Javi Gracia nor Quique Sanchez Flores were entirely convinced by Sarr, but when Nigel Pearson took over, he emerged as their best player by some distance.
He would finish the season on five goals and four assists, eclipsed only by Troy Deeney for direct goal contributions.
Two of his strikes were witnessed by Liverpool first-hand, the first an alert close-range finish and the second a supremely composed dinked effort over an on-rushing Alisson. He would then calmly pick out Deeney for Watford's third.
In truth, he tore the-then champions-elect apart.
Sarr also scored one and made another when Manchester United were beaten at Vicarage Road, prompting Gary Neville to pick him out as a plan-B if a move for rising superstar Jadon Sancho did not come off.
Of course, there is plenty of room for improvement, particularly in terms of defensive contribution and holding onto the ball, but he remains one of the most exciting young players in England.
Estimated valuation
Watford will surely expect multiple offers for Sarr in the coming weeks and may have privately accepted that he will leave.
The Hornets tied him to a five-year deal when they made the club-record £27million signing last summer, and will certainly demand a sizeable profit.
The CIES Observatory suggest he is worth between £45million and £63million, an estimate seconded by the Athletic.
Verdict
It has been suggested that Mane, apparently on good terms with his compatriot, could function as an invaluable middle-man in this deal.
But without significant income from sales, Liverpool are unlikely to consider shelling out such hefty sums on a predominant substitute.
They may also prefer to sign a deputy who will not join Salah and Mane on Africa Cup of Nations duty.
Liverpool may find a cheaper and slightly better-suited alternative elsewhere, while Sarr himself will not be short of opportunities to start more regularly at a high level.
Harry Wilson - Bournemouth
What if Liverpool were to look in-house for their next lower-league gem?
Wilson, having spent the season on loan at Bournemouth, could be among the cohort returning to Melwood for pre-season training in the middle of August.
Would he fit in at Liverpool?
Reds fans will of course be more familiar with the Kirkby academy product. His stand-out attribute is his penchant for the spectacular, demonstrated above all by his goal-of-the-season-nominated free-kick against Manchester City in August.
There are only a handful of players in English football more devastating from outside the area.
Wilson is anything but shot-shy. He fired off more attempts than any other Bournemouth player over the course of the season.
Like Salah and Mane, he tends to move from out to in with the ball at his feet, rather than getting chalk on his boots.
At Bournemouth, he has predominantly played on the right, but in his fledging career he has also racked up more than 50 appearances centrally or out left.
Is he good enough?
Wilson generated real excitement among the Liverpool fanbase by thriving on loan in the Championship.
He scored 22 and assisted seven across his season-and-a-half at Hull and Derby County.
And, in terms of goalscoring return, there can be few complaints about his first season in the top-flight.
Only Callum Wilson bettered his tally of seven, and he was on the pitch for around 1,200 minutes longer.
But his season on the banks of the Channel was not all plain-sailing.
He didn't find the net from late January onwards, and by the end of the campaign he was demoted to an impact sub.
He and namesake Callum may have topped the goalscoring table, but the Welshman also held an unwanted lead in the 'times substituted' rankings on 18. Second-placed Josh King was only taken off 11 times.
That suggests that he often failed to provide the expected impetus.
Ultimately, the question has to be whether Wilson would thrive in a stronger side, or whether his limitations would be clearer to see.
Estimated value
If Klopp chooses to sanction a fundraising sale, the CIES data reasonably suggests that the club should demand at least £20million.
Verdict
This should be a simple one. If Liverpool's asking price is met, Wilson will go in search of first-team football.
On the other hand, if the offers are not seen to match his evident talent, they will surely give him a chance to fight for his place.