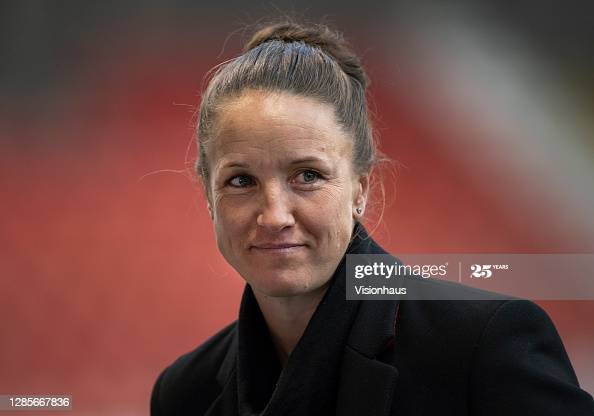 Manchester United face their city rivals for a second time just five days after fighting back to level the match from a two goal deficit on Women's Football Weekend.
On Thursday evening Casey Stoney faces Manchester City yet again, this time for the FA Continental Tyres Cup. Stoney was patient on Saturday after her team were completely dominated in the first half of the match, but with a couple of tactical and player changes United managed to take their game to their guests and strike back from two goals down.
Stoney accepts that no two games are alike and this match is no exception. Different tournament, her players now have experience playing City and the Gareth Taylor's side will come with intent to change the result in their favour this time around.
"I don't think it [the match] will be that much different because Manchester City have a philosophy and they stick to it and Gareth was very much talking about the way play and they won't change anything. We have a philosophy and we stick to that, we slightly adapt things depending on the opponent," said Stoney.
"I expect it to be heated because of the previous game being so close, I expected to be competitive as it was on Saturday and obviously as a fan of the women's game I hope it's a good football match."
Lessons learned over the weekend
A few new players to this year's roster have never played in the FA WSL previous to this season, like Ona Batlle, Tobin Heath and Christen Press. Saturday served as crucial experience for Stoney and players alike.
"Someone like Ona wouldn't have played against Georgia Stanway before and you can see for the first 45 minutes she had to get to grips with her. Second 45 minutes when she knew what she was about she was better. So they're all more experienced now, they know who they're up against and have the advantage of knowing your opponent especially for those who haven't played in this league before."
The first half of the 2-2 draw, was heavily dominated by City. They finished the half with 59.6% possession and 14 total shots to United's 3. In the second half, United managed ten shots to City's eight and finished the match with four more shots on target despite having nine less total shots.
"I learned a lot from Sunday, they were exceptional the first half. The way they moved the ball and hit around, kept possession and got in behind us. I thought we did well to keep it at 2-0 to be honest because they pulled us apart. I learned a lot about how we need to defend against them.
"Mewis is a world-class player and when she gets the ball she is technically strong, physically strong. I think she really suits the English game. I didn't learn anything I didn't already know, but I just think they really hit their stride in the first half but I also knew that if we took our game to them we could score."
"I think City will know that they had the upper hand in the first half and that we came back in the second. I think it was evenly match in the end and both would've took a point.
"City should've put the match out of sight in the first half if I'm honest. But I don't think there's any edge [for us], they will feel like they dropped two points with a dominance in the first half and I'm sure they'll come here with a point to prove."
Stoney isn't shy to admit that the league is United's main priority this season and comes into this Derby confident that even with squad rotation, all players will bring the same fight to City to get a result in the Conti Cup.
"It's an opportunity to give deserved minutes to other players and make sure that everybody is part of this team and everybody fights for the same cause. We're limited in certain areas but we can rotate, but we will make changes accordingly.
"We have knocks around the backline so there's not much we can do defensively and I wouldn't really because I think they've been doing well. But maybe higher up the pitch we might do a few changes."
Stoney labels her bench players as "gamechangers" and they've proven to be exactly that in the last two matches. Lauren James and Jess Sigsworth came off the bench and were involved in the lead up to Ella Toone's lone goal against Arsenal. Kirsty Hanson came on at half-time against City, made a huge difference tactically and scored the equalizing goal.
"Our gamechangers have been really important throughout and our kit those on the bench have GC initials on all of their kit. It's something we take very seriously."
If United's fixture against Everton would have gone ahead, Stoney's squad would have played four matches in two weeks; which most clubs did. This week's clash comes just before another two-week international break, just three weeks since the last one.
Stoney sarcastically chuckled when asked her opinion of the league scheduling and replied; "Do we ever get momentum in this league?
"I don't think we ever do, we play three games in a week and then we have two weeks off. So it's very difficult to get any momentum with the schedule in the way. I have the question of 'is the international break needed at the moment?' when there's no fixtures especially for England, but it's good for the international teams to get together.
"We will continue to train with the players that are here, continue to work and hopefully during that time get some players much needed time off to refresh.
"It's not ideal when you have all these fixtures throughout the season and you end up playing the same team twice in five days, scheduling wise I can't understand. It's happened to us a few times now especially and I can't understand it."