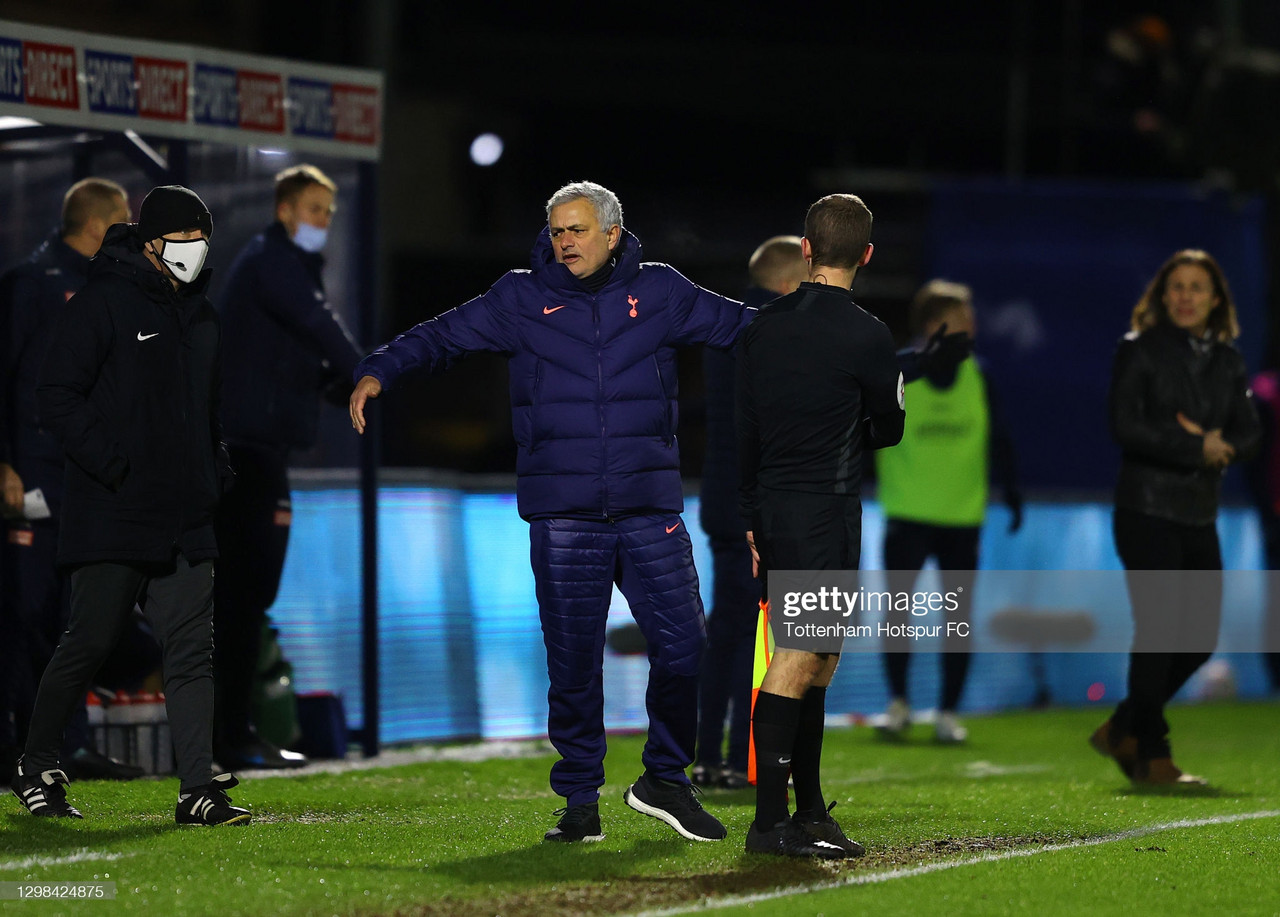 Tottenham Hotspur host Liverpool on Thursday night, as the defending champions look to kick-start their season, in a widely anticipated clash.
In a difficult start to 2021, Jurgen Klopp's men have failed to score in their last four Premier League matches, however, they have beaten Spurs in all past five league meetings.
Jose Mourinho had this to say ahead of the fixture:
A win for Tottenham would mean they go into fourth - above Liverpool and West Ham - with a game in hand, closing the gap at the top of the table.
Attempting to retain their title is proving difficult for the champions, as they also lost their remarkable unbeaten home record in the league against Burnley last time out.
The weekend saw them crash out to fierce rivals Manchester United in the FA Cup, and they will look to bounce back from their poor run of games.
"Every club, especially the traditional top six has this situation. Not one team started with winning and is still winning after 19 matches and a few months of competition. Everyone has a difficult period. Some early, some later, some in the middle."
"Play Liverpool is play Liverpool, independent of all the context, independent of everything. I don't feel it is an advantage and I don't feel it is a disadvantage. Simple."
Spurs have relied heavily on forwards Harry Kane and Heung-Min Son for goals this campaign, with the pair scoring the majority of the teams league goals.
As a team they have tended to sit back and prioritise counter-attacking when playing the 'big six', meaning they concede less goals and the matches are tighter.
Klopp's side have a reputation for being a free-scoring attacking side, but lately have lacked creativity and cutting edge, meaning we could be in for a game with very few sparks.
"They scored two goals at Old Trafford where it is not easy to score and they could score more. They create a lot of chances. You a right they have top class attacking players, I am right by saying they create chances in every match a part of scoring or not scoring."
"So when you create chances and have top players you are closer to scoring goals than not to score. Of course we are a team who normally are well organised and I don't think they will have an easy match."
Defensively Spurs have struggled, conceding numerous goals late on to drop points on far too many occasions this season.
Mourinho has used different partnerships at centre-back with form being an issue and there has been a lot of talk of him diving into the transfer market to solve his issue.
However, Joe Rodon has been a bright prospect, the young Welshman has impressed since joining in the summer and has potential to be integral to the Tottenham defence in the coming years.
"Joe has a lot to learn but at the same time he has a lot of potential, he has great desire and I am really happy. We played him not many matches, unfortunately he was not in the Europa League matches which would have given him more matches and experience, but in the times we have paid him the answer was positive so we are happy with Joe and we believe that he can be only better."
On the competitiveness this season
Only a handful of points separate the top four at the half-way stage of the campaign, games yet to be played give room for teams chasing Europe to narrow that gap even further.
The title-race looks impossible to call and already multiple teams have had the experience of sitting in the top spot and leading the race.
It has been a very unpredictable season, with many shock results and the likes of West Ham, Everton and Aston Villa have been very impressive, challenging for places in the top six.
"It looks like, no? I think it is an easy thing for you to do and look back at stats and data and look at it. I feel that way. If a team loses two consecutive matches and it looks like it is an awful season when we look to the table, but when a team wins two matches and goes up and you think the season is phenomenal."
"I think the best thing to do is to play and play and wait for the end of the season. At the end of the season we look to the table and realise where you end because to look to the table now is quite confusing with matches in hand. In our case we played twice against Liverpool and didn't play Aston Villa. It's quite strange but wait for the end."
There has been a lot made of the transfer window so far, Spurs had been linked with the likes of Eder Militao at centre-back and it comes as no surprise as it is an area Mourinho wants to strengthen.
A shock return for former star Christian Eriksen was also on the cards, with the Dane not settling into life at Inter Milan, however it failed to materialise with Antonio Conte stating he will remain in Milan.
"Don't think so. Honestly I don't think so. As I was saying before the transfer is window open and anything can happen until the last second. I'm convinced nothing is going to happen. If something happened it would be a huge surprise for me."