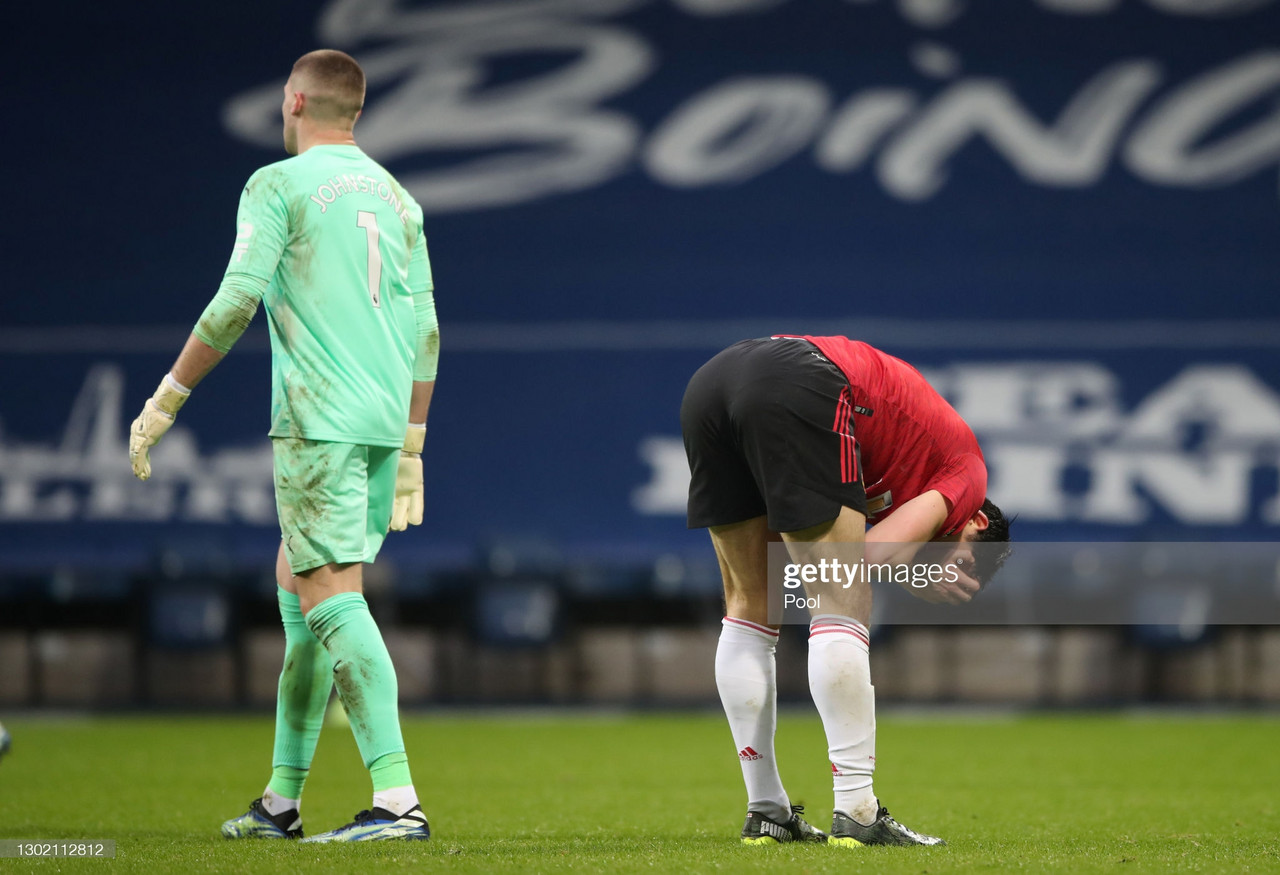 Manchester United turned in a severely uninspiring performance as they were only able to earn a point at The Hawthorns against West Bromwich Albion.
It was an awful start for Ole Gunnar Solskjær's Red Devils having conceded in the second minute of the match, but it was a lack of reaction which was the worrying factor. United managed to accumulate just 0.4 expected goals (xG) throughout the entire match according to Fbref and there were some clear reasons that they were unable to beat West Brom's deep block.
Problems in the build-up
The Reds had trouble building against the Baggies' settled shape, mainly due to the issues of progression in their build-up.
Scott McTominay and Fred both were unable to break the lines and often were opting for passing into wide areas, rather than looking for penetrative passes in the centre. In fact, United mainly progressed the ball through Harry Maguire; who was driving in the left half-space throughout most of the game. This is where United's only goal came from.
This lack of progression from the midfield led to Bruno Fernandes moving into deeper areas in the build-up to receive; this directly impacted the team's progression negatively though, as there was no one in the pockets that Fernandes should be operating in.
Here is an example of this, where Fernandes moved into a deeper area to receive the ball, frustrated at the lack of progression; yet then is not in a position to receive or link-up in the pocket between the lines when Maguire is on the ball.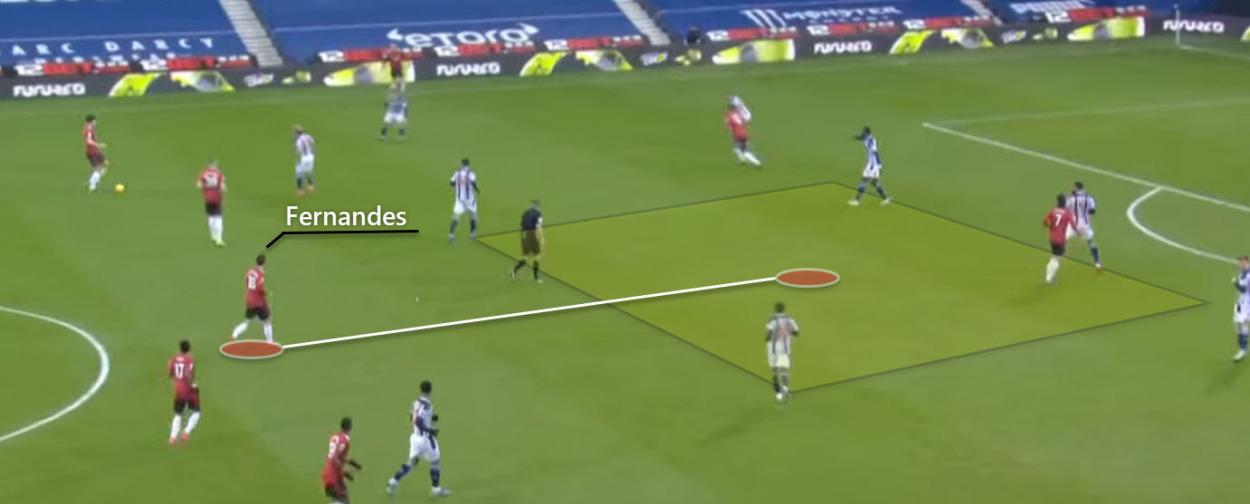 When he stayed in higher positions and was receiving, this is when United looked most dangerous. Yet, this did not occur often enough; this is an aspect of Fernandes' game which isn't great - when the side is not dominating he will often drop into positions to receive, yet as mentioned, this causes progression problems directly.
Lack of movement and rotations
Although, United's main problem was their inability to stretch and create spaces in between West Brom's deep block. This was ultimately due to a lack of movement and rotations to cause troubles for the opposition.
While United's attacking structure is good, with the full-backs pushing up and the wingers tucking inside to create a front five, there was rarely movements by these players to drag these defenders out of positions and stretch them. Anthony Martial, particularly, continued to drop in to try and receive to feet but was not being followed by the defender; which left one less United player against the West Brom backline.
This is shown below as Martial pointlessly drops as Maguire is progressing the ball on the left. This leaves Luke Shaw as Maguire's only option and also then the left-back has to drive inside as he does not have a teammate running against the backline to link-up with. It is ultimately another showing that United lack forwards who do not only want the ball to their feet and are willing to stretch a backline as Edinson Cavani cannot do this on his own and Rashford does not seem to stretch a deep block as he does against a standard defensive set-up.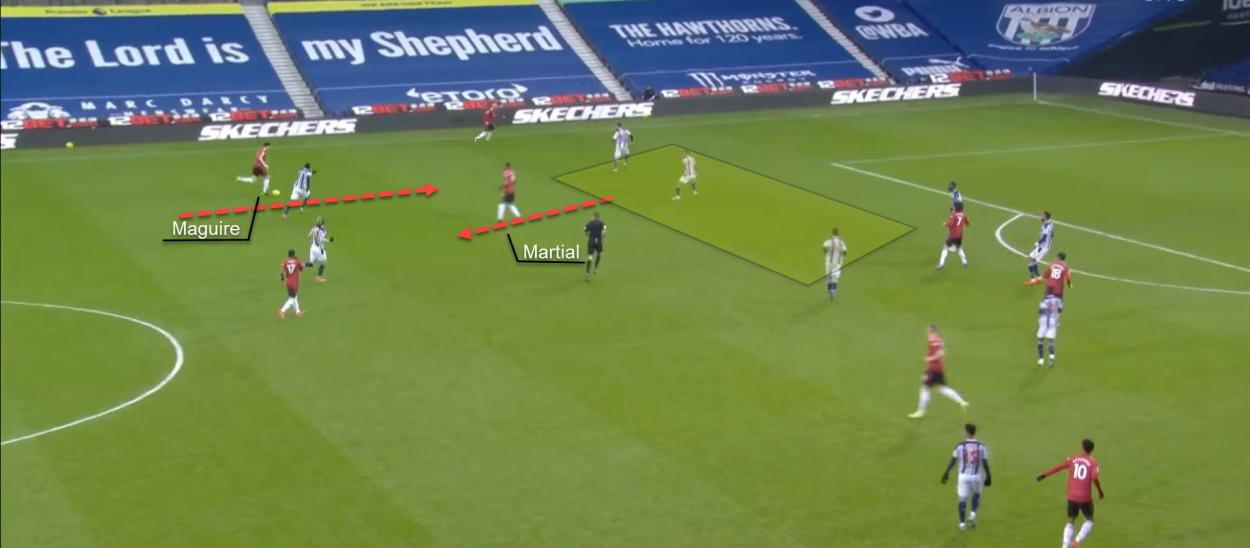 Conclusion
This was a poor performance from Solskjær's side, they looked lacklustre, slow and didn't do enough to break down the infamous Sam Allardyce low-block.
It is a known problem of this Man United side, that they struggle against low-blocks and with Paul Pogba being injured, they had one less creative source to try and bail them out when they are not at the races in this kind of match.