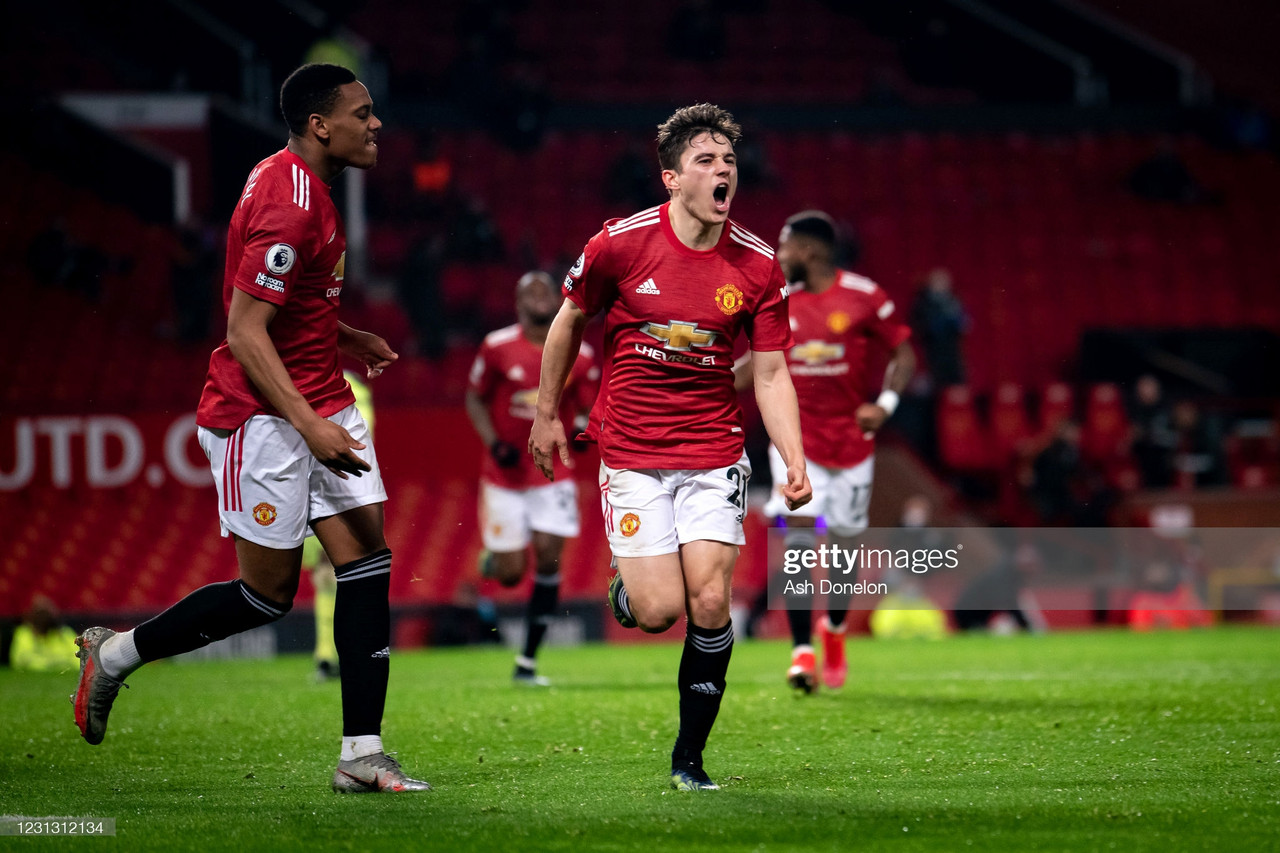 Daniel James burst onto the scene at Manchester United when he scored on his debut in a 4-0 thumping over Chelsea in 2019. He then continued his bright start at the club with a superb strike away from home at Southampton but has struggled to find that form, until now.
With goals against the Saints, Real Sociedad and now Newcastle United - James is in contention for the vacant right-wing position at Old Trafford.
His work ethic throughout the 3-1 victory over Newcastle was outstanding and he looked like a big fish in a small pond at times. He and Marcus Rashford were the only players to take risks and pose a threat to Steve Bruce's defence.
Ultimately, James' efforts paid off when he found himself in space at the back post before calmly finishing past Karl Darlow.
The injury to Edinson Cavani has no doubt provided an opportunity for James to start and his performances are now giving Ole Gunnar Solskjaer a selection dilemma. With Mason Greenwood also in form and Anthony Martial quite the opposite, James has put himself in the spotlight.
The right-wing position has been the missing piece to the puzzle for the majority of the season as the club failed to solve the issue during the summer transfer window. There have also been many different players tasked with the role but nobody has been able to produce the expected.
Rashford has been tried and tested out on the right but his form took a hit as a result and eventually returned to the left where he and Luke Shaw have found great success.
When Cavani was fit and started against West Bromwich Albion last weekend, Rashford was forced out on the right with Martial taking up the left-wing role. In arguably the worst performance of the season, Martial was slung for Greenwood and Rashford returned to the left.
Solskjaer has often left James out, and fans at times may have forgotten him, but James believes his hard work off the pitch has allowed him the pathway back to the starting eleven.
In an interview after the game, James said: "Every time I play I give my all, the gaffer trusts me and a lot of things I have been working on in training are coming off."
For James to solidify himself in the starting eleven for the remainder of the campaign he is going to need to keep up this splendid run of form. Unfortunately for him, no matter how well he plays for the rest of the season - United will still be in search of a right-winger.
Too many chances have been handed out to James where he has had poor performances and often looked lost. For a team of United's calibre, they cannot accept mediocracy and the occasional good run of form if they are to have any serious title hopes in the future.