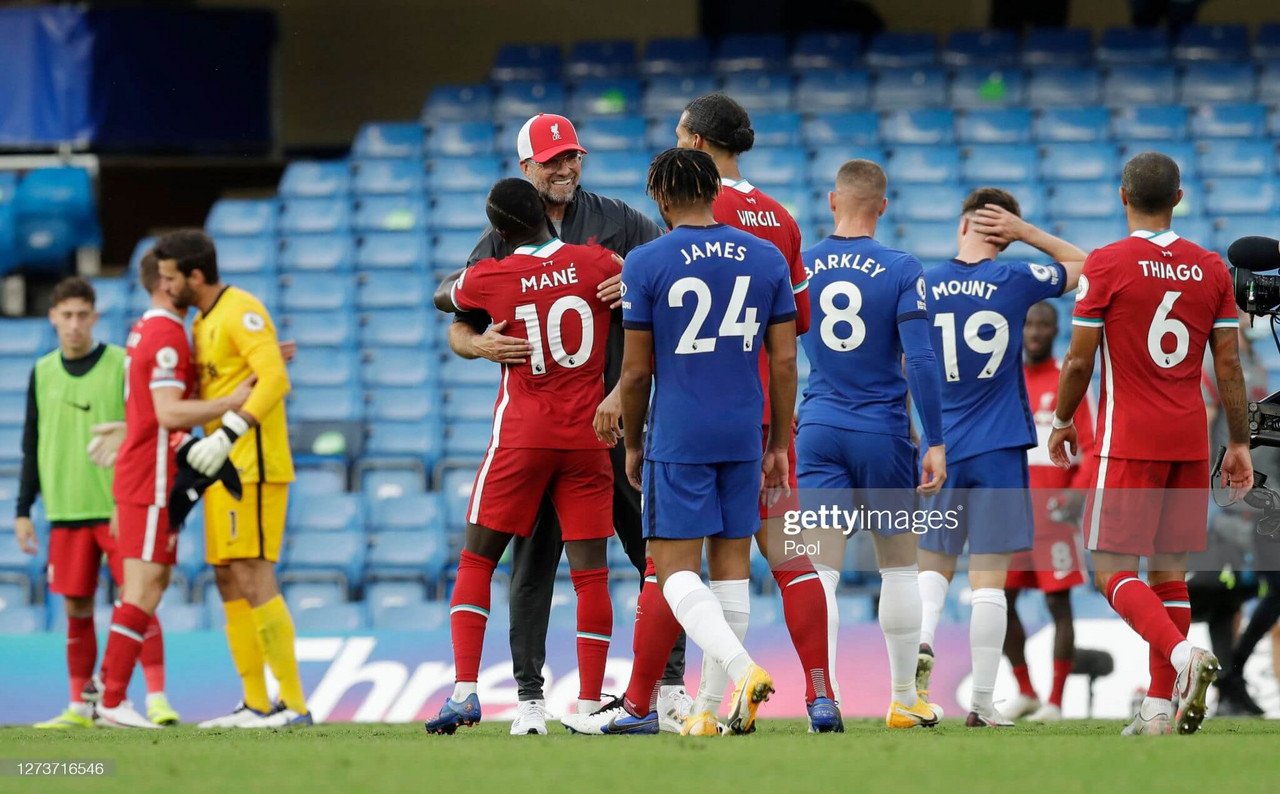 Liverpool face Chelsea at Anfield with a chance to overtake their opposition in the Premier League and break back in to a top four position.
Earlier in the season, Liverpool beat Chelsea 2-0 away from home, with Thiago Alcantara producing a dominate second-half performance. His pace of passing and precision was vital to the win in September. However, since then, Thiago has struggled to replicate that kind of performance. Both personal and squad injuries have made it difficult for the Spaniard to find his feet.
With a good win at the weekend against Sheffield United, the Reds will be looking to reproduce their performance. The midfield three of Thiago, Georginio Wijnaldum and Curtis Jones complemented each other well. Winning the midfield battle and playing to their strengths will be extremely important to get a positive result in this game.
Since the last time the two teams faced each other, a lot has changed. Liverpool rose to the top of the Premier League and then fell back down as their injury hampered season finally caught up with them.
Whilst Chelsea have been relatively ordinary all season. The disappointment of their season has been due to underperforming after spending £200million in the summer. Many were hoping for much better things following such a large investment, and with the results failing to improve, Frank Lampard was subsequently sacked at the end of January.
Thomas Tuchel replaced Lampard and is unbeaten in his opening seven league games. The early signs are good for Tuchel, who has helped Chelsea to regain their defensive prowess, making them a more combative team.
For Tuchel, he will be hoping not to be at the end of more disappointment at Anfield. He was in charge of Borussia Dortmund when Liverpool famously won 4-3 in the Europa League and was also managing Paris Saint-Germain when Liverpool beat them 3-2 in the Champions League.
Jurgen Klopp's side come into this game in struggling form. Their drop off since the new year has been remarkable and they have looked mentality defeated. They will however, be looking to turn the corner on their poor run of form after beating Sheffield at the weekend. The Reds played well in a 2-0 win and they will be looking for two consecutive wins for the first time since the end of January.
Amazingly, it seems that qualification to the Champions League is still in their hands. But they need to start putting a run of results together. Beating Chelsea will be a challenge but also a great opportunity to get things moving in the right direction once again.
As for Chelsea, they are two games without a win. A frustrating 0-0 draw against Manchester United would have disappointed Tuchel as United were there for the taking, but does also show the good work he has done already at Chelsea. Prior to their two draws, they were on a run of four consecutive wins in the league.
Providing that the teams above these two continue to perform as they have done all season, it could well be that Liverpool and Chelsea battle it out for the final Champions League spot. The importance of this game on both teams' ambitions cannot be understated.
Liverpool have been handed some positive team news prior to this match.
Firstly, Alisson is likely to return after missing the previous game due to personal matters. He has been training as normal.
Fabinho is also likely to return to action following his lengthy time out with injury. He began training last week but was deemed unfit for Sheffield United. After a week of training, he should be able to play. Klopp will need to make a decision as to where he is best suited to play and choose whether to put him in defence or midfield.
Naby Keita and James Milner were both able to get on the pitch at the weekend and should be available for Liverpool following their injuries. Keita's road back to the first team has taken its time and Klopp will need to manage his minutes.
Diogo Jota has been greatly missed for Liverpool and is finally likely to return to the team. He has been out for three months with a knee injury but returned to training last week. Jota was set to be on the bench against Sheffield but missed the game due to feeling ill. Since then, he has recovered and trained as normal this week.
As for Chelsea, they have no injuries but will assess the fitness of Thiago Silva and Callum Hudson-Odoi. Silva has been out with an injury and has since returned to training. But this game may come too soon for him. As for Hudson-Odoi, he was subbed off at halftime at the weekend against United and was seen with an ice pack on his knee.
One thing that Klopp will have to consider for this game will be if Fabinho is fit enough to play, what position does he go in? For the majority of the season he has played at centre back, but Nat Phillips and Ozan Kabak could be forming a good partnership in defence.
If he trusts them enough to continue to play, Fabinho could move back into midfield. This is his favoured position and Liverpool have missed him dominance in midfield.
Having Fabinho back in midfield could also allow the other midfielders to play higher up the pitch and help to create more chances for the forwards.
Although this will depend on how Klopp wants his defence to look, if Fabinho does not play in midfield, there are still other option, with Keita and Milner now added to the numbers.