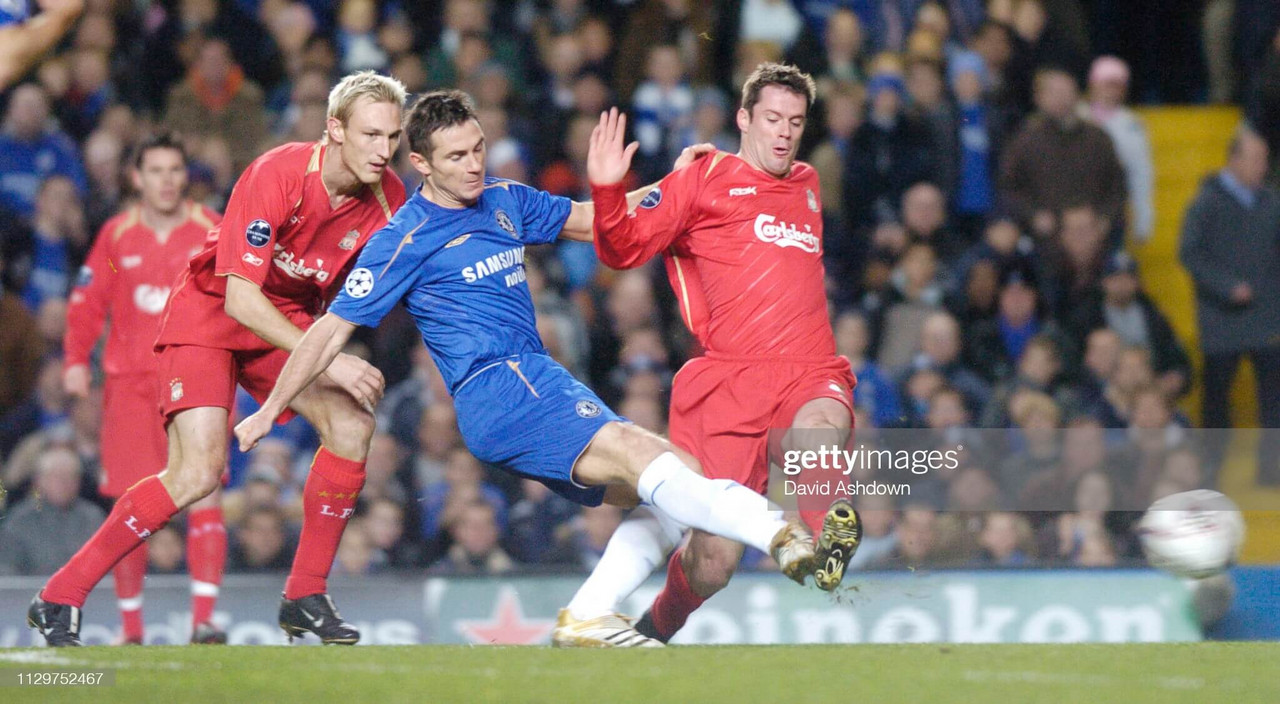 An English Football rivalry that has been played for decades, but was developed through Europe.
Liverpool and Chelsea are not rivals for geographical or religious reasons, but through ideologies that have been thrown together through Football.
The two clubs have been thrown together at the business end of both European and domestic tournaments overtime, fuelling this intrigued hatred that has spilt onto the pitch.
Ideology - a system of ideas and ideals, especially one which forms the basis of economic or political theory and policy.
These are two Football clubs that haven't connected with each other in any walk of life, and football has only intensified this nature of increased hatred.
Supporters add fire to the fuel that the rivalry has ran on, for years each club has shared their distaste towards actions. Its red vs blue, London, the capital of England Vs Liverpool, the city in which stands alone, conventional vs socialism, Chelsea vs Liverpool.
Occurrences through football
The first clash of note came in 1965, before the clubs faced each other in the FA Cup semi final. A resurgent Liverpool side under Bill Shankly faced one of the country's most thought after sides under Tommy Docherty.
Yet three days before the clash, Liverpool where facing Cologne in the European cup, in Feyenoord, who they beat due to the toss of a coin. Yes, really.
Docherty, who was the next manager to face the Reds had invited fellow scots Ian St John and Ron Yeats out for a night in Feyenoord, but once Shankly grasped what the Chelsea bosses plan was, he put a stop to it and laid a marker down personally with Docherty.
League leaders Chelsea, had already been in the process of handing out cup final flyers to supporters before the semi, which served as the perfect team talk for Bill Shankly who showed it to his players, this served as the catalyst for knocking the Blues out.
Liverpool's imperious phase of the 70's coincided with a rut for Chelsea, who where not the same club as seen today.
However, under Bob Paisley the Reds come unstuck against them in the cup, as the London club landed a blow on Liverpool's treble hopes with a 4-2 victory.
The 80's was to be dominated by Liverpool, who even collected their 16th league title at Stamford Bridge. A Kenny Dalglish winner was enough to beat a packed bridge who where determined to do anything to stop the Reds lifting the title. It was an incentive for them, and spurred this rivalry off the pitch even more.
Abramovich, Mourinho, Benitez and the European Cup
After the Russian took over Chelsea and sent ripples through the traditional aspects of English football, his first main target was to get Chelsea into the Champions League.
After a season of unpredictability, the last game of the season seen Chelsea need three points to clinch fourth spot. Who were they playing? Oh, Liverpool.
The game is looked back on as one of the paramount fixtures in the Premier League. A Liverpool win, and Chelsea are in the UEFA cup. The course of the endless money pit comes to a halt, and suddenly Jose Mourinho leaves Porto for somewhere else.
Chelsea won the game 2-1, they where in Europe, and they would meet some of Europe's finest in particular, Liverpool.
The 2005 semi final has gone down as one of Anfield's greatest nights, and one of Rafa Benitez's biggest achievements. The clash of Rafa vs Mourinho was simply wonderful, it was a clash of style, it was personal and it represented both clubs for what they where.
After a tense first leg, it was all to play for at Anfield. Whoever won the game went to Istanbul. Rafa brought his 'A' game, and so did the Liverpool fans, which since Chelsea players have referenced as the most intense match they've played in with a crowd.
This was another game that shaped the fate of English Football. There would be no miracle at Istanbul, and there would be no fifth European Cup if Chelsea had landed a massive knockout blow that night.
They didn't. Liverpool's love affair with the European cup continued, and Chelsea's close but no cigar attitude with it did as well.
History repeated itself in 2007, where the Reds yet again knocked Chelsea out in the semi final on the road to Athens. It was becoming a re occurring theme in Europe's top competition.
Rafa had done Jose again. Despite over the course of the league campaign Chelsea being a much better side, on the one off nights Liverpool as a club where up for these ties. It was what Anfield is all about.
This one went to penalties, and seen Rafa Benitez drop to the floor as cool as you like watching them. The same could be said for Dirk Kuyt, who scored the winner.
The new kids on the block who had the money to show for it where not getting one over at Anfield. The sign read 'You can't buy one of these, Roman' with a picture of five European Cups. It was another iconic night for Liverpool supporters, but Chelsea had missed out and suffered heart ache too many times to not come back.
2008. Surely not. He has, he's picked Liverpool vs Chelsea out the hat again.
The Londoners finally got one over on Liverpool, where a ludicrous John Arne Riise own goal sent them to Moscow. Avram Grant succeeded where Mourinho hadn't.
RIGHT. That's it, its the Quarter finals in 2009, its only a slim chance of...oh wait. Chelsea vs Liverpool in the European cup for the fourth time in 5 years.
This was the one where Chelsea seized their chance and landed a bloody nose on the Reds at Anfield. A 1-3 victory meant a Liverpool side in transition had to come out fighting at the bridge, and they did but it wasn't enough. A 4-4 draw sent Chelsea through to the semi final.
The peak of this rivalry had ended, but the despair between the two clubs is still as relevant as ever before. Chelsea seemed to be getting one over on Liverpool, with an FA Cup victory and then the infamous Gerrard incident. It was a tough time for the Reds who had seen this fixture been driven up in the past decade.
Mourinho had finally received his joy at Anfield, after a number of horrendous nights. It was another clash of ideologies, coming to the for front of a football game.
The rivalry has now transcended between the two clubs, and overall it has relaxed in recent years. With Chelsea falling and Liverpool rising under Jurgen Klopp, the Reds have had been faced with similar conflicts with Manchester City. The two sides have won league titles over the past decade but not been at the top at the same time.
It could happen again, now with Thomas Tuchel Chelsea are looking to be a force again, perhaps there are more chapters to be written between these two football clubs, who have been thrown together through Europe and developed a hatred that serves wider than the game.