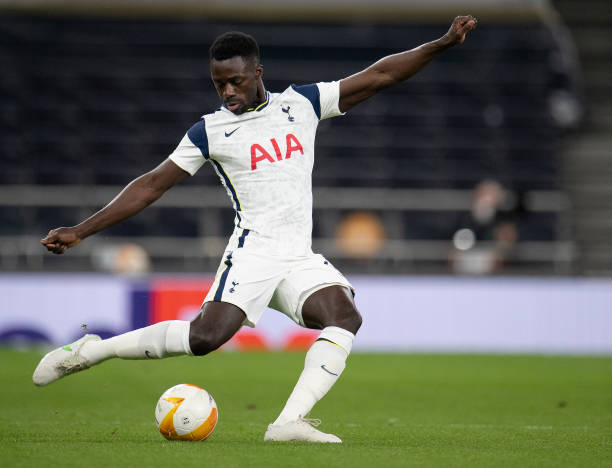 Tottenham Hotspur have had multiple re-shuffles in defence this season.
After a disappointing downturn in form following Spurs' early title charge, questions were asked of the defensive stability.
Jose Mourinho and Spurs sat top of the Premier League in December 2020. However, since the turn of the year, Mourinho's men have conceded 20 goals in 18 matches in all competitions.
Only recently have Spurs' back-four managed to rekindle some of the solidarity they had during the latter stages of last year.
Interestingly, the sharp turnaround in fortune has been evident since Davinson Sanchez managed to cement his position as a regular starter for the Europa-League side.
Previously, Sanchez had come under fire from critics such as Jamie Carragher.
The former Liverpool star slated the Columbians performance against Manchester City earlier in the season.
During Sky Sports' live coverage of Tottenham's defeat to Man City that evening, Carragher summarised Sanchez's performance as: "Shocking defending. He hasn't got a clue where he is, it's weak and then he gets put on his bum."
This followed an incident in the game where goalkeeper, Ederson, had thundered a ball over the top of the defence, leaving Ilkay Gundogan to run onto a loose ball, turning Sanchez inside and out, before slotting home.
At this point in time, the situation was looking bleak for fans of the 8-time FA Cup winners.
There are a number of explanations for the resurgence of Sanchez.
Firstly, Mourinho has seemingly decided to pair Sanchez with the veteran and vastly experienced Toby Alderweireld.
The two have started together only five times this campaign in the Premier League. But when they have, Spurs have only conceded four times.
This is likely due to the fact that Alderweireld provides maturity and professionalism as part of the pairing - whereas Sanchez is known to make rash decisions and often lunges in with his tackles.
With the Belgian international alongside him, Sanchez is able to learn and develop his game, meaning his decision-making becomes better.
What a performance! 👏 🇨🇴 pic.twitter.com/RTZ8nbNbTS

— Tottenham Hotspur (@SpursOfficial) February 28, 2021
Furthermore, the number five has been utilising his recovery pace in a more effective way over recent matches.
It has never been a secret that Sanchez is a fast player. He demonstrates his ability to get back on the right side of his man on a regular basis.
This feature of his game has allowed Tottenham to be able to play a higher line in games, catching more opponents offside.
Noticeably, Sanchez has cut out his apparent tactic of diving into tackles, which often leads to him committing a foul.
These mistakes have often been costly, especially with the likes of Eric Dier alongside him, neither have the ability to rectify their mistakes, this makes Sanchez's improvements in this area significant for the team in general.
Although Mourinho has two clear favourites for that available center-half roles, that does not guarantee a start.
The Portuguese manager is well known for swapping and dropping players who make even the slightest mistakes during games.
Therefore, it is vital that Sanchez continues to work hard and improve on his game.
By no means is he a perfect centre-back, but he is certainly showing signs of developing into that player that Spurs were hopeful of seeing when they signed the 24-year-old for £42 million back in 2017.
Also, Spurs do have an abundance of players within their arsenal.
Joe Rodon and Japhet Tanganga have been knocking on the doors of first-team football over the last few months.
Rodon presented himself well in the few appearances he made earlier in the season.
Tanganga has proven to be versatile, but Spurs fans are still keen to see what impact he could have on the centre-back position.
Overall, Sanchez is doing all of the right things to keep his position in the current situation.
His supposed 'mistake' against Arsenal is harsh, and there is the argument that it was not a penalty. Therefore, to criticise Sanchez after his recent run of good form, would be tasteless.
Barring anymore major mistakes in the upcoming tough run of fixtures, we could still see him make that area of the pitch his own, at least for the remainder of the season.