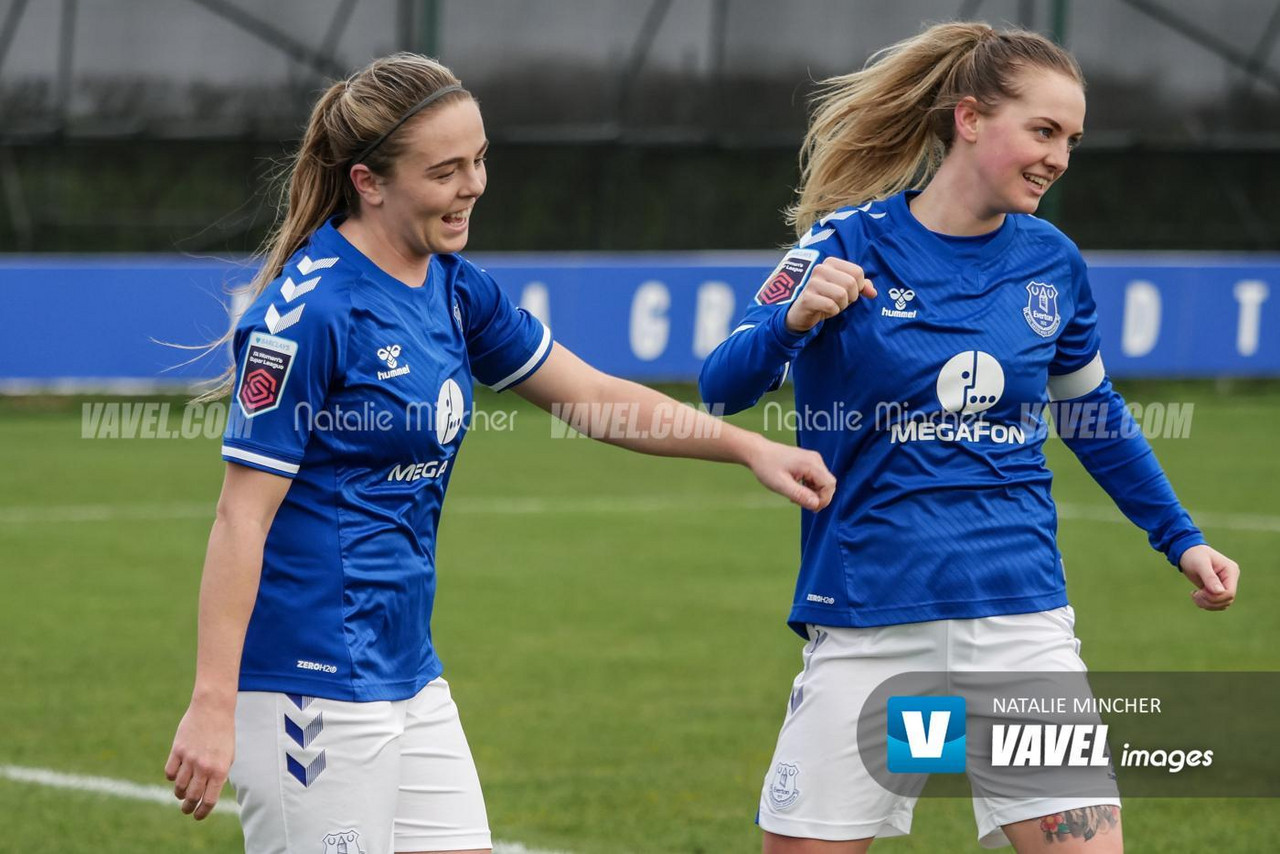 As the sun beamed down at The Hive Stadium, Everton were able to clinch a 3-2 victory over a haphazard looking Tottenham Hotspur. The win on the road for Willie Kirk's side means Everton hold on to their fifth place standing in the WSL table.
Esther Morgan made her senior debut for Tottenham Hotspur, having recently trained with the Welsh national team during the international break. Roselle Ayane also found her way back into the starting XI, along with Shelina Zadorsky who played every game for Canada at the recent She Believes Cup in Orlando.
The previous meeting between these two teams was a lively encounter last season that saw Everton lose a two goal lead in the final 22 minutes of the match, ultimately ending in a 2-2 drawer.
Tottenham kicked things off with pace, as Gemma Davison whipped the ball over the crossbar in an early chance. This set the tone for the afternoon, seeing a number of chances drift over the woodwork.
At just six minutes in, Everton were granted their first penalty of the game following a hand-ball. Valerie Gauvin confidently stepped up to the spot before her fourth WSL goal this season.
Spurs looked as though they were struggling to connect passes, with the majority being cut out by Everton, who were able to cash in and feed the ball through to Nico Sorensen consistently down the wing.
In the 17th minute, Lauren Harrop was awarded a yellow card for holding onto another player, conceding a second penalty. Once again, Gauvin steps up and opted for the opposite corner to her first goal, clinching a 2-0 lead for the visitors. Tottenham have now conceded six goals from penalties alone this season.
Kit Graham's turns on the ball proved key for Spurs as her long ball found Angela Addison in the 34th minute to comfortably bypass Sandy MacIver, clawing back an all important goal to halve the deficit.
The second half got off to a rather cagey start, with both Gauvin and Rosella Ayane missing chances one after another. Sorensen continued to be granted acres of space on the wing, but Abby McManus provided more of a challenge as the game progressed.
Davison who was not named in the original squad; but replaced Cho last minute, ran through three members of the opposition to land Everton their second goal of the game out of nowhere at 54 minutes.
Claire Emslie's speed was the catalyst for a number of Everton breaks in the second half, but some clumsy second touches in front of goal meant they had to wait to reclaim their lead.
Aurora Mikalsen made some impressive leaping saves as the game pressed on, but could not keep out a relentless Everton. A 61st minute header from Jill Scott sealed the lead and a frenetic Spurs were unable to claw themselves back level.
Everton: MacIver (GK), Wold, Turner, Sevecke, Christiansen, Emslie (Raso), Stringer (Clemaron), Sorensen, Scott, Gauvin (Magill), Finnigan (George).
Tottenham Hotspur: Mikalsen (GK), Zadorsky ( C ), Harrop, Davison (Naz) (Peplow), Percival, Addison (Quinn), Graham, Kennedy, McManus, Ayane (Dean), E. Morgan.
Tottenham Hotspur looked to struggle when it came to connecting passes and lacked confidence as a team when trying to close down their opposition. It contributed to a lacklustre passing accuracy and allowed Everton to take up far more space than they no doubt will have liked.
Everton played with depth, but they will need to find more pace in central positions to truly capitalise on the speed of Sorensen down the wing.
Everton's Claire Emslie proved herself to be a pivotal presence in today's game. Her powerful runs at speed bypassed the Tottenham defence on multiple occasions. A true lynch-pin, she sprung a number of counters and found both Sorensen and Christiansen to contribute significantly to Everton's 14 shots on goal.