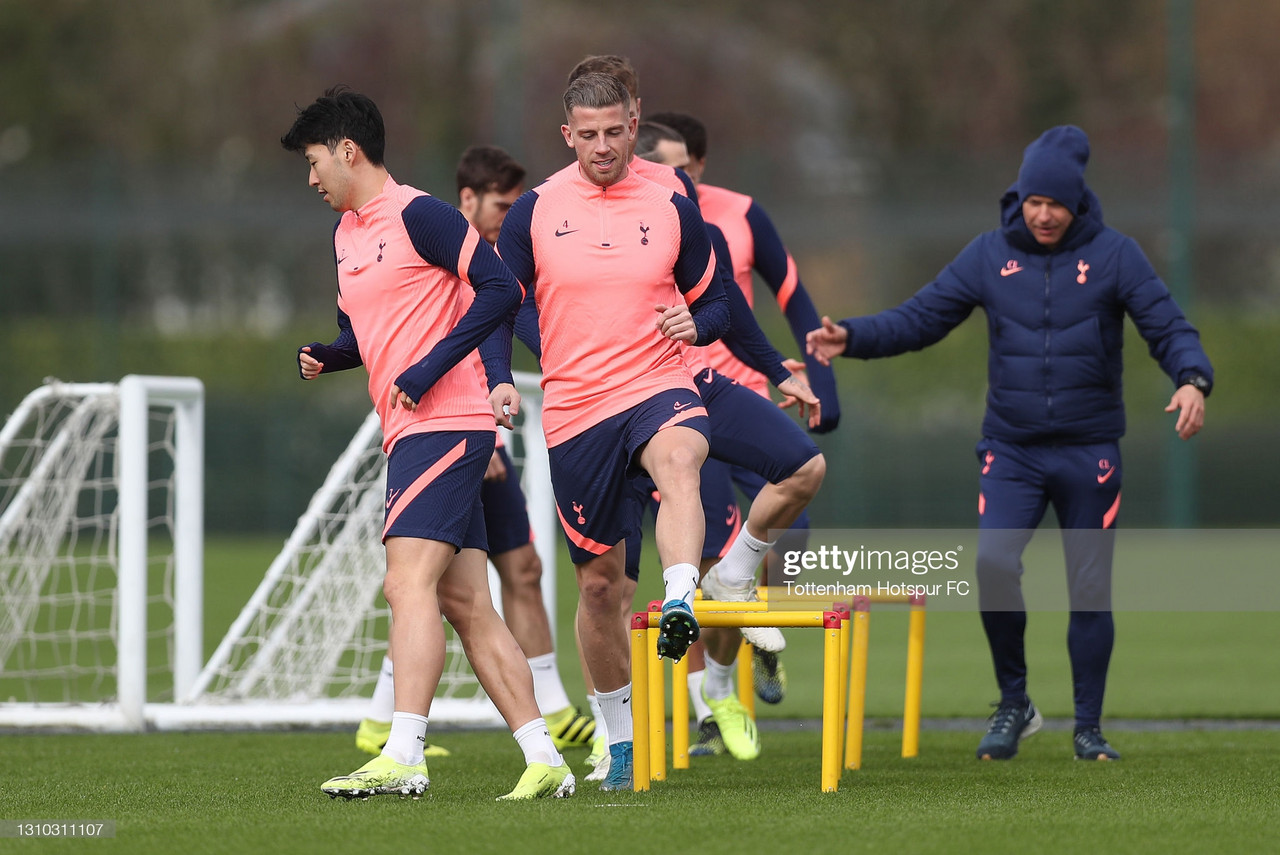 Toby Alderweireld has been ever-present in the Tottenham Hotspur squad over the last six years.
Since snatching the Belgian international out of the hands of Southampton in 2015, the centre-half has become a figure adored by the majority of Spurs fans.
The bromance that developed between Alderweireld and club and international partner Jan Vertonghen had transformed itself into the preferred defensive pairing under former Spurs boss Mauricio Pochettino.
His nine goals and five assists in his six seasons at the club have shown the 32-year-old to be a threat from set-pieces.
As well as this, his passing range allowed him to form an excellent relationship with his teammate Dele. The English international was often on the end of a cross-field pass from Alderweireld, which helped accumulate a number of goals for the Lilywhites.
Continuously, Alderweireld played a significant role in a season that resulted in Spurs finishing second to Chelsea, as well as achieving Champions League football on a regular basis for the club.
At 32, speculation has naturally surrounded the centre-back, who signed a two-year contract extension at the end of 2019.
He has been linked with Antwerp and Club Brugge, but his contract runs until 2023, so Spurs could choose to keep the defender if they fail to bring in significant reinforcements in the summer transfer window.
Furthermore, when Alderweireld has featured this season, the back-four at Spurs had looked much more stable.
Indeed, of Spurs' 10 clean sheets in the Premier League during the 2020/21 campaign, Alderweireld has featured in seven of them.
This indicates the importance and discipline that he brings to Spurs in the form of defensive expertise.
During his six seasons at the club, Alderweireld has featured 193 times in the league, which is partnered with 67 clean sheets.
As well as this, he averages a 73% tackle success rate. Whilst this is down to 62% during the current campaign, his competition in Davinson Sanchez wins 47% of his tackles, and has only recorded four clean sheets this season.
Continuously, Eric Dier records a 56% success rate, and Joe Rodon exhibits 60%.
This evidence tells us that Toby Alderweireld must be starting in this current Spurs side. His defensive ability clearly outweighs that of his competition, and it leaves us to ponder why he is not being selected more frequently by Spurs boss Jose Mourinho.
BREAKING: Spurs defender Toby Alderweireld signs new contract until 2023

— Sky Sports News (@SkySportsNews) December 20, 2019
As we have discovered, there is a huge argument to suggest that Alderweireld is Spurs' best centre-back this season.
You could argue that the departure of Vertonghen to Benfica last summer may have hindered his performances due to the need to become familiar with a new partner.
However, he is clearly still more than capable of performing at a high level.
Significantly, he started in Spurs' most impressive wins this season. The 2-0 victories against Manchester City and Arsenal in the first half of the season demonstrate what this struggling Spurs side can do when they have some experience and leadership at the back.
Fortunately for Alderweireld, Spurs' defensive woes have continued since the return of the Premier League after the Easter international break.
Spurs forfeited yet another lead against struggling Newcastle United last weekend and Davinson Sanchez was highlighted for another particularly poor performance.
Alderweireld has found himself out of favour since the turn of the year, with Mourinho utilising younger players in an attempt to recover what has been a poor second half of the season for his side.
The Belgian was controversially excluded from the matchday squad for the trip to Tyneside as Mourinho suggested that the player did not return to Hotspur Way on Friday for training.
This is despite training pictures revealing that he was actually present for the squad session, which has left many confused and wondering whether there is a deeper issue than what has been stated.
Having said that, the Wilrijk born defender could find himself back in the squad sooner rather than later.
Mourinho's defensive reshuffle has clearly been a favour, and he seemingly still does not know his best defensive lineup.
He seems to prefer a back four, with Sergio Reguilon on the left and Joe Rodon forming one of the centre-back two.
This leaves a toss-up between Alderweireld, Dier and Sanchez for the remaining spot at the heart of the defence, and Toby could be given the chance to shine against Manchester United on Sunday.
Should this prediction turn into a reality, the Belgian will be eager to perform and cement his place for the rest of the season.
It has already been proved that with him in the side, Spurs seem to perform better as a defensive unit, and it is not up to him to take his chance when it comes and revitalise Mourinho's faith in him.
Toby Alderweireld reported to Hotspur Way on Wednesday afternoon despite Jose Mourinho insisting he didn't return until Thursday, with that being the reason why he wasn't selected today. [@Dan_KP]#COYS #THFC pic.twitter.com/lQpDbMAZ8B

— The Spurs Express (@TheSpursExpress) April 4, 2021
As mentioned above, speculation about Alderweireld's future is rife. Spurs fans will be split over whether they feel they should keep him, or move him on and re-invest.
The argument that presents itself is that if you are to lose a defender with the calibre of Alderweireld, he must be replaced with another defender with similar experience and leadership.
Spurs have not signed a senior defender over the age of 23 since before 2017. The youth and inexperience of Sanchez and Rodon have been a disadvantage to Spurs this season.
Sanchez has looked at his best with Alderweireld next to him, and therefore chairman Daniel Levy must consider this going forward.
You could argue the case that squad players like Eric Dier, Matt Doherty and Davinson Sanchez should all be in line to leave the club before Alderweireld does.
The most pressing matter-of-fact, however, is that there is no argument to suggest that the Belgian should not be playing for the rest of the season.