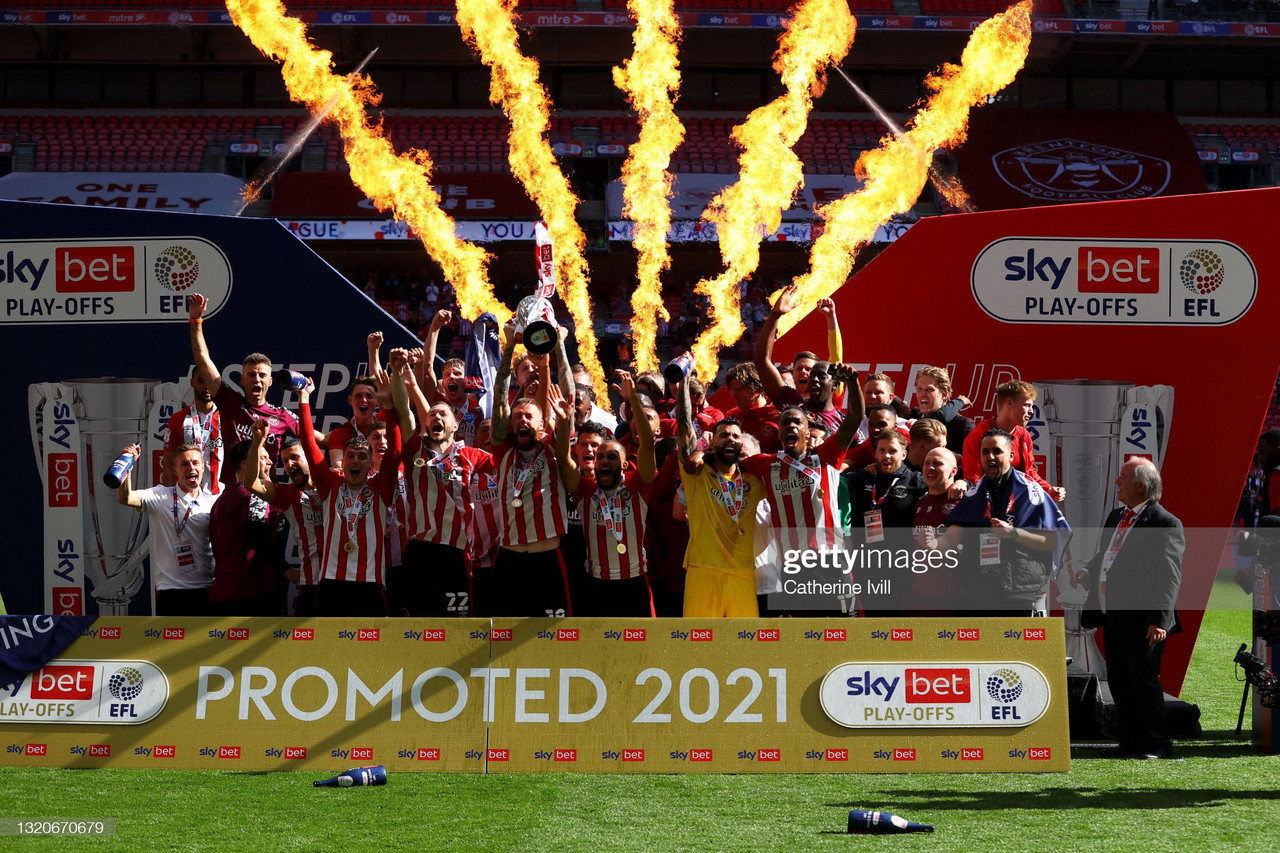 Brentford will make their debut as a Premier League side when they host Arsenal on the opening day of the season.
In a bit of irony, the last top-flight game the Bees played was September 26th, 1947 against the Gunners, which resulted in a 1-0 victory for Arsenal.
The two sides last faced off in a 2018 League Cup tie at the Emirates Stadium with the hosts running out 3-1 winners thanks to a brace from Danny Welbeck and a second-half stoppage time goal from Alexandre Lacazette.
Following the visit of Arsenal on August 14th, Brentford visit Crystal Palace followed by a trip to Birmingham to square off with Aston Villa.
September sees visits from Brighton & Hove Albion and Liverpool with a trip to the Black Country to face Wolverhampton Wanderers in between.
October could prove to be a difficult month for the Bees with an away fixture against Europa League participants West Ham United followed by visits from F.A. Cup champions Chelsea in a West London derby and Leicester City.
In November, fellow new boys Norwich City pay a visit to the Brentford Community Stadium while Ivan Toney will face his old side when Brentford visit Newcastle United.
The Bees will face seven fixtures in the month of December, highlighted by trips to Tottenham Hotspur and Leeds United while Manchester United and Manchester City make the trip to West London.
January and February see Brentford only facing Liverpool and Manchester City among the league's "Big Six" clubs.
March could prove to be a very positive period with games against Burnley and Norwich City while the second iteration of the West London derby kicks off April when the Bees visit Chelsea.
After games against Spurs and Manchester United, the final month of the season sees matches against Southampton at home, a trip to Everton and a final day visit by Leeds.
August 14th - Arsenal (H)
September 25th - Liverpool (H)
October 16th - Chelsea (H)
October 23rd - Leicester City (H)
November 20th - Newcastle United (A)
December 14th - Manchester United (H)
December 28th - Manchester City (H)
January 15th - Liverpool (A)
February 9th - Manchester City (A)
February 19th - Arsenal (A)
March 19th - Leicester City (A)
April 2nd - Chelsea (A)
April 30th - Manchester United (A)
May 22nd - Leeds United (H)
14th Arsenal (A)
21st Crystal Palace (A)
28th Aston Villa (A)
11th Brighton & Hove Albion (H)
18th Wolverhampton Wanderers (A)
25th Liverpool (H)
2nd West Ham United (A)
16th Chelsea (H)
23rd Leicester City (H)
30th Burnley (A)
6th Norwich City (H)
20th Newcastle United (A)
27th Everton (H)
1st Tottenham Hotspur (A)
4th Leeds United (A)
11th Watford (H)
14th Manchester United (H)
18th Southampton (A)
26th Brighton & Hove Albion (A)
28th Manchester City (H)
1st Aston Villa (H)
15th Liverpool (A)
22nd Wolverhampton Wanderers (H)
9th Manchester City (A)
12th Crystal Palace (H)
19th Arsenal (A)
26th Newcastle United (H)
5th Norwich City (A)
12th Burnley (H)
19th Leicester City (A)
2nd Chelsea (A)
9th West Ham United (H)
16th Watford (A)
23rd Tottenham Hotspur (H)
30th Manchester United (A)
May
7th Southampton (H)
15th Everton (A)
22nd Leeds United (H)