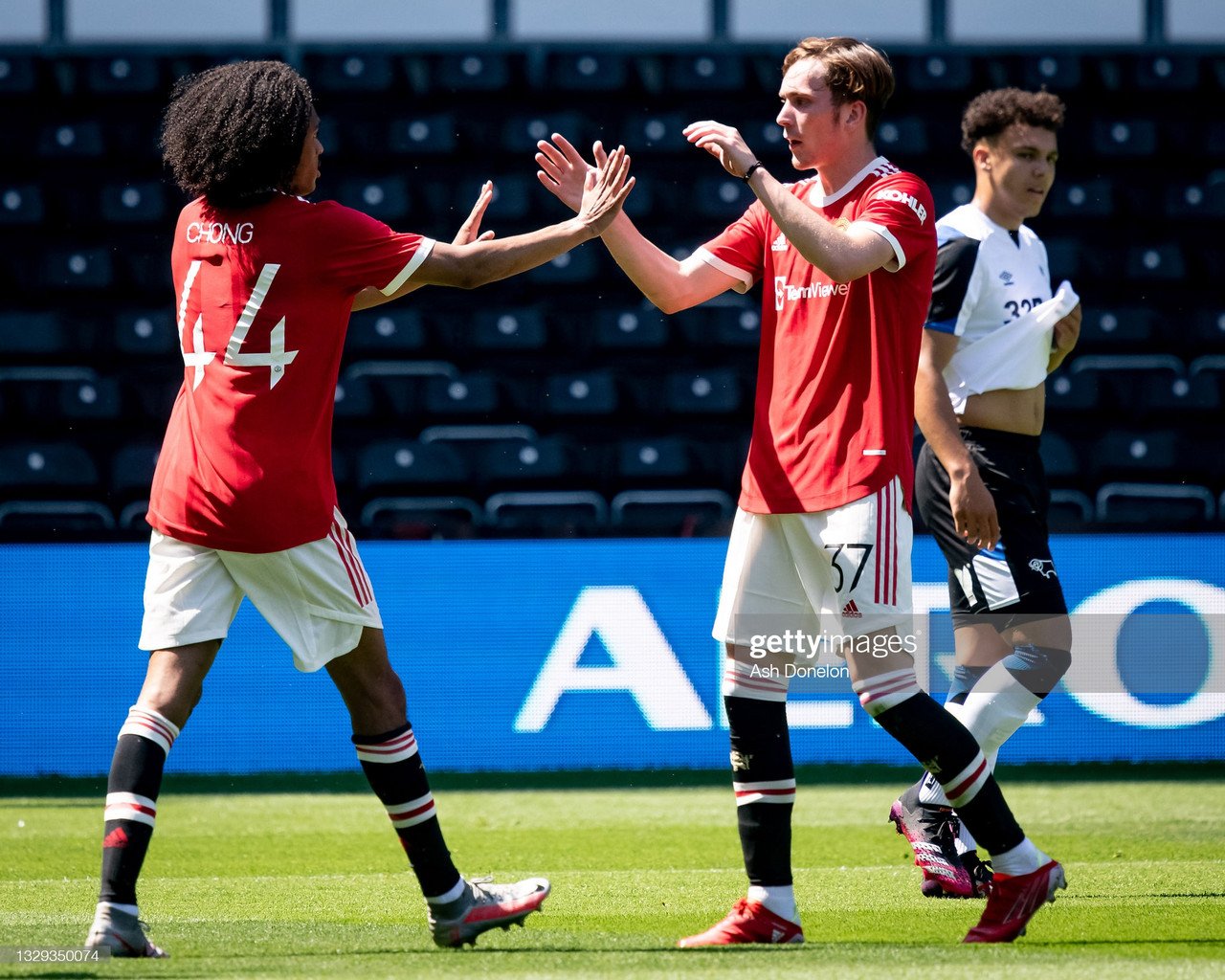 Manchester United have been famed for their long rich history of developing young talent and eventually giving them the platform to perform at the highest level.
The class of 92 which is one of the most famous examples of this proved that you can win anything with kids, disproving Alan Hansen's famous quotes taken from Match of the Day in 1995.
James Garner is just one of the players who is touted as potentially being part of the new generation of Manchester United youngsters breaking through into the first team.
The 20-year-old Birkenhead born Englishman joined the United academy at the under 8 levels. He initially played as a centre back before transitioning to a midfielder in his teenage years.
The midfielder has been on several pre-season tours with the United squad, with his first being under Jose Mourinho in the summer of 2018 after the World Cup, then in the following season in 2019/2020 and now this summer. Garner made a few sporadic appearances in the first team under manager Ole Gunnar Solskjaer.
The 20-year-old was then made available for loan and was sent to Vicarage Road, where he made 20 appearances for the Watford first team in the Championship.
However, after the appointment of Xisco Munoz, Garner's playing time was severely affected by this. He was struggling to get into the Hornets team and his loan was eventually terminated and the youngster was sent back to Manchester United.
Nottingham Forest came into the picture and in January, signed the talented Englishman on loan for the rest of the season, he made a further 20 appearances for Forest and scored four times in the Championship.
His first goal for Forest was a brilliant strike against Forest's biggest rivals in Derby County, not a bad way to introduce yourself to the Nottingham Forest support.
Garner operated in a deeper midfield role at Nottingham Forest and showed his composure and ability on the ball, which is something that Ole Gunnar Solskjaer's red devils are severely lacking at the moment in the central midfield department.
Tentatively there have been comparisons between Garner and current United coach and former great Michael Carrick.
In the build-up to the midfielder's senior debut for Manchester United against Crystal Palace, when asked about the then 18-year-old, Solskjaer was speaking in very glowing terms and compared Garner to Carrick.
"I believe he's got the chance to have a great future," Solskjaer said.
"He knows we believe in him; we've got great faith in him as the next Michael Carrick. I know he's young and I know it's not fair on kids to compare to great players like Michael was, but he's the same mould, he plays simple passes, plays through the lines."
To compare an 18-year-old to a former United great in Carrick was a bold step by Solskjaer, some might even think it was unfair of the Norwegian to put so much pressure on him.
However, this is simply because the Norwegian manager and indeed United's coaching staff rate Garner so highly, that the comparisons with Michael Carrick will not weigh too heavy on his young shoulders.
If Garner's loan performances at Forest gives us anything to go by then he will have an exciting and successful career in football.
Garner's short-term future has been brought into question with reports stating he will be allowed to leave on loan for the upcoming season. Nottingham Forest has been linked with another loan for the midfielder and Swansea City are believed to be interested too.
At the age of 20, he may feel ready for a Premier League loan, perhaps at a team like Brighton or Norwich or perhaps Premier League newcomers Brentford, but at the moment nothing seems advanced for Garner to move to another top division side.
For Garner's development, a Premier League move may be the next step for the midfielder, with the intensity of the Championship will stand Garner in good stead for a future in the Premier League.
The young midfielder's future seems to be at Manchester United, there is a hole in the Manchester United midfield, which Garner could fit into.
During yesterday's 2-1 pre-season victory over Derby County at Pride Park, Garner lined up alongside his academy teammate Dylan Levitt in the first half. United lined up in a 4-2-3-1 and the two young midfielders were both deployed in the pivot, a position United are looking to strengthen in.
The calmness on the ball from Garner was clear to see, his composure under pressure is a big plus and his passing range is similar to Michael Carrick albeit Garner is a bit rough around the edges which are natural due to his age.
Looking at his passing statistics during his time at Nottingham Forest, on average he makes 0.9 key passes per 90 and an 81% pass completion rate at an average of 32 passes per game.
His defensive statistics however have room for improvement with 1.4 tackles per game and 1.2 interceptions per game, which he can improve on as he gets older.
A deep-lying playmaker has become crucial at the top sides in the Premier League. Jorginho of Chelsea and Rodri of Manchester City are just two examples of midfielders who have a fantastic range of passing and are able to dictate the play.
Garner's chances of playing for Ole Gunnar Solskjaer's side are sure to be high, with the progression of young players from the academy to the first team has been a staple during the Norwegian's time at Old Trafford.
The former England under 17 captain has shown during his time in the Midlands that he has the potential to be a Manchester United midfielder of the future.
He will get his big chance to show his qualities in pre-season to potentially give Solskjaer another selection headache going into the new season.