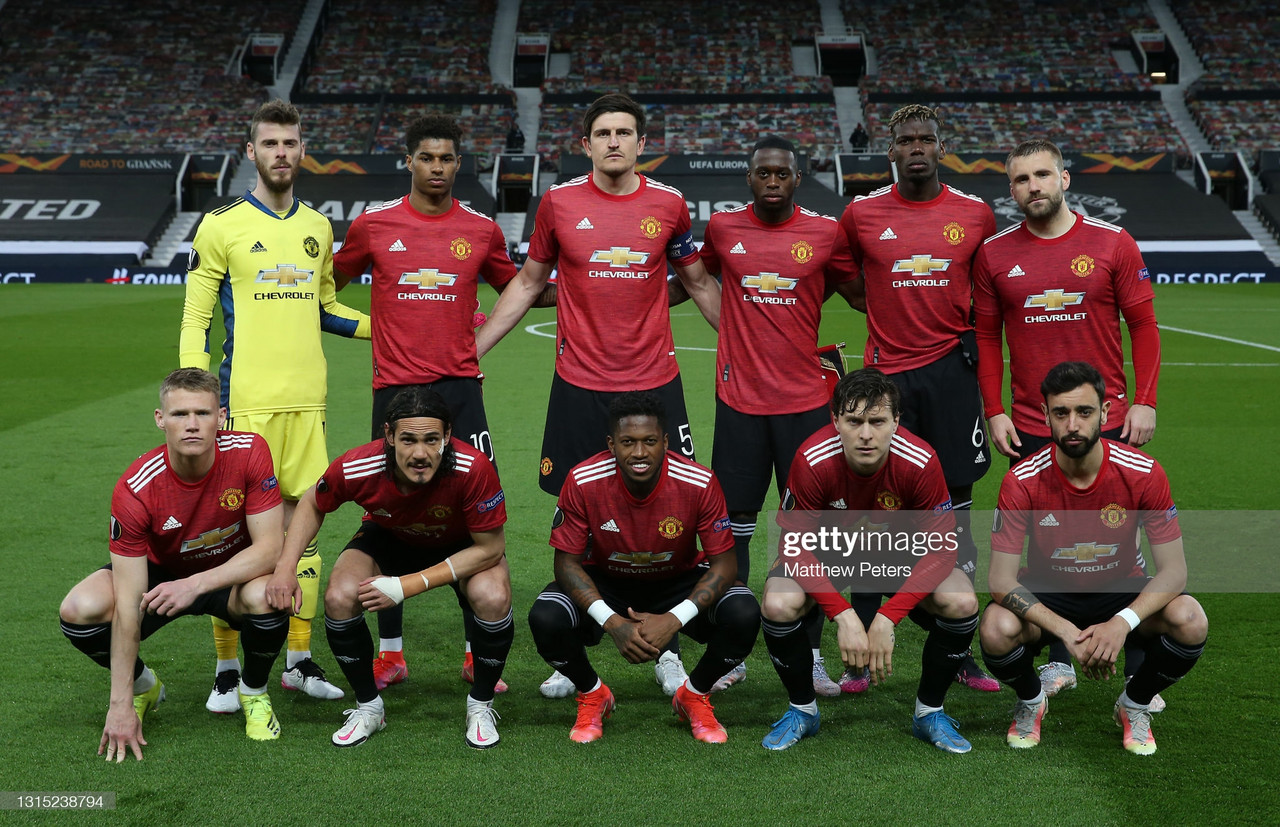 Although a number of Manchester United players tasted defeat once again in a final, The Red Devils can take a lot of positives going into the 2021/22 Premier League season.
Fred represented Brazil in the Copa America tournament where Tite's side reach the final. They came up against a tough Argentina side who were adamant about getting Lionel Messi his first international trophy. Ex-Red Angel Di Maria caused heartbreak for Fred after his goal was enough to see Argentina lift the Copa America trophy (1-0 win for Argentina), another final lost by narrow margins.
Euro 2020 final goal scorer Luke Shaw and teammates Harry Maguire, Marcus Rashford and new signing Jadon Sancho all faced defeat with England after losing 3-2 on penalties against Italy after the game finished 1-1 after 120 minutes.
Cup final defeat strikes twice for the Reds
Fred picked up a yellow card after just three minutes and was substituted at half-time for Liverpool's Roberto Firmino in the Copa America final. The United midfielder was on a disciplinary tight rope following his booking.
It would have been interesting to see if the 28-year-old would have stayed on the pitch if they weren't 1-0 down. Obviously, the defensive midfielder made way for an attacker in an attempt by Tite to change the game.
Fred had a below-par performance, averaging out at about a 4/10 performance. Not the best from United's number 17.
Shaw did write history as did the other Reds representing England in their second-ever competitive final in their history. Their first being the year they won the World Cup in 1966, meaning that this was also their first-ever Euro final.
The United left-back made England erupt after he scored after just two minutes. Kieran Trippier's cross found Shaw near the back post where the 26-year-old's shot beat Gianluigi Donnarumma at his near post. The defender also put in a teasing ball across the Italy goal on the half-hour mark, but no one could connect to the cross. The teasing balls for England seem to be rare from this point on.
Shaw is only the third ever English player to score in a major international tournament final. Joining Sir Geoff Hurst and MBE Martin Peters who scored in the 1966 World Cup Final. Peters scored England's second with Hurst grabbing himself a hat-trick, two of his goals came in extra time.
Maguire continued his good tournament for England in the final, a few shaky passes at the start were soon stamped out and forgotten about with the United captain solid throughout. In extra time his leadership and will to get England forward was most notable, however it was not enough to see The Three Lions grab a second. And of course, we can't forget his camera breaking penalty in the shoot out. Bruno Fernandes may have some competition next season.
National hero and MBE Marcus Rashford only played 84 minutes throughout the Euro 2020 tournament. In the final he was brought on in the 120th minute in what seemed to be in a defensive position, meaning that he only had to help England see out any additional time and was clearly going to be one of the first five stepping up to take a penalty. Who knew England had another right-back in their squad? Will we see Ole Gunnar Solskjær play Marcus Rashford at full-back next season? I doubt it.
The 23-year-old was indeed brought on to take a penalty. He stepped up for England's third spot-kick, and after sending the Italy keeper the wrong way, his effort clipped the outside of the left post meaning the penalty score was back equal and was 2-2. Jordan Pickford gave England the advantage just beforehand after saving Andrea Belotti's penalty with Maguire also thundering in England's second.
Like Rashford, Sancho was brought on to take a penalty and in the dying minutes of the game. But, again for England, it was heartache. Italy had scored their penalty giving them the 3-2 advantage and the new United signing stepped up only to see his effort saved. And despite Pickford's heroic save when Chelsea's Jorginho did his 'hop, skip and a jump' technique - which the Everton keeper pushed onto the post - England's Bukayo Saka missed England's fifth spot-kick meaning that runners up and second place would have to do.
That's two penalty shootout losses for The Red Devils representing The Three Lions in just under seven weeks. For context, United and Villarreal finished 1-1 with Solskjær's men losing on penalties 11-10.
For United it's been four years since they won a trophy, these two final losses will be tough to take and will hurt for a long time.
Reds shone throughout the tournament's
Obviously it's not just Fred and the English players that went out on international duty. Scott McTominay, Daniel James, Dylan Levitt, Paul Pogba, Bruno Fernandes, Diogo Dalot, David De Gea, Victor Lindelof, Edinson Cavani, Eric Bailly and Amad Diallo were all called up for their national teams.
Jesse Lingard and Mason Greenwood were named in the provisional England squad for Euro 2020, with Lingard just missing out on selection and Greenwood withdrawing from the squad with an injury. Dean Henderson was called up and taken to Euro 2020 but also had to withdraw with an injury and was replaced by Aaron Ramsdale.
Anthony Martial and Donny van de Beek also missed out on getting into the France and Netherlands squad through injury.
Harry Maguire
Maguire earned himself a spot in the Euro 2020 Team Of The Tournament, one of three English players who got this honour. Despite missing the first two games of the tournament, Maguire picked up three clean sheets in five games. The United captain also grabbed a goal when he headed in England's second against Ukraine. Maguire rarely put a foot wrong and was excellent throughout.
Like his United teammate Shaw had a fantastic tournament but was unlucky to miss out on a spot in the Euro 2020 Team Of The Tournament. Shaw played as a left-back, left-wing back and left midfielder during the tournament. Obviously, he grabbed the goal in the final, but he also assisted three goals throughout the tournament. Only Switzerland's Steven Zuber got more, with four assists. A strong tournament from United's number 23.
Marcus Rashford
The 23-year-old came off the bench five times for England in the tournament but only played 84 minutes. Rashford is set to face surgery and could miss the first two months of the Premier League season, some fans are questioning whether he should have pulled out of the Euro tournament like his United teammates, Greenwood and Henderson. Despite not even collectively playing a full game, Rashford did show his speed, his fastest sprint was recorded at 33.5 km/h - joint fifth overall with Red's teammate Daniel James. Not the best tournament, but could return well after surgery.
Jadon Sancho
United's new signing was another player who struggled for minutes at Euro 2020, it was suggested that prior to the Ukraine game that other players were performing better in training. In the end, Sancho managed 97 minutes throughout the tournament over the space of three games. However, 90 of those came against Ukraine where 21-year-old played the full game. Despite not getting a goal or an assist at the tournament, Sancho showed his flair in the quarter-final game when he took on a couple of players and a number of successful dribbles. A promising season ahead, but not the tournament he'd have wanted.
Fred
Fred started for Brazil in six out of seven games in the Copa America tournament. The only game that Brazil failed to win in before the final during the tournament was the game that Fred did not feature in. He picked up 17 tackles and even grabbed an assist throughout the competition, something he didn't do once in the Premier League last season. A strong tournament from Fred and he could be a frequent starter once again for Solskjær in the coming season.
Paul Pogba
Despite France's poor tournament, Pogba shone for his country (once again). His side beat Germany in their opening game but after that, they drew with Hungary, Portugal and Switzerland (who they ultimately lost to on penalties). However, Pogba got one of the goals of the tournament in that 3-3 draw with the Swiss. From outside the area, the midfielder whipped the ball into the top right corner beating Yann Sommer. It was a goal that any keeper in the world will have struggled to save. A promising tournament once again from Pogba, but can he finally bring his country form into United?
Daniel James & Dylan Levitt
Wales shocked a few people when they finished second in their group, finishing above Switzerland on goal difference and four points above Turkey. James was quick and energetic but failed to grab himself a goal or an assist. Like last season for United, there's a lot of promise there for the 23-year-old but he's just missing that cutting edge that puts him above some of his teammates. A fairly quiet tournament for the Welsh winger.
Levitt has played for Wales nine times, but this was his first major tournament for his country. Despite only playing four minutes during the competition, the experience of being in a camp at a tournament like this will have helped him. Since coming through United's youth team he has spent the last two seasons out on loan. If he was to be loaned out again, could we see him feature regularly for a Championship side?
Scott McTominay
McTominay picked up a new role whilst playing for Scotland in this year's tournament. He started the first game in the heart of the midfield, which is what fans probably expected. However, in the England and Czech Republic games, the United player featured as a right centre-back in a three at the back-formation. He also played every minute in the tournament for his country and played a part in their new history as they reached a Euro tournament for the first time since 1996. Could we see him feature at centre-back for United at some point?
Bruno Fernandes & Diogo Dalot
Fernandes will soon want to forget about Euro 2020. As all United fans know, the Portuguese midfielders goals and assists record for his club are phenomenal. However, he just couldn't get going for his country in this year's tournament. No goal contributions, 206 minutes played, not the best from the Sir Matt Busby Player of the Year award winner. However, he played nearly every game for United last season and rarely missing a minute. A break is probably what he needs.
Dalot, who spent last season out on loan at AC Milan, made his senior debut for his country at Euro 2020. He initially was not included in the Portugal squad for the tournament but after Joao Cancelo tested positive for COVID-19 and withdrew from the squad, Dalot was called up. He came on for the last 11 minutes in the 2-2 draw with France and made his first appearance in the starting 11 in the round-of-16 defeat to Belgium.
David De Gea & Victor Lindelof
De Gea, like on a number of occasions at United this season, had to settle for being the second choice goalkeeper. Unai Simon took the number one jersey for the tournament. It is still unclear exactly who The Red Devils number one is. But as it stands the Spaniard will compete with Dean Henderson once again, both Lee Grant and new signing Tom Heaton are United's third and fourth choice keepers. Spain reached the semi-finals, De Gea will have been disappointed sitting on from the side, he'll be wanting to move on and forget about his missed penalty in the Europa League final but will have to wait a little while longer to move on from that game.
Sweden reached the knockouts of a major tournament once again this year, however unlike the 2018 World Cup they were knocked out in the round-of-16 where they lost to Ukraine in the last minute of extra-time. Lindelof played every minute for his country, finishing with 92% passing accuracy and 25 ball recoveries. He also kept two clean sheets, a good tournament for The Iceman.
Cavani played in every game for Uruguay in the Copa America tournament. He scored twice for them in the group stage to help them get out of their group and into the knockout stages. However, despite Cavani scoring Uruguay's first penalty in the shootout against Columbia, his country was knocked out of the competition 4-2 on penalties. It's good to see that the veteran striker is still scoring, with Rashford's surgery, Cavani could play a lot of the games at the start of the season.
Eric Bailly & Amad Diallo
Amad made his second and third appearances for Ivory Coast in June. He also grabbed his first goal for his country when he scored a late winner through a freekick in the 97th minute against Burkina Faso. What a way to grab your first goal. The 19-year-old came off the bench once again, this time against Ghana, however that game finished 0-0.
In June's friendlies Bailly didn't feature against Burkina Faso and was an unused substitute. Although he did play the full game against Ghana where he picked up a clean sheet. A good couple of games from the United duo.
Both are set to play for their national side at the Olympics towards the end of this month and the beginning of next and will miss United's pre-season preparations. The final is set to be played on August 7, just a week before United's first league game against Leeds United. If Ivory Coast don't get out of their group then their last game will be on July 28 against Germany, which is also on the same day as United's third pre-season game against newly-promoted side Brentford.
Ole couldn't stand in the way of @EricBailly24's and @AmadDiallo_19's Olympic dream 🙌#MUFC #Tokyo2020

— Manchester United (@ManUtd) July 14, 2021
Even if they were to go out at the earliest stage, due to quarantine rules and because they won't have trained with their United teammates for such a long time, it is doubtful that they will appear for United in their first league game at least.