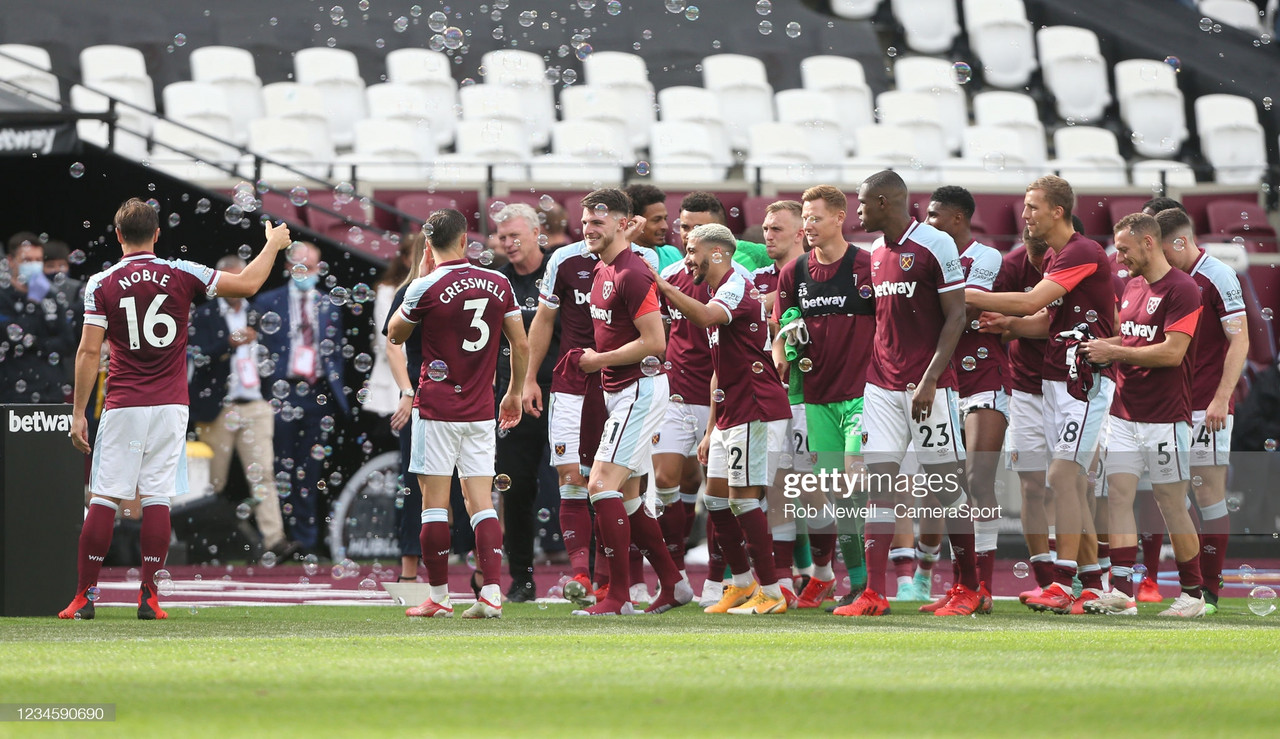 The 2021/22 season will see West Ham United undertake its 10th consecutive Premier League campaign. As all Hammers fans have already come to learn, it's never boring in the east part of London as the rides are usually... eventful, to say the least.
David Moyes' men, after finally reaching their long-term target, UEFA Europa League, will now have a lot to prove as their play needs to become much more consistent - a problem that used to bother the club in recent seasons - for both the fans and the players to enjoy success in the upcoming campaign.
With the earlier mentioned problem being one of the past, a new one has appeared. Manuel Pellegrini's era was filled with great performances against the "original top six" while losing points to lower positioned teams. Under Moyes, who took over from Pellegrini in January 2020, it's been the complete opposite.
Apart from Newcastle United (who, ironically, they face on Sunday in their season opener for the second consecutive time), the Hammers have easily dismantled most of "the other 14" teams.

But, as it's in the life of a West Ham fan, nothing is ever perfect.

Out of possible 36 points against the biggest teams in the country, Irons managed only six points - a very much subpar result. Four points came from matches against London rivals, Tottenham Hotspur, and two from draws against Manchester City and Arsenal FC.
Contrary to their league campaign, many have found West Ham's domestic cup runs very underwhelming. A Carabao Cup fourth-round 4-1 thrashing by Everton FC in Liverpool was followed by a fifth-round FA Cup exit from the hands (or legs even) of Manchester United's midfielder Scott McTominay, who fired the Red Devils through to the quarter-final with an extra-time winner.
But it was enough for the Hammers to finish sixth, clinching Europa League group stages for the first time in recent history. And this time, Astra Giurgiu won't be there to kick them out. Third time lucky.
After a bit of a slow start, with a 2-2 draw against Dundee United, West Ham's form picked up straight away.
On a double-fixture day, The Hammers played Leyton Orient as well as Northampton Town. The game against The O's finished in a 0-0 draw, while Stuart Pierce's men beat The Cobblers by two goals to one thanks to an own-goal and a strike from Conor Coventry.
And it was just the start of a great run of games.
On July 21st, West Ham were hosted by Reading at the Madejski Stadium. And the first two goals of the game were in the identical order as eight days earlier. First, an own goal, followed by a goal from Coventry. But this time, the scoreline was capped off by a phenomenal solo run from Ben Johnson.
But the real highlight of the pre-season camp came three days later against Celtic FC.
Although it was the hosts who opened the scoring through Callum McGregor, the remaining 84 minutes were under The Hammers' control as goals from Michail Antonio, Mark Noble, Said Benrahma, Jarrod Bowen and an ex-Celtic winger, Armstrong Oko-Flex, saw them thrash Celtic, with the final scoreline being 6-2.

A week later, it was a fellow Premier League side, Brentford FC, who hosted them. And it was another case of the home side being not only beaten but also outclassed.
Although the scoreline was *just* 1-0, thanks to a long-range beauty from Benrahma, the hosts' performance was highly disappointing.
On repeat 🔁 pic.twitter.com/01lMQHAgTC

— West Ham United (@WestHam) August 1, 2021
To cap all of it off, in their biggest test, West Ham faced Atalanta in what was their arguably biggest game of the season - the Betway Cup final.
Opposition changed, the starting XI's changed, but one thing didn't change - Said Benrahma running the show on his own.
The Algerian assisted both goals, as Antonio and Pablo Fornals pushed their team into much-awaited cup glory.
Well, there's not much that has happened on that front.
In terms of outgoings, Felipe Anderson has re-joined SS Lazio for a fee of around £3m, Fabian Balbuena's contract expired as he signed for a Russian Premier League outlet Dinamo Moscow while U23 players Frederik Alves, Nathan Trott and Nathan Holland joined Sunderland AFC, AS Nancy and Oxford United on season-long loan deals respectively.
But it's been the incoming side that has frustrated the fans the most so far, as the only first-team signing so far has been Alphonse Areola, who joined the club on a season-long loan from PSG.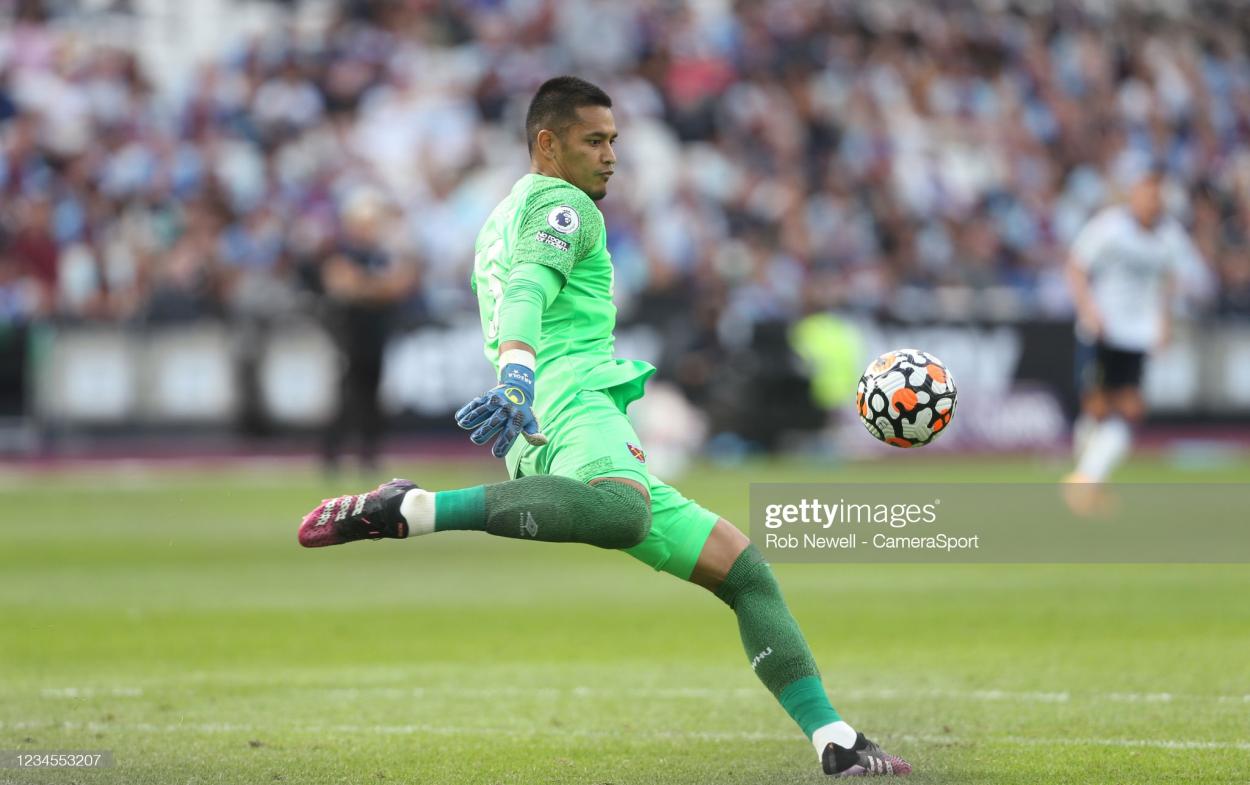 Meanwhile, The Hammers had made four signings that will improve the academy side of the club.
Pierre Ekwah-Elimby and Thierry Nevers were signed on permanent deals from Chelsea FC and Reading, respectively.
Additionally, Brian Kinnear and Armstrong Oko-Flex signed on free transfers after being released from their respective clubs, Rangers FC and Celtic.
And whilst Moyes is still looking to strengthen the squad, it appears tougher to achieve than first thought. There is talk about potential signings, but the two closest so far are Fiorentina's Nikola Milenković, for who a deal is agreed, just awaiting the final agreement regarding agent fees, and Manchester United's Jesse Lingard.
Well, there certainly is no doubt in the fan's heads on who will be the main man this season.

Having enjoyed a good debut season in the league last season, followed by a phenomenal pre-season, Said Benrahma looks to be the man good enough to fire his team into bigger and better things.

The 26-year-old has everything to be a success. The pace, the physicality, the eye for goal, the creativity and, his biggest attribute, the incredible flair, which makes fans stand up from their seats on multiple occasions in each game he plays.
Having finished the 2020/21 season with one goal and six assists, there is a lot more to be expected from the forward who, by many, is backed to have a Dimitri Payet-esque campaign.
With the additional amount of games provided by the Europa League competition, mixed with the lack of midfield depth and his great pre-season performances, Conor Coventry is nailed on to feature in the first team.

The 21-year-old central-midfielder possesses a great ability that will most likely help his team. As an engine-type midfielder, he looks very comfortable on the ball or in attacking scenarios, not creating chances with his passing but also scoring goals himself.
His leadership qualities are also something to keep an eye on, as he's been the captain of West Ham's youth teams as well as Ireland's U23 international set-up.

If he's the player which made David Moyes stop looking to sign a centre-midfielder this summer, I'm all for it, as it's a brilliant sign of what's to come for the youngster.
Key dates - opening fixtures
Newcastle United vs West Ham (Sunday, 15th August)
West Ham vs Leicester City (Monday, 23rd August)
West Ham vs Crystal Palace (Saturday, 28th August)
Europa League: First group game (Thursday, 16th September)
Carabao Cup: Third round (21st-22nd September)
FA Cup: Third round (Saturday, 8th January)
Honestly, with this club, anything can happen. The Hammers are so unpredictable that most likely nothing I'll say will materialise, but I'm going to try my best.
While Moyes will try to replicate their sixth-place finish from last year, the additional UEL games, which will take a lot of focus, could mean that it won't be achievable. My prediction is a safe, tenth finish, but with a view of further success, which lies in the players' ability.
The domestic cups are not going to be given a lot of attention. There is obviously a possibility of WHU reaching further stages than in previous years, but it won't come with sacrificing any first-team players. Expect youngsters such as Oko-Flex and Nevers to feature more than once.
And there is the big boy. Europa League. The attention-taker. Although most depend on the group stage draw (August 27th), reaching the quarter-finals could be a real possibility. Or maybe even further, for which I personally hope.