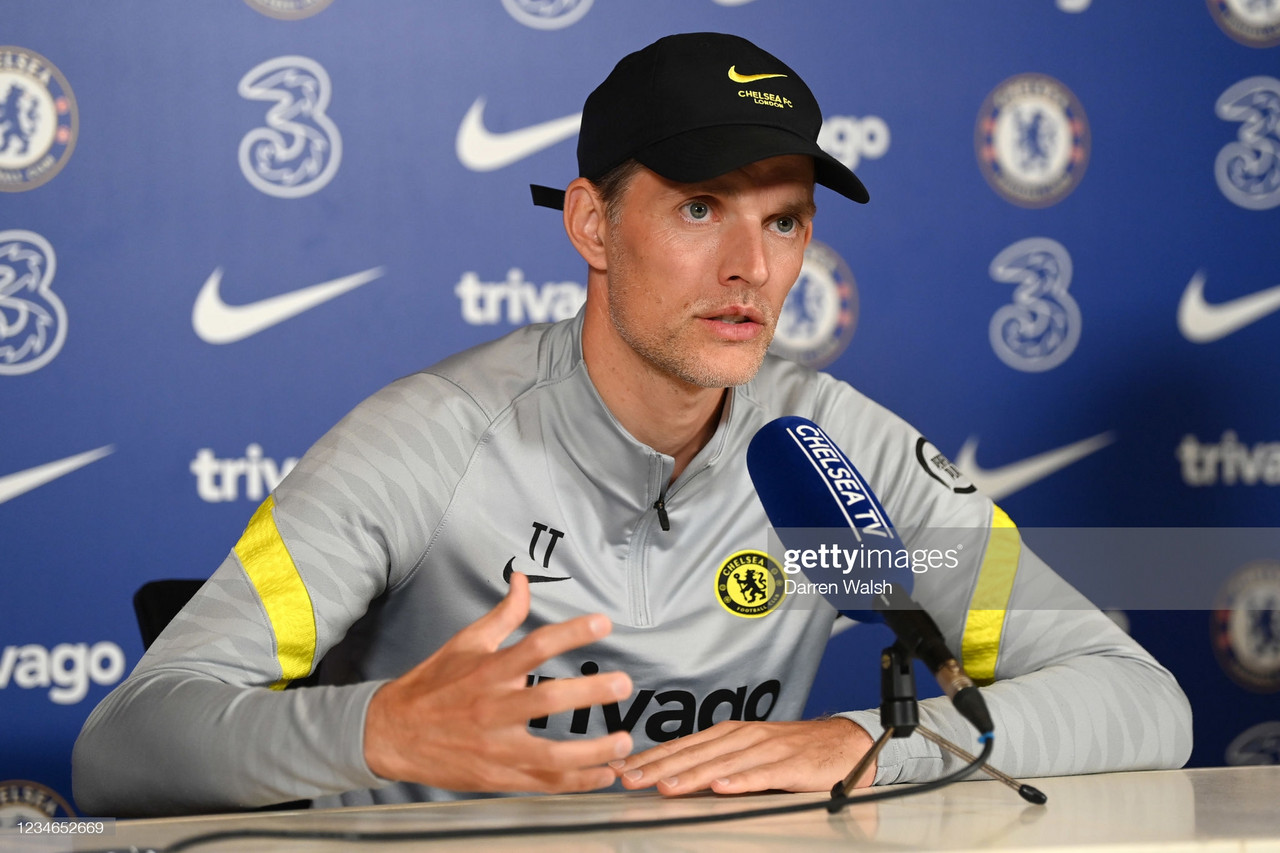 Chelsea manager Thomas Tuchel gave his thoughts to the media about his side's preparation for the weekend's standout Premier League game against Arsenal on Sunday afternoon.
The German gave an update on the fitness of his team, what he expects from Arsenal and the availability of Romelu Lukaku who could potentially make his first start for the Blues in eight years.
Here are the five most important things the manager talked about in his press conference earlier today...
UEFA Awards
'I would give two votes for my two players! It is in general, individual awards are not so important. The most important thing is that we produce performances as a team. It is a team sport and that is why we love it.'
With the nominations for various UEFA awards being announced, including Tuchel himself, he spoke highly of his players' achievements and commended their recognition.
So impressed was he by N'Golo Kante and Jorginho's performances over the past few months, he said he'd vote for them both when asked who he would pick.
However, he was keen to point out that awards for individuals should not be prioritised above team trophies, which he claims are the most important accolade.
Team Fitness
'Christian [Pulisic] is an easy one to explain - he had a positive [Covid-19] test and is following the protocols. Unfortunately he is not fit to train or for the game. Hakim [Ziyech] and N'Golo [Kante] were both in training today.'
'They have done everything since yesterday to be in training today. We will decide after tomorrow's training session at 11 but right now, it seems very positive that both can be in the squad for Sunday.'
The major point to note from the boss's team news was that of Christian Pulisic's positive Covid-19 test, ruling him out for the game and explaining why he was absent from the open training session.
Other members of the squad who were mentioned included N'Golo Kante who, along with Hakim Ziyech, are in training again but will require a final assessment tomorrow.
That said, Tuchel's optimism about them both potentially being in the matchday squad is encouraging and will be welcome news all round.
Lukaku's Availability
'We have one more training session to go, but the week was a heavy load for him because he was in the group with the late starters for our guys. But we are hoping he's on the pitch for Sunday and things look like it.'
'Is Romelu the missing piece? Well, we hope so, but at the same time, we try to find solutions for any questions that are asked during games.'
(When asked how many goals he was expecting from Lukaku this season) 'Fifty or 60 until winter!'
🎥 Romelu Lukaku taking part in Chelsea's open training session at Stamford Bridge today. #LukWhosBack pic.twitter.com/vZ5JVWNv6a

— LDN (@LDNFootbalI) August 18, 2021
One face all Chelsea fans would love to see start against Arsenal this weekend is record signing Romelu Lukaku, who rejoined the club a little over a week ago.
Tuchel remained relatively tight-lipped, not least due to being unwilling to give his tactics away, but from what he did say it sounds cautiously positive.
If, as he said he hoped, the Belgian striker does end up being the missing piece of the puzzle, it looks set to be a very exciting campaign for Chelsea.
Arsenal Expectations
'We had a pre-season match without all the fans but we could feel the atmosphere and energy this derby can produce. It's always a tough one, always a tight one.'
'They had a bit of a rough start now and from their perspective, it can be a help that a big rival from the city arrives now. We should absolutely be prepared for the best Arsenal possible. Anything else other than a tough game will be a big surprise.'
The Blues have already faced the Gunners this month in a pre-season friendly, defeating them 2-1, so Tuchel already knows a little bit about the upcoming opposition.
Firing us into the lead! 💥

🔴 0-1 🔵 pic.twitter.com/dnalmvs0PU

— Chelsea FC (@ChelseaFC) August 1, 2021
However, as he pointed out, in derbies recent form and results go out the window, with them consistently being high-octane and difficult games.
By ensuring he does not underestimate Mikel Arteta's side though, fans will hope, like him, that he can better his previous league result against the North London side in which the Blues succumbed to a 1-0 home defeat.
Trevoh Chalobah's Future
'So now I think it's very logical that he [Chalobah] stays with us, and he's looking for his chance here. We let some players go but Trevoh is a guy we absolutely want to keeps, and this is the status for him.'
'This [signing a new contract] actually I don't know, actually I absolutely know nothing about the contract situation. We trust him, he deserves, this is not a gift this is what he deserves for now, and this is a good situation for us and for him right now but I'm absolutely not aware of the contract.'
In recent days there has been a mass exodus of multiple different players from Stamford Bridge, but one who seems to have escaped this wrath is Trevoh Chalobah.
After scoring his first goal for the club on his Premier League debut against Crystal Palace, the 22-year-old now appears to be a central part of Tuchel's plans for this season.
The only remaining question is the youngster's contract which is currently set to expire in two years time, though providing he continues to put in world-class performances, it is surely just a matter of time until that is extended.