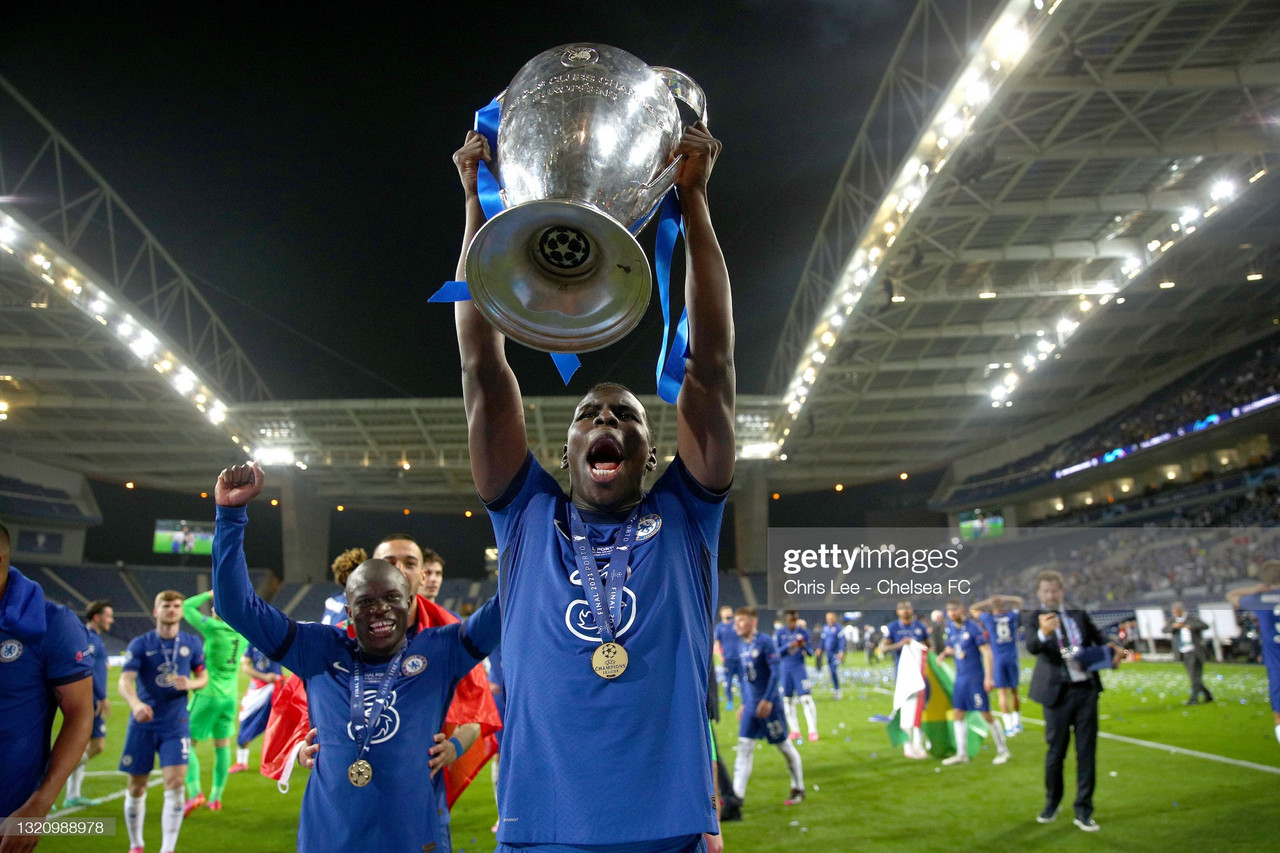 According to Sky Sports News, Kurt Zouma has three potential moves away from Chelsea on the table, one of which would see Jules Kounde go the other way.
The Blues have yet to bolster their back line with any new signings this summer, but with a UEFA Champions League winning defence, there was always going to be interest from outside the club.
The 26-year-old has two more years remaining on his contract and is supposedly 'happy to remain at Chelsea', if a deal for his departure is not agreed.
Jules Kounde Swap?
Earlier in the window, Chelsea were reportedly lining up a bid for Kounde, currently at Sevilla, which involved Zouma heading out to Spain in return, on top of cash too.
A compatriot of Zouma, the 22-year-old has three years left until his contract expires, but that hasn't stopped Chelsea from making an approach for the centre back.
However, Sky Sports also reported that, with Zouma's preference being 'to remain in London', other potential buyers may be more likely.
Heading across the capital?
Another club that has been mooted as an eventual destination is West Ham United, who have reportedly made Zouma their primary target this summer.
Joining David Moyes' side doesn't look as likely at the moment though, with a deal being said to be 'very difficult to complete' by Sky Sports.
This is because the two clubs have a difference in valuation: Chelsea put the defender at £25 million, whereas the East London side don't want to splash that much cash, at least as of yet.
An unthinkable move?
The final club which has been suggested to be interested in Zouma is perhaps the one that Blues' fans will be most frustrated to hear - Tottenham Hotspur.
Fresh from a 1-0 opening weekend victory against Manchester City, Nuno Espirito Santo is supposedly eyeing up multiple potential targets, with the Frenchman emerging as one near the top of the list.
Any deal between the two clubs will be notoriously hard to negotiate, due to the frosty relationship they have, and how Zouma would be seen among the Stamford Bridge faithful for making such a treacherous move is yet to be seen.
So unprecedented is the move that even former Chelsea captain John Terry responded to the rumours by commenting on an Instagram post: 'Don't do it @KurtZouma'.
Stay at Chelsea?
Regardless of what ends up happening, it does seem clear that should he decide to remain in West London, his opportunities will be more limited than they might be elsewhere.
Since Thomas Tuchel has arrived, he has only started in the Premier League on eight occasions, being absent for all of the last five Champions League games too.
While he did play for over an hour in the UEFA Super Cup against Villarreal, that appears more likely to be due to other players not being fit enough than a change of heart from the German head coach.
With 12 days until the transfer window closes, there remain many questions surrounding Zouma's future and any deal now would surely come down to the wire.