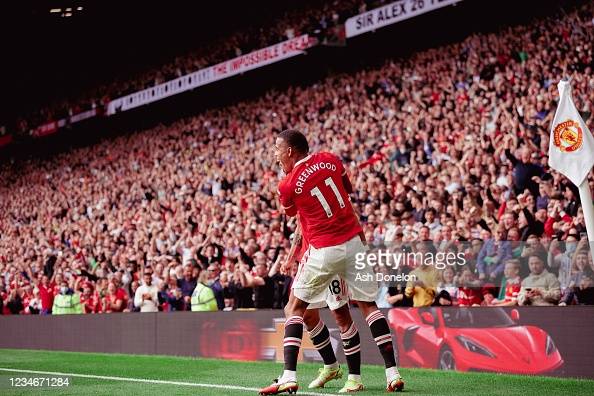 Since Mason Greenwood burst onto the scene at Manchester United there has been no doubting his talent and potential.
Even Manager Ole Gunnar Solskjaer has made no secret of the fact he is one of the best finishers he has ever seen. With another former United Legend Paul Scholes saying earlier this year that he should be the regular centre forward at the club.
The quality is there, but like with many young strikers, timing is everything. The last thing Ole and his staff want to do is put so much weight on his shoulders at such a young age, and because of that, over the past couple of seasons we have seen him gradually be introduced into the line-up.
However, his exceptional performance against Leeds United has led to many questioning whether he should start every game up top, even when fan favourite Edinson Cavani returns.
Performance against Leeds
Not many people expected the game to end up like it did, and with United missing so many of their usual stars, if anything, people tipped Leeds to come away with something.
There were also rumours that Anthony Marital would start, but it was a pleasant surprise to see Ole finally giving Greenwood the opportunity to show what he can do down the middle and show it he did.
It was his sheer pace and expert finish that gave him his goal and put United back into the lead in the second half, but this is something we knew Greenwood had in his locker, it's his movement off the ball that was pivotal to the victory.
Given Leeds like to man-mark and press hard out of possession, creating space for his fellow attackers was always going to be crucial, and its exactly what he did.
Dropping deep and forcing Leeds' defenders to go with him created the pockets for the likes of Bruno Fernandes and Paul Pogba to run into, which was crucial to all of the goals.
Ole described him as "a man compared to a boy" in his post-match press conference, showing how much he has improved physically compared to when he started with the team two years ago.
He's added another dimension to his game that we haven't seen too often, and if he can maintain consistency, then who's to say he shouldn't be regularly starting through the middle.
Well, maybe Cavani.
With most of his appearances last season coming from out wide, we haven't been able to see just how effective he can be through the middle until now.
With Cavani being United's trusted number 9 for most of last season, there's competition for the spot.
While it's likely that Greenwood will rightly retain his place as a number 9 against Southampton, Cavani's eventual return may see Mason moved out wide.
It was a position we saw him feature in mostly last season, and after the game Ole again highlighted the versatility that the Englishman has to play across the forward line.
However, it's likely that Jadon Sancho will eventually start regularly from the right, and when Marcus Rashford returns, he from the left.
Ultimately there will be a lot of minutes for everyone, and the vast experience and quality that Cavani has can only be a good for Greenwood to learn from.
At the age of 34, United's number 7 will likely move on after this season, at which point Greenwood should be ready to take over the mantle.
His goal at the weekend saw his overall tally for United reach 30, and it's clear he is going to be a star for the Red Devils in the future.

It's hard not to mention one of the best young strikers in the world.
While it looks like Erling Haaland is staying put for now, next season sees his £64 million release clause activated, and with that comes a race for clubs to sign him.
It's likely United will be in the market for a striker next summer, and Solskjaer has a great relationship with Haaland, having managed the striker during his time at Molde.
The Red Devils were close to signing him before he went to Borussia Dortmund but refused to bow down to his agent Mino Raiola and insert such a low release clause into his contract.
It wouldn't be surprising to see them try again, and at such a low price can you blame them. However, Haaland is only 21, and signing him risks hampering Greenwood's development.
Ultimately United have a potential world class talent on their hands, a player that has come through the academy and represents everything the clubs embodies.
If history says anything, then they should trust the youth players they've developed. If they do they same with Greenwood, they won't be disappointed.