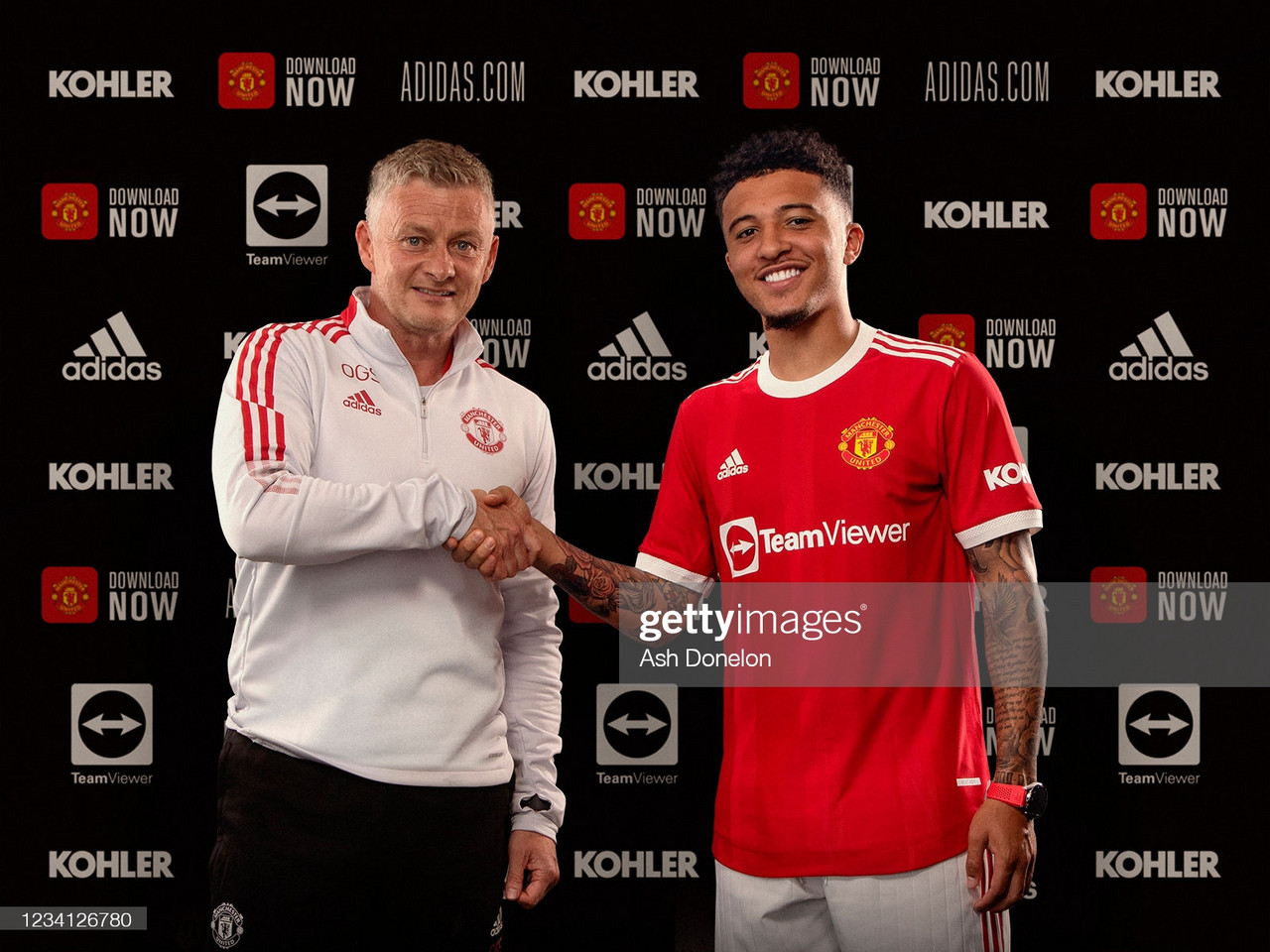 Manchester United have announced the signing of Jadon Sancho from Borussia Dortmund. The English winger has signed for a fee of around €85 million (£72.6 million) and will be under contract until 2026 with the option to extend by a further year.
Sancho had been a long-term target for both United and Ole Gunnar Solskjaer. After failing to bring the Dortmund star to England last summer due to financial struggles at the fault of the global pandemic United were expected to complete the signing this summer.
Sancho has said he is 'excited' and is looking to bring success to the club: "The chance to join Manchester United is a dream come true and I just cannot wait to perform in the Premier League.
"This is a young and exciting squad and I know, together, we can develop into something special to bring the success that the fans deserve. I am looking forward to working with the Manager and his coaching team to further develop my game," he added.
Solskjaer has also had his say on the introduction of Sancho: "Jadon epitomises the type of player I want to bring to the club, he is a forward player in the best traditions of Manchester United.
"He will form an integral part of my squad for years to come and we look forward to seeing him blossom. His goals and assists records speak for themselves and he will also bring tremendous pace, flair and creativity to the team."
At the end of last season, Solskjaer admitted for the second year running he needed to strengthen his squad.
"If you want to take up the challenge with them [City], of course, we need to strengthen our squad," he told BT Sport after Manchester City clinched the Premier League title.
VAVEL understands that Sancho was the primary target for United's vacant right wing position and that it was 'Sancho or nobody'. Sancho is expected to slot straight into the front three that United have used under Solskjaer.
Why Jadon Sancho?
There is no doubt United were desperate for a right winger throughout many parts of last season's campaign but why Sancho?
Since moving to Dortmund from Manchester City, Sancho has managed 50 goals in his 137 appearances. But what will be of most interest to United fans is the way he finished the 2020/21 season with the German giants.
In an attempt to secure his place in the England squad and keep United itching to complete a deal, Sancho put on a fine show to end his career at Dortmund with 13 goals in 21 games.
Sancho signing perfect timing as Rashford expected to be out for several weeks
With Marcus Rashford expected to undergo surgery at the end of this month, he could be ruled out of action for up to eight weeks which would see him miss half of the Champions League group stage games and nearly a third of the Premier League season.
Sancho's versatility could come in handy as he could shift out onto the left in replacement of Rashford and Mason Greenwood could remain out on the right with Edinson Cavani or Anthony Martial (depending on his fitness) down the middle.
Greenwood is not going anywhere anytime soon. He was used predominantly out on the right but Sancho's arrival does not necessarily mean Greenwood will be demoted to the bench. The club would like to see him develop into their primary striker but are aware that that may take time.
Sancho is expected to come straight into United's starting lineup and on paper, it looks as though they may have the most spine-chilling attack in the league. City, mind you, could easily claim that title if they were to sign Harry Kane and Jack Grealish but those transfers seem stuck in a perfect world.
It has been rumoured that with the addition of Sancho, Solskjaer is looking to change his shape/formation from the 4-2-3-1 to a 4-3-3. This would potentially see the end of Scott McTominay and Fred's dynamic duo but would favour United going forward.
Solskjaer can also use Sancho in a way that would leave clubs in the dark when preparing to face United. Sancho has played on the right wing for the majority of his career but he has also had some impressive spells out on the left. Most recently, when he scored a wonderful goal by cutting in from the left for Dortmund in the DFB-Pokal final against RB Leipzig.
And finally, another option for Solskjaer could be to opt for a tweaked version of a formation he played under during his time at United. Rather than the standard 4-4-2 that Sir Alex Ferguson selected, Solskjaer could go for a 4-2-4 with Pogba and Bruno Fernandes sitting as the midfielders with a healthy Rashford out on the left, Cavani and Greenwood down the middle with Sancho on the right.
Whilst this may be an approach that would certainly excite United fans, Solskjaer will have to be cautious when using this formation as his side could be exposed at the back with limited cover from the midfield.
Sancho will not be available for United's pre-season fixture against Queens Park Rangers on Saturday but could feature against Preston North End in just over a week's time.