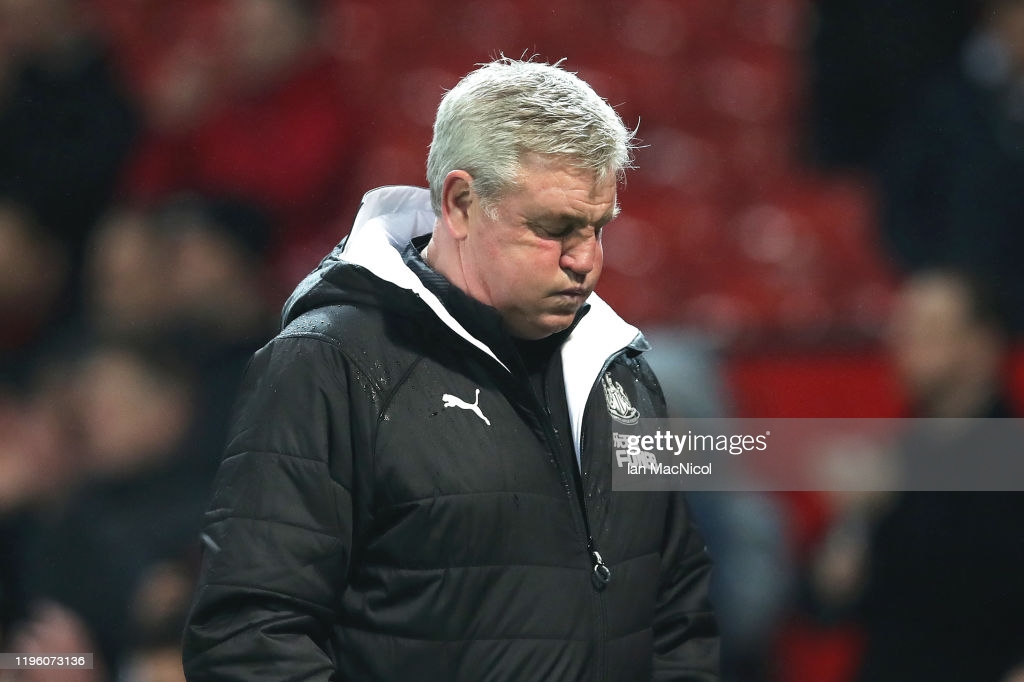 In 26 meetings against Manchester United in all competitions, Steve Bruce has won just one fixture, drawing five and lost 20, accumulating a total of eight points out of a possible 78.

Bought by Sir Alex Ferguson from Norwich City for £825,000 in December 1987, Bruce won 12 major honours in a glistening nine-year spell at United, including three Premier League trophies, three FA Cups, three FA Community Shields, one League Cup, a UEFA Cup Winners' Cup and a UEFA Supercup.

Despite making a sensational 414 appearances and finishing with a respectable 51 goals as a star-studded centre-back during his time at Old Trafford, it's fair to say his managerial record against United is not as impressive, in fact it's abysmal.

Over the years with a number of different clubs managed, including Birmingham City, Wigan Athletic, Sunderland, Hull City and Newcastle United, between 28 December, 2002 and February 21, 2021, Bruce has witnessed his team's score just 14 goals combined against United, with only five of which scored at the Theatre of Dreams, and conceded a staggering 50.

The 60-year-old's sole victory over Ole Gunnar Solksjaer's side arrived in October 2019 at St James' Park, when Matty Longstaff's 72nd-minute strike gave Newcastle a 1-0 win and ensured Bruce could finally savour a monumental triumph over The Red Devils in his 23 years in management.
Bruce's head-to-head record against a side where he enjoyed astronomical levels of success as a player is the worst that he has faced in all competitions when compared to other clubs, averaging a total of 0.31 points-per-match.

In context, against the other traditional top-ranked sides, Bruce has recorded six wins, 11 draws and 12 defeats over Liverpool in 29 matches (1.00 PPM), four wins, eight draws and 14 defeats over Tottenham Hotspur in 26 matches (0.77 PPM), four wins, six draws and 14 defeats over Manchester City in 26 matches (0.64 PPM), three wins, five draws and 20 defeats over Chelsea in 28 matches (0.50 PPM) and two wins, six draws and 24 defeats over Arsenal in 32 matches (0.38 PPM).

Also, in 18 attempts against his former boss Ferguson, Bruce picked up just four points, with two draws apiece when he was manager of Birmingham and Sunderland respectively.

The most memorable encounter was on October 3, 2009, as Bruce took his Black Cats to the Theatre of Dreams hoping to claim their first victory at Old Trafford since 1968, and they almost achieved the feat when his side were leading 2-1 with seconds to go, before an unfortunate own-goal from Anton Ferdinand in the third minute of additional time salvaged United a point.

While Bruce is still awaiting his first managerial three points in the North West, The Magpies, unlike their North East rivals, have experienced a Premier League win and a clean sheet more recently at United. It arrived in December 2013, when Frenchman Yohan Cabaye grabbed the headlines and gave Alan Pardew's Newcastle a famous victory.
Can Bruce record a famous first victory at Old Trafford?
Bruce is determined to re-write the history books and end his barren record at United. He will be inspired by what Newcastle accomplished there eight years ago and look to use it as motivation and while the odds are firmly stacked against them, it will be interesting to see how well or if they can cope with the sheer quality that Solksjaer's side possesses.

If Bruce's black and whites are able to pull off a similar result this weekend, it really would be a miracle.

With the homecoming of Portuguese superstar Cristiano Ronaldo set to make his second debut for The Red Devils along with their other eye-catching summer signings who are all eager to shine, Bruce's task in not just securing Newcastle their first victory of the season but also trying to vanquish his United hoodoo appears to be even more daunting than it already was. Of course, the omens don't look good.