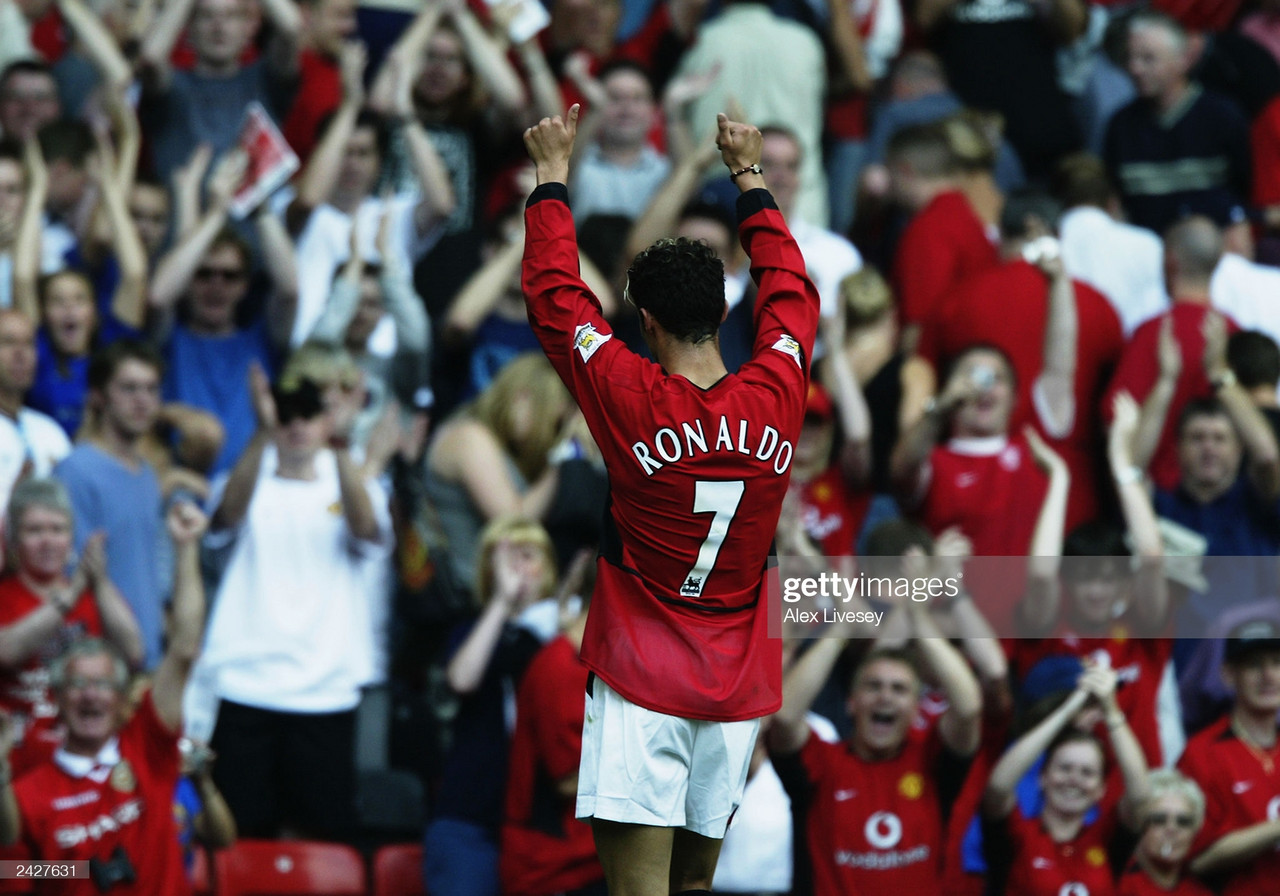 For a brief moment, it looked as though Manchester City were the frontrunners to claim the Portuguese's signature, but Cristiano Ronaldo and Manchester United is a love story which demanded a happy ending.
Whether his own nostalgia or compatriot Bruno Fernandes swayed the great man's decision, CR7 is back at Old Trafford. I took a look back at the great man's best United goals (spoilers, there are some absolute bangers).
10. What weak foot? (vs Portsmouth)
And so we begin; what a place to start. The beauty of Ronaldo is that he could score with either foot and, at Fratton Park, this long-range stunner showcased his unbelievable technique. Think Didier Drogba vs Everton, but with a left foot. And it wouldn't be the last time he produced something spectacular against Pompey...
9. He's arrived (vs Fulham)
This is arguably the goal that marked Ronaldo's transition from exciting prospect to inspirational talisman. The superb individual effort began when the then diminutive winger picked up the ball just inside the opposition half, span beyond a desperate challenge and set off.
Driving towards the box, it was obvious that no one would be able to stop him and he drilled a low shot across the goal and into the far corner. It was pivotal to the Red Devils winning the Premier League that season.
8. Out of Nowhere (vs Roma)
This is the first of CR7's incredible headed goals and it came in the Olympico of all places. Quite fitting, really. When Paul Scholes chipped a weighted cross into the box, Ronaldo isn't even within camera shot, but 'the ginger Pirlo' knew Cristiano was sprinting onto the scene. The Portuguese marvel didn't disappoint, heading home a classic goal from a stunning height and taking a proper hit in the process. Now that's commitment.
7. Need for Speed (vs Arsenal)
Manuel Almunia had a truly torrid time whenever he faced United and this Champions League semi-final second leg back in 2009 was no different.
Having scored a incredible free kick earlier in the game - we'll come onto that later - Ronaldo gave United the lead, but he wasn't content with scoring just one brilliant goal. Arsenal were pressing and forced a corner which was cleared. Ronaldo got to the ball first and fed it to Park Ji Sung before setting off at speeds Usain Bolt would be proud of.
Park moved play forwards to Wayne Rooney who, knowing he didn't have the angle for the shot, played it square and perfectly into the Ronaldo steam train for a controlled, sliding finish. What a move, what a goal.
6. The first of many (vs Sunderland)
The first of three free kicks on the list and it's astonishing that it's not his best. Donning the black away kit on Boxing Day in 2007, Ronaldo gave United fans a late Christmas present by smacking the ball over the top of a rather substantial Sunderland wall. What makes this one special is the way it goes in - it's still swerving away from goal when it nestles into the inner side netting. Truly unsaveable.
Cristiano became known for his power and there's plenty of that in this countdown, but this intelligent finish at Old Trafford earns its place for sheer cheek. United won the game at a canter and were thoroughly enjoying themselves, symbolised when the ball fell to Ronaldo inside a packed area from a whipped corner and the Portugal man improvised in sumptuous style, reacting to flick the ball between the Aston Villa defenders. It was practically a 'Cruyff turn' shot.
4. Work the angle (vs Arsenal)
Let's go back to that European semi final against the Gunners. Even for Ronaldo, this free kick was simply brilliant. Practically on the touchline, he stood over the ball 35, maybe even 40, yards from goal. With everyone (especially Almunia) expecting the cross, the ball was instead sent soaring between the angle of wall and near post as Ronaldo scored one of the most audacious free kicks in Champions League history.
3. The Salmon Leap (vs Chelsea)
When you think of big game players, someone who you can always count on when you reach a final, CR7 is that man. The 2007/08 Champions League final was no exception when, of all people, Wes Brown floated a left-footed cross vaguely towards the back stick.
Given the trajectory of the delivery, no player had the right to get over the ball and direct it towards goal, let alone nestle it into the bottom corner, but this man simply is not normal. Back then, Ronaldo wasn't known for his athletic jumping like he is now, but he sprung like Michael Jordan and, with a simple flick of his neck, left Petr Cech rooted in the Chelsea goal to open the scoring in the showpiece showdown.
2. THAT free kick (vs Portsmouth)
In all honesty, I'm not sure how this isn't number one. It's a cold evening with rain lashing down; usually that's enough for most 'tricksters' to pack up their boots and go home, but not Ronaldo. In the middle of what most will agree was his best season in the famous red shirt, he stood over a dead ball.
David James and the Portsmouth wall may as well have not even been there - the ex-England shot-stopper barely moved an inch as Ronaldo sent one of his trademark 'knuckleball' freekicks into the postage stamp. It even beats David Beckham's set strikes and is one of the most iconic goals in English football.
1. The sledgehammer (vs Porto)
This is it. Ronaldo's best EVER United goal. And, let's be honest, it has to be.
Having left his native land as a talented prospect a few years earlier, Ronaldo returned as the world's best player - and showed it. The first half of Champions League games can take a while to get going, but not this one.
On his return home to Portugal, Ronaldo faced FC Porto - the arch rivals of his old club, Sporting Lisbon. He received the ball deep in midfield, turned and moved it from beneath his feet before unleashing a target missile across the goal and into the top corner from all of 40 yards. The 'keeper saw it all the way and still got nowhere near it. From that distance? It flew in like an arrow. No spin, no movement, just sheer world class technique. Utterly, utterly Sensational.