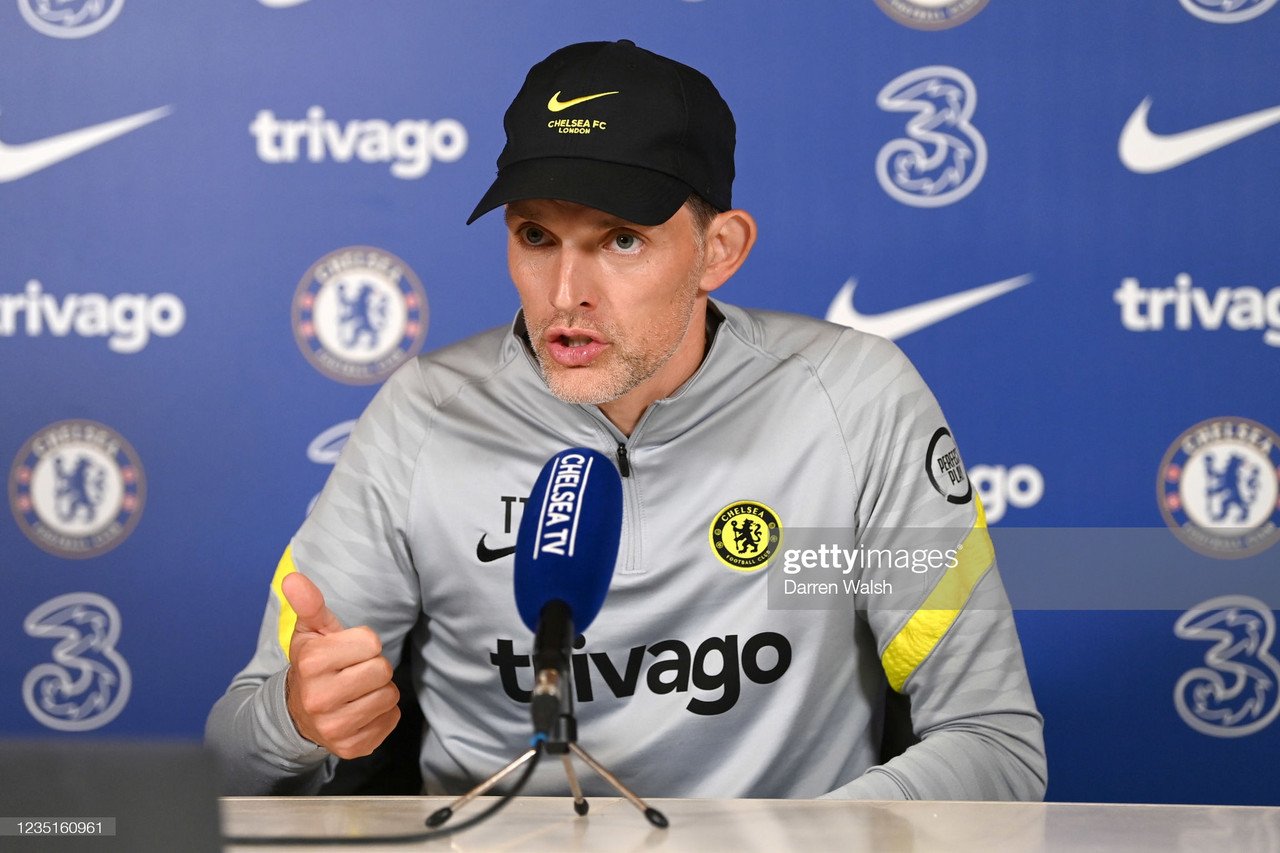 Chelsea manager Thomas Tuchel spoke to journalists during his pre-match press conference on Friday regarding his squad's preparation for their Premier League matchup against Dean Smith's Aston Villa.
He gave an idea of team news, the injuries in the squad, his thoughts on Cristiano Ronaldo's return to England and what he makes of new signing Saul Niguez.
Here are the five key quotes that the boss said in his press conference yesterday.
Team News
'Unfortunately we have two players out: N'Golo Kante and Christian Pulisic. They came back both injured. N'Golo got injured against Liverpool and still suffers a little bit. We'll try with N'Golo for Tuesday, this looks pretty good.'
'For Christian, he came back yesterday on crutches. He has an ankle injury with about 10 days out.'
The loss of N'Golo Kante will never be welcomed by either Tuchel or Chelsea fans, but they will be at least slightly relieved by the options they have in backup, including the likes of Mateo Kovacic.
It's much the same story for Christian Pulisic too - while the American is an important part of the team, with the wealth of squad depth in his position, it shouldn't be too much of a concern against Villa.
Saul Niguez Signing
'We have the chance [to make the loan signing permanent] which is good. Now it's on us and the player, and we can get to know each other in detail and see if this is a good fit.'
'He's a very strategic player, has a good passing ability, does a lot of volume of work. I think it's good he comes from a tough club and I am absolutely happy.'
We're delighted to welcome @saulniguez to the club on a season-long loan! ✍️#HolaSaul 🇪🇸

— Chelsea FC (@ChelseaFC) August 31, 2021
The signing of Saul Niguez was left until very, very late in the summer transfer window, but the German head coach appears delighted that it got over the line.
With injuries to midfielders not uncommon in this Chelsea squad, Saul will be crucial for providing strong backup in the biggest of games, potentially even as soon as the upcoming Villa game.
Ronaldo's Return
'Now Cristiano [Ronaldo] arrives there will be a lot of attention, there will be a lot of focus. I think he will have a huge impact. Why? Because he is a champion and he has proved on any level in any year that he can perform on outstanding levels.'
'He leads by example Cristiano and makes things more complicated for us, but very, very exciting and we will not change our ambitions because of it.'
Welcome 𝗵𝗼𝗺𝗲, @Cristiano 🔴#MUFC | #Ronaldo

— Manchester United (@ManUtd) August 27, 2021
It's clear that, while Tuchel appreciates the impact one of the greatest players of all time will have on the pitch, he sees the potential off the pitch too.
Having such a well-recognised figure in the dressing room at Manchester United can only be a good thing, and it does appear likely that there will be a lot of attention on Ole Gunnar Solskjaer's side, with the winger in the team.
Timo Werner's Absence
'The most important thing is he finds his rhythm, finds his confidence, finds his joy. The players are in charge to take their positions, fighting for their positions, and once they have it to not give it away.'
'We have a squad where we are not too many players, but players with high quality and high ambition and Timo is a guy we count on and it is absolutely necessary that we have someone on a high level and he can be decisive for us.'
Despite Timo Werner having been left out of the team for the previous two league games against Arsenal and Liverpool respectively, Tuchel made it clear that he very much still has confidence in the striker.
For Germany, the 25-year-old scored a goal in each of his country's games, undoubtedly giving him a confidence boost, and he will hope he can carry that over to his club career, starting with Aston Villa.
International Duty Controversy
'I don't understand it and it makes no sense from whatever side you look at it. Did it make sense for the Brazilian national team? No, they didn't have the player.'
'Did it make sense for us? No, because we are now in danger he can't play the next two matches because of a ban. I don't know any fan or anybody who is involved in this game [who] can really understand the positive effect. There is simply none.'
Frustration is probably the best word to sum up the Blues' boss's reaction to the international call-up problems that have been occurring over the past fortnight with regards to Thiago Silva.
With it seemingly being a no-win situation for either the country or the club, and as a problem that is affecting multiple teams in the Premier League, fans will hope that the issue can be resolved before the next international break in just four weeks time.
N.B. Since his press conference, FIFA have announced that the five day ban has now been waived, meaning the centre back is available for selection, but the uncertainty can't have helped anyone in the long run.
BREAKING: FIFA has cleared players who were called up by Brazil, Chile, Mexico and Paraguay during the international break to play in the Premier League this weekend.

— Sky Sports News (@SkySportsNews) September 10, 2021