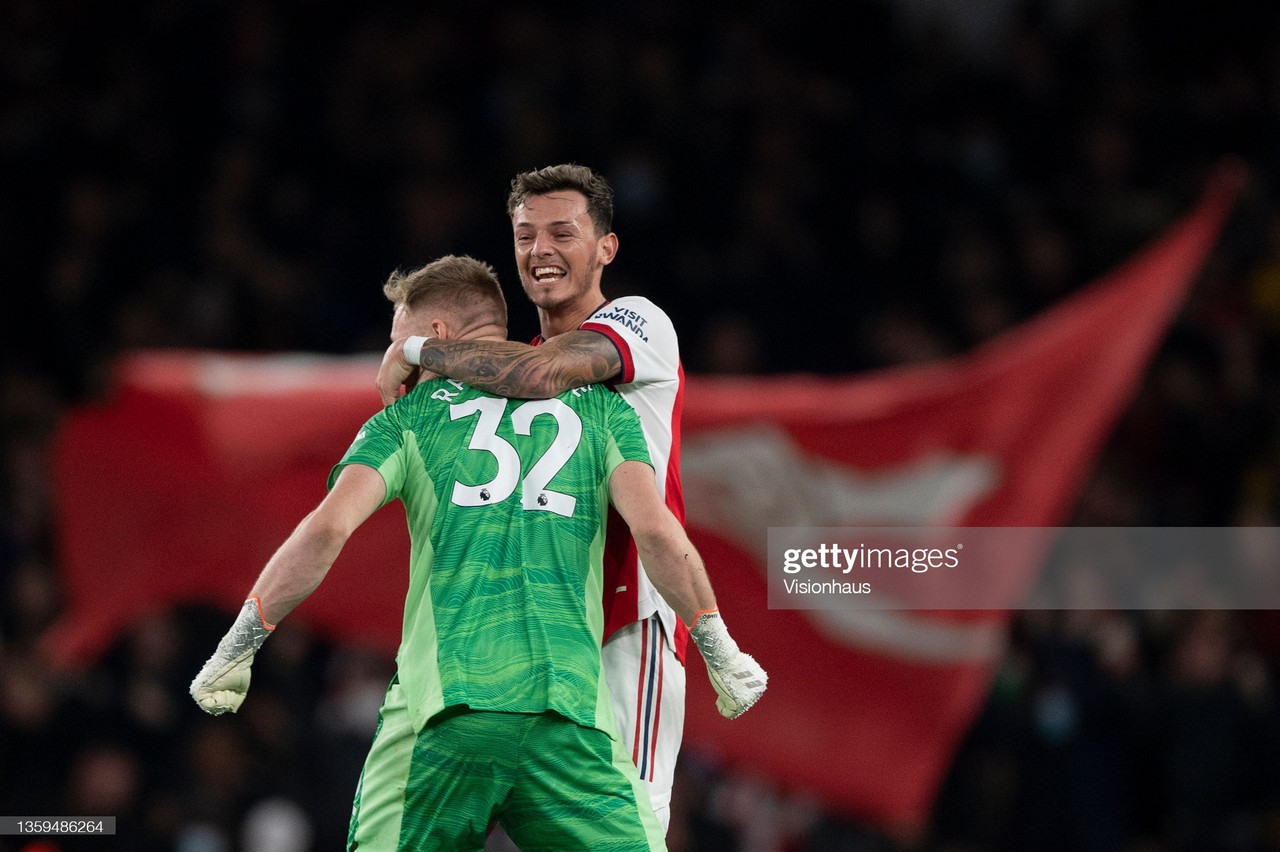 Arsene Wenger repeatedly made the point that signing more than three players in a single transfer window could destabilize a team and impact player morale.
In June 2016, he gave the famous example; "if a player is No.26 in the squad, he needs three players to die before he has a real chance to play. That has an impact when he comes in every morning. He is down and he takes something away from the team."
This summer, Arsenal doubled Wenger's recommendation by signing six players; Nuno Tavares, Sambi Lokonga, Benjamin White, Martin Odegaard, Aaron Ramsdale and Takehiro Tomiyasu.
Interestingly, Arsenal shifted their transfer strategy this summer to focus on younger players. The average age of Arsenal's signings was only 22, compared to 27 the summer before. This has been a recurring theme this season as Arsenal have fielded each of the 16 youngest average age starting line-ups this season. The youngest came in Arsenal's home win over Newcastle in late November with an average age of just 24.
Of course, Mikel Arteta's eighth-placed Arsenal were in a very different position to Wenger's team that qualified for twenty consecutive Champions Leagues, but how have the new boys fared since arriving in North London?
Nuno Tavares
Nuno Tavares was the first and maybe the most surprising of the Gunners' signings this summer. He joined the club on July 10 from Benfica, where he mainly played second fiddle to Alex Grimaldo. He did not take long to announce himself though as he scored a lovely goal on his preseason debut to secure a 2-2 draw against Rangers.
While many Arsenal fans were largely expecting him to be a back-up to the injury prone Kieran Tierney, Tavares has been much more than that. His raw attributes paired with his energy have made him a solid option from the start of games or even off the bench as a left winger. Looking into the data, StatsSports found that Tavares has the highest stamina from any Arsenal player (covering a distance of 124.6m/min).
Perhaps the moment Tavares truly announced himself was on his Premier League debut in Arsenal's 3-1 win over Aston Villa. The £7million left-back was so impressive, he kept his place in the squad for a few weeks after Tierney's return from injury.
His performances since (apart from an understandably difficult game against Liverpool at Anfield) have also been impressive. In fact, according to rumours this month, Manchester City are monitoring him as a potential signing.
Sambi Lokonga
Sambi Lokonga was the club's second signing of the summer. At only 22 years old, he looked solid during Granit Xhaka's absence with injury. Coming from the Belgian Pro League, Lokonga has displayed glimpses of magic, but has yet to build strong momentum. He will hope to be involved in Arsenal's Carabao Cup quarter final clash against Sunderland on Tuesday, December 21. While the young Belgian has had a mixed start to his time in England, he has demonstrated the right attitude and attributes to make a significant impact in the coming months.
Those opportunities will of course come with Thomas Partey expected to be involved in the 2021 Africa Cup of Nations for Ghana next month. It will be interesting to see how he performs alongside Xhaka, who has also come back into the side in recent weeks.
Benjamin White
Despite giving a penalty away in Arsenal's 4-1 win over Leeds yesterday, Benjamin White has been a revelation in Arsenal's defence. The Gunners have kept eight clean sheets in the Premier League this season despite losing their first three games against Brentford, Chelsea and Man City with an aggregate score of 9-0.
While White's defensive qualities have been solid, it is his ability, security and confidence on the ball which has justified the £50million price tag Arsenal paid for him. It is clear that the 24-year-old has built strong partnerships with Gabriel Magalhães, Takehiro Tomiyasu and Aaron Ramsdale.
Perhaps the biggest compliment you could give White is that it looks like he has been at Arsenal for years. If he maintains this level of performance, there is no reason why "the Rolls-Royce of Centre-Backs" (as Arsenal fans call him) will not be involved in England's World Cup squad next winter.
Martin Odegaard
Unlike the first three signings, Martin Odegaard was a known quantity to Arsenal fans. Of course, he joined the Gunners last January on loan from Real Madrid. Despite playing very little at Madrid last season, things clicked very quickly for him in North London. Massive goals against Benfica and rivals Tottenham Hotspur got the Arsenal fans excited early on. What the fans would not have believed is that Madrid would allow him to leave on a permanent deal for only £30million.
Despite a slower start to this season, Odegaard is finding his form again – registering three goals and an assist in December. Just yesterday, the silky midfielder assisted Emile Smith Rowe beautifully, created three big chances and completed five key passes.
Having signed for Real Madrid at 16 years old, it is easy to forget that the Norwegian captain is only 23 years old. Not many players his age control the tempo of Premier League games the way he does. With Pierre-Emerick Aubameyang being stripped of his captaincy for three disciplinary breaches over the past year, it is no surprise that many are calling for Odegaard to succeed him.
Aaron Ramsdale
When you watch Aaron Ramsdale today, you would never believe the amount of abuse the young English goalkeeper received before arriving in North London. Arsenal fans were furious about signing a back-up goalkeeper for £24million and rival fans found it hysterical that the Gunners were signing a twice-relegated goalkeeper who had never even played for the England National Team.
In only three months, Aaron Ramsdale has made himself a fan favourite. After all, there are not many goalkeepers that take throw-ins, celebrate goals with knee slides or mock opposition fans.
On the football side of things, Arsenal fans have got used to watching world-class saves every weekend, incredible distribution and an impressive calmness under pressure. The 23-year-old has kept nine clean-sheets in his sixteen games for Arsenal and made his debut for England in a 10-0 win over San Marino last month.
Takehiro Tomiyasu

Speaking of fan favourites, it would be remiss not to mention Takehiro Tomiyasu. The £16million Japanese international joined Arsenal on deadline day from Bologna and has never looked back. It was evident that right-back was a pressing position for Arsenal who had loaned out Hector Bellerin to Real Betis earlier in the window, and had no success when testing out Calum Chambers, Ainsley Maitland Niles and Cedric Soares there in previous months.
Since Tomiyasu's debut against Norwich at the Emirates in September, Arsenal have kept eight clean-sheets in sixteen Premier League games. His strength in the air, ability to use both feet and the ease with which he shrugs off defenders under pressure has really stood out.
In a recent interview with DAZN Japan, Tomiyasu said, "No, I wouldn't like to move. If I could go back to the time when Arsenal was at the top, that would be the best for me because where I am now is the best place in the world."
The Japanese defender has been getting a lot of love on social media this week following three wins over Southampton, West Ham and Leeds United.
If you are looking for a Christmas present for an Arsenal fan, you cannot go wrong with putting one of these signings on the back of a shirt.