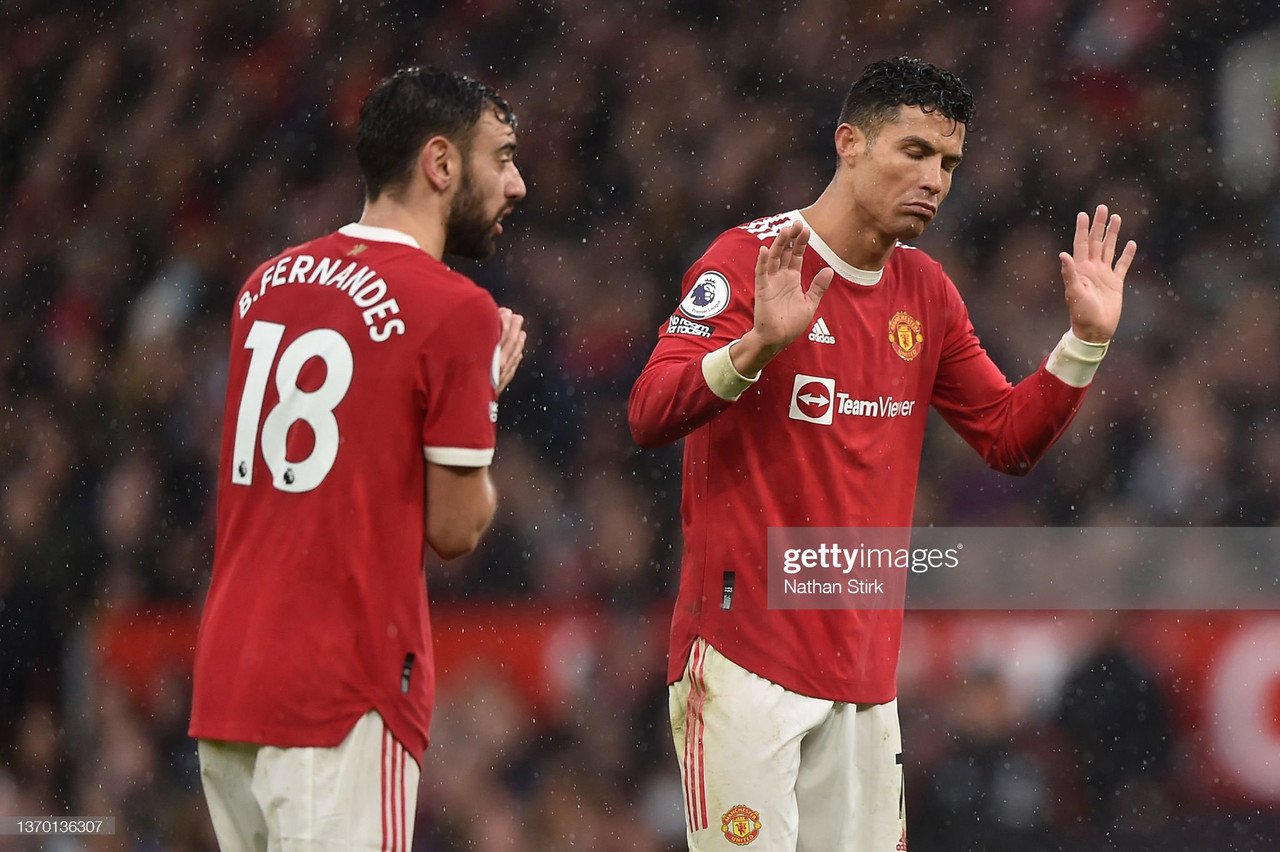 Manchester United have another Premier League match on Wednesday evening against Graham Potter's Brighton, and whilst the Old Trafford faithful would normally go into this fixture with high expectations, recent form is leading people to believe otherwise.
The Red Devils have won all six of their previous meetings against The Seagulls and have comfortably dispatched the opposition by scoring several goals on many occasions.
However, this is a struggling United side and it is hard to see their recent form allow them to repeat such success against Brighton on Wednesday.
Let's take a look at the key talking points ahead of this pivotal battle.
If Manchester United were regarded as a second half side whilst under the guidance of Ole Gunnar Solskjaer, it is fair to say that they could be considered a first half team under Ralf Rangnick.
Since the German became the manager on an interim basis, his side have already failed to hang onto a half time lead on five occasions – more notably, this has happened in all three of United's previous three matches.
Although this is a record that needs to be worked on immediately, one of the biggest concerns to have come from this is just how dominant Rangnick's side have been in these opening 45 minute periods – but without making it count.
In the three previous games, United have found themselves a singular goal up at the midway stage of each match. Yet, it is clear to see that the chances created should have lead to a much more comfortable winning margin on at least two of those occasions.
Against Middlesbrough in the FA Cup, open nets and one on ones were missed, the woodwork was struck, and simple passes in the final third were misplaced.
Against Burnley last Tuesday, similar things were happening all while two goals were disallowed.
The Red Devils, with all of their individual qualities, should have put both of these games to bed. But despite not doing so, it is essential that they keep up the tempo in the second half and continue to dominate.
Unfortunately for United fans, this has not been the case. It has actually worked out the other way, with the opposition coming out in the second half with a new lease of life, fully aware that they can take advantage of the situation.
Rangnick has recently admitted that his side often play great football but can lose their structure and tempo:
"Hopefully, when we have the same amount of opportunities, we score more than one goal, this has to be more effective.
"But we have to be aware of why we were so dominant. We have to stick to that, all of a sudden, not lose structure, lose shape."
So if United do go on to score a goal in the opening stages of Tuesday's game against Brighton, don't see a victory as a foregone conclusion.
Sancho beginning to sparkle
Although the mood around Old Trafford at the moment is dark and gloomy, Jadon Sancho is offering a glimmer of hope within this United side.
It is fair to say that the Englishman didn't get off to the greatest of starts after his arrival from Borussia Dortmund, but we might be starting to see his form from Germany being replicated in England.
The 21-year-old had been in and out of the side for the entirety of the season until Rangnick came in, scoring just two goals in all competitions.
However, Sancho has now doubled his tally in the previous three games – but it is not just his goals that have got people excited.
Before arriving at Old Trafford, the London-born lad was renowned for his tricky feet and possessing the ability to take on a man before finding the perfect pass.
And now, after what has felt like an eternity, Sancho has started displaying these qualities regularly across the past few matches.
A couple of mazy runs against Burnley almost resulted in United finding the back of the net, whilst his inch-perfect pass that put Ronaldo through on goal against Southampton ought to have been converted.
As mentioned before, United have created an abundance of chances in first halves recently – a lot of which coming from Sancho's creativity shining through.
It may have only been for a few matches, but if the former Dortmund man continues to shine, (and hopefully against Brighton) he could be a star for United for years to come.