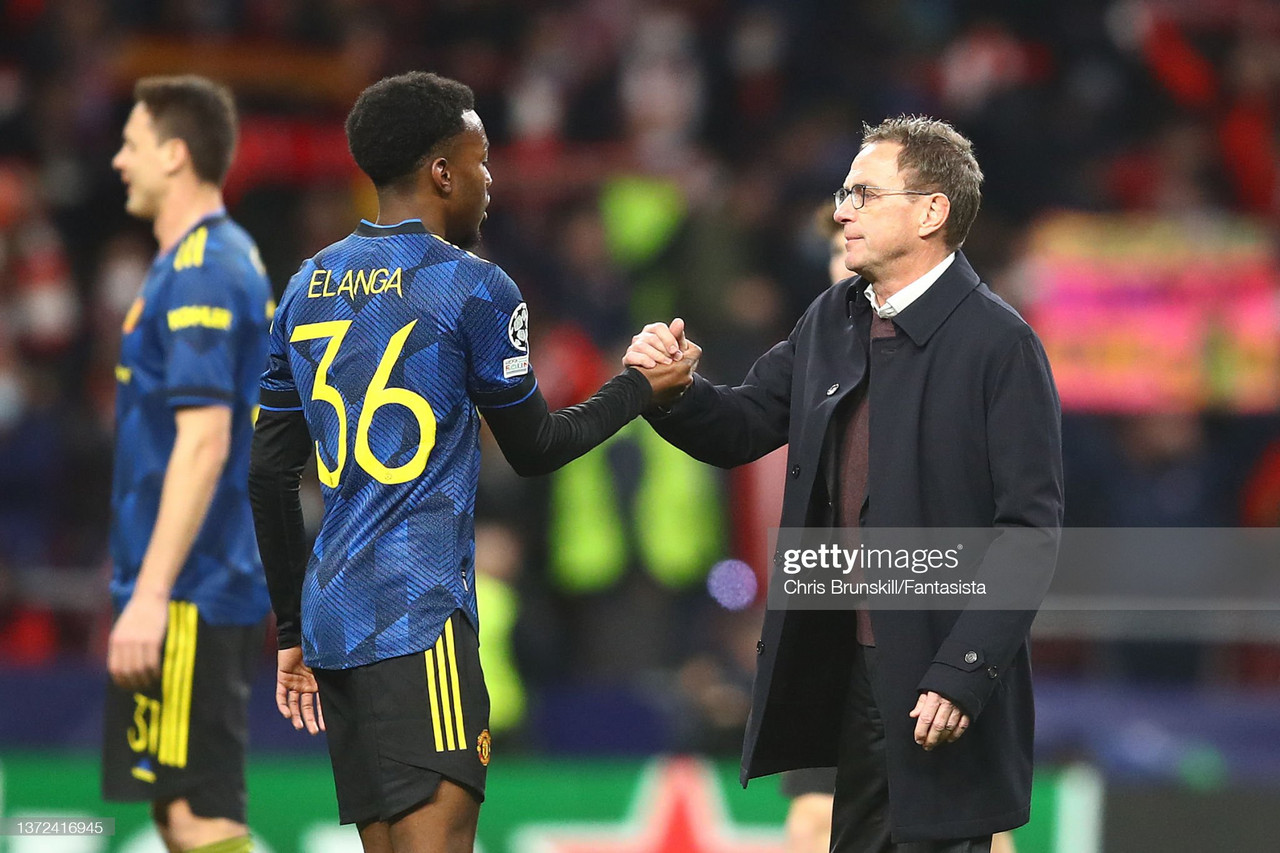 Manchester United drew 1-1 with Atletico Madrid on Wednesday evening in the UEFA Champions League, but it was the home side who dominated the opening 45 minutes – a half in which Joao Felix opened the scoring with a powerful header.
United continued to struggle throughout the second half also, but Ralf Rangnick has proved to have made decisive substitutions in recent weeks.
That trait carried on against Atletico.
Anthony Elanga replaced Marcus Rashford in the 66th minute and 14 minutes later he latched onto Bruno Fernandes' pass to put the visitors level.
It wasn't a great United performance, but they will be more than happy taking that scoreline back to Old Trafford.
Here's what Rangnick had to say after the game:
On the second-half improvement
It was clear to see that United were both outplayed and outfought in the first half against Diego Simeone's side, and something had to change at half-time.
It wasn't a vintage performance in the second-half, but it was certainly improved – most notably after Rangnick deployed a triple substitution.
Speaking after the game, the interim boss said:
"I don't know if I rescued it, but after the performance in the first half, it could only get better because of how we played in the first half. I still cannot believe what we did [in the first half].
"We played without conviction, without the necessary aggression against the ball and that's why we were really struggling in the first half," Rangnick said.
"In the second half we were much better, we had possession in areas that mattered, and I think with another ten minutes to play we might have even won the game.
Again, we just have to play better than we did in the first half. I was very disappointed in our performance in the first half," he continued.
After missing a decisive penalty against Middlesbrough in the FA cup a couple of weeks ago, it would have been easy for Elanga's head to drop.
However, he has come back firing on all cylinders, scoring against Leeds on Sunday and now providing his teammates with a crucial goal against Atletico.
The 19-year-old has been a breath of fresh air, and Rangnick was full of admiration for the Swedish sensation:
"He is playing as if a dream comes true. He is just a joy and it's fun to watch him play.
"I wish a few other players would take him as an example, or almost as a role model I would say, not because he is doing everything right, but because he's just enjoying himself on the pitch and that's what it's all about," Rangnick continued.
"Football is an important sport and even more so for our supporters or for the media, but it's still a ball game and you have to enjoy yourself on the pitch. This is what I wish us to do when we play them again in a few weeks."
On Lindelof as a right-back
When United play with four at the back, it is almost guaranteed that the player filling the right side of defence would be Diogo Dalot or Aaron Wan-Bissaka.
However, much to people's surprise, Rangnick opted to deploy Victor Lindelof in that position on Wednesday evening.
When asked about his reasoning, the German replied by saying:
"Well, I thought we could do with him for aerial duels, set pieces, free kicks, for us and against us and I think all three central defenders were in good shape.
"I also thought we could do with three central defenders in that game, defensively but also after seven minutes being one-nil down, the plan [changed]," the interim boss said.
"Of course, I knew it was not his best possible position and I think we could see that in the last half-hour when we had Aaron [Wan-Bissaka] on the pitch and Alex [Telles], we had more possession of the ball.
"We had more offensive actions, we had more assists from the wings, and more options from the wings. That was the idea behind it, also to possibly switch to a back five if necessary but as I said, in the end, due to that goal we conceded, it was difficult," he continued.