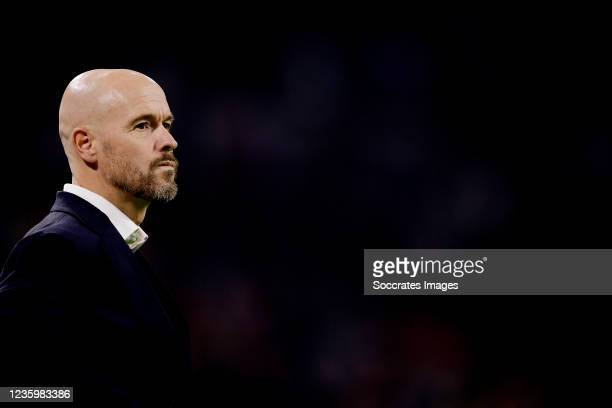 Following the sacking of Norwegan manager and Manchester United legend Ole Gunnar Solskjaer, the Red Devils brought in German tactician Ralf Rangnick on a temporary basis. Although he has managed to steady the ship somewhat, United still look like half the team they were even last season.
One of the Red Devil's standout flaws this season has been their lack of firepower in front of goal. Despite finally signing English winger Jadon Sancho and completing the long awaited return of Cristiano Ronaldo, United have really struggled to convince in front of goal. Since Rangnick took over, his side have created an impressive 160 chances in the Premier League. Although this is the most in this time period, the Manchester club have only mustered 20 league goals.
Understandably, the United board are now surveying their options for a permanent manager to take the club to their former glories. Two names that have been heavily linked to the club are Argentinian Mauricio Pochettino and Dutch tactician Erik ten Hag. Both have been linked to the club before, Pochettino before former manager Solskjaer even took over.
As the Red Devils prepare for their derby clash with Manchester City, plenty of noise has come out in the media in regards to the current manager situation.
Pochettino's trophy struggles
One thing people always point to when looking at Mauricio Pochettino's CV is his lack of trophies, particularly at Tottenham Hotspur. While it is true he failed to win trophies at what could be considered one of the best Spurs sides in Premier League history, it would be fair to say he still overachieved.
One standout feature of his time at the North London club was the UEFA Champions League final appearance in 2019. This was completely unexpected and a massive achievement for the side, despite the fact they fell to an early Mohammed Salah penalty and a typically late Divock Origi strike.
This final added to his sides excellent 2015/16 Premier League campaign in which his side pushed eventual champions Leicester City the whole way, however finishing third following a final day 5-1 defeat to already relegated Newcastle United. Despite doing so much for Spurs, Pochettino was sacked following a poor start to the 2019/20 campaign.
His next venture in football management was taking over French powerhouses Paris Saint Germain. Here it would be expected that he would win the league, with most of European football expecting Pochettino to finally deliver the long-awaited Champions League title. He did, however, manage to claim the Trophee des Champions against Marseille, and the Coupe de France beating AS Monaco.
Almost embarrassingly, he failed to guide his side to Ligue 1 glory, coming in second behind Lille during his first season. In terms of the Champions League, his side fell short in the semi-final to eventual runners-up Manchester City. It hasn't really worked out for Pochettino in Paris, with rumours swirling that he already wants out.
However, if Manchester United want to return to the days of old, a manager who struggles to deliver trophies may not be their man.
The other manager that United have been heavily linked with is current Ajax boss Erik ten Hag. Well respected across the continent, ten Hag has won two Eredivise titles alongside a miraculous run to the semi-finals of the 2018/19 Champions League.
United fans will be happy to hear that ten Hag likes to operate his sides in an attacking and aggressive manner, something that has gone missing at the Theatre of Dreams in recent years. His reliance on youth and wide-play helps suit United's current squad, with fans hoping he can help continue the good form Jadon Sancho has been in of late.
One thing ten Hag has shown time and time again is his proficiency in the transfer market. He has successfully signed many player under the age of 23, who have stepped into the Ajax first team seamlessly. For example, Brazillian winger Antony has been gaining the attention of Europe's biggest clubs, including the Red Devils.
However, where he stands out most has been his use of youth players in the first-team from the Ajax academy. Ryan Gravenberch, Jurrien Timber and Sergino Dest were all given their debuts by ten Hag, the latter having since moved onto Barcelona. If you look back further the Dutch tactician introduced world football to superstars like Matthijas de Ligt, Frenkie de Jong and on loan United midfielder Donny van de Beek.
While it should be pointed out that Ajax play in a far less competitive league than Tottenham, when comparing the two managers, it is hard to look past what ten Hag has built in a short space of time at the club. United need stability. They have tried the big name strategy before bringing in Louis van Gaal and Jose Mourinho to little avail. Erik ten Hag, if given the backing by the club, can instil a culture at the club that has gone missing in recent years, while hopefully bringing success.