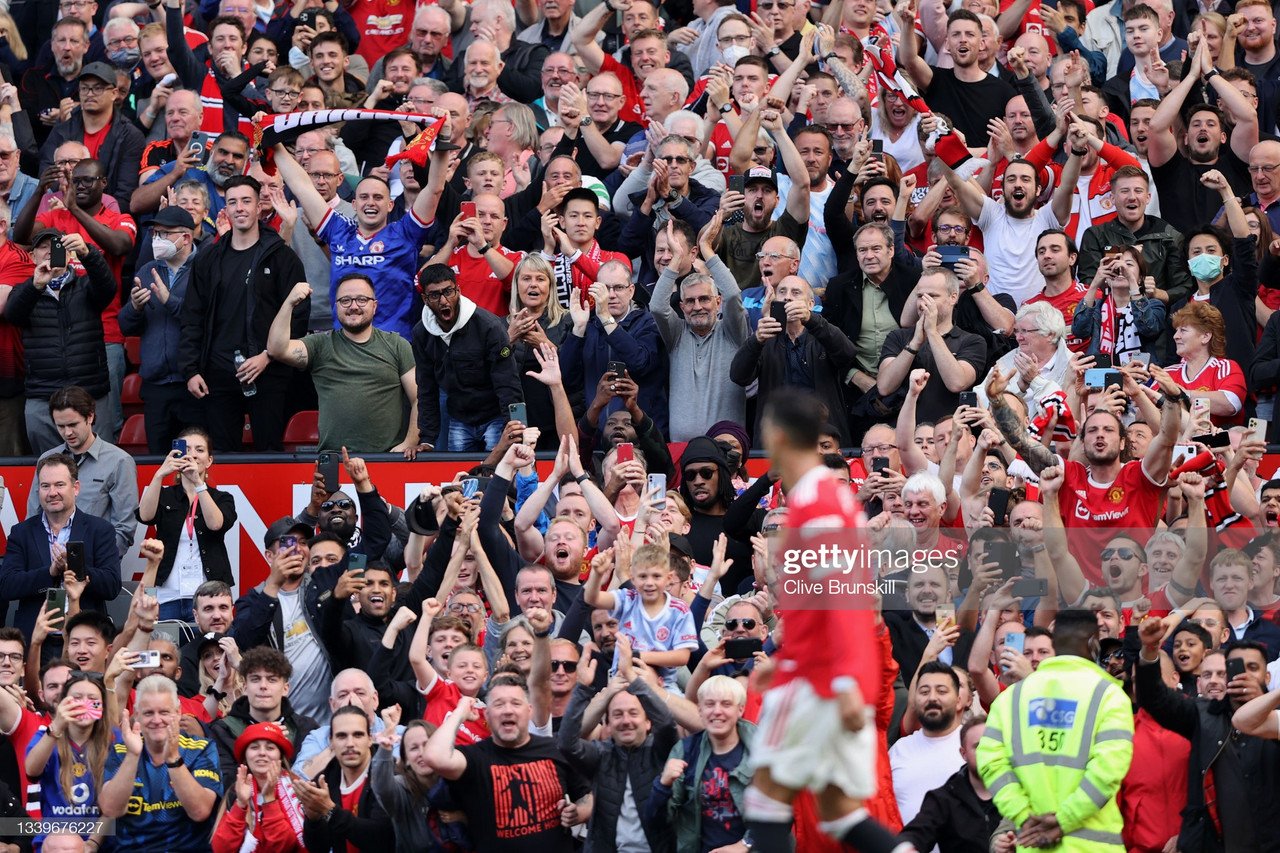 If there was one day to have pigs running loose on the M62, Cristiano Ronaldo's return wasn't the one.
With the opening day of Parklife also getting underway, Manchester was already chock-a-block. So, it was probably a blessing in disguise that England's fifth Test against India – which was set to take place a stone's throw away from the Theatre of Dreams - was cancelled.
For a game that wasn't available to watch in the United Kingdom, the only way to see Ronaldo's homecoming live from the UK was by being at Old Trafford.
The game against Newcastle United was scheduled before Manchester United announced the signing of Ronaldo and was set for a kick-off time of 3:00pm on a Saturday. That time on that day is known as the '3pm blackout' which has been in place since the 1960s. The blackout prohibits games from being shown live between 2:45pm and 5:15pm to protect attendances across the football pyramid.
Consequently, thousands of United fans rocked up to Old Trafford before midday – three hours prior to kick-off. The usual burger vans and vendors sold flags, scarves, pins and any other memorabilia raked in the business.
One vendor explained how he woke up in the early hours of Saturday morning to pick up a batch of 'Ronaldo' scarves and started selling outside Hotel Football before most people were awake. There had been queues outside the megastore to grab a 'Ronaldo 7' jersey all week in the build-up to the game, Saturday was no different - with lines of people outside from 9:00am.
Walking down Sir Matt Busby Way there were families, women and men all donning both new and retro Ronaldo shirts. At times, it was impossible to see another name on the back of a shirt. Some matchgoers were most definitely too young to have witnessed Ronaldo's first spell at the club but even they were showing love to the superstar and had excitement beaming off their faces.
If there was an attendance record for watching the warm-ups, that would have been broken. Before the warm-ups took place, United fans eagerly anticipated the release of the lineups. When released at its official time, the team sheet read '7 Cristiano Ronaldo'.
As Ronaldo appeared from the red tunnel at the corner of the Sir Bobby Charlton stand and Stretford End, the United faithful greeted him to his famous chant 'Viva Ronaldo' – which was certainly not the first of the day.
He came jogging out with the rest of the squad and made his way across to the Sir Alex Ferguson stand where he recognised and showed appreciation to the supporters. Throughout the warm-ups, Ronaldo's leadership and experience was on show constantly. He made a point to clap and high-five every single teammate and even hugged his Portuguese colleagues – Bruno Fernandes and Diogo Dalot.
During the warm-ups, United finished with a shooting drill. As Ronaldo struck from distance to beat Lee Grant, the first roar from the Stretford End rang out. Ironically, his second attempt shook the goalpost which resulted in humourous boos.
In contrast to Raphael Varane's introduction to Manchester, Ronaldo walked out with the rest of his teammates, but all eyes were on the living legend.
The inevitable
The first half saw Steve Bruce's side set-up precisely how many expected – a brick wall of black and white stripes that held their own against continuous pressure. That was until the inevitable happened. Mason Greenwood – arguably United's most important player of late – cut inside onto his left foot and shot the ball with power which took a slight deflection to wrongfoot Freddie Woodman. Woodman spilt Greenwood's effort into the path of Ronaldo whose clinical instinct saw him score a tap-in.
Ronaldo headed straight for the corner flag and performed his traditional celebration - which includes a deep-voiced shout of 'Siuuu'. Ronaldo has used the celebration when accepting a Ballon d'Or victory and has since become a staple. Many United fans were attentive and timed the shout to their hero's celebration which created a unique experience.
The second half saw Newcastle silence an exuberant crowd of around 73,000 when Bruce's side equalised against the run of play through Javier Manquillo. However, Ronaldo was not going to let a former Liverpool right-back steal his thunder. Luke Shaw, United's players' player of the season last year, drove forward before slipping through Ronaldo who got the ball onto his left foot who then smashed it through Woodman's legs to retake the lead.
The atmosphere was already electric, but Ronaldo had created a deafening uproar. A sound which hadn't been heard since the days of Sir Alex Ferguson. The euphoria around Old Trafford was difficult to ignore and United fans wanted to show their 'Portuguese magnifico' that he wasn't to be ignored either.
During a period of rare stillness, one United supporter shouted: "We still love you, Bruno!" This triggered the spirited crowd to chant Fernandes' name and show him some love. It's safe to say he responded well and banged in the goal of the game from 25 yards – presenting yet another opportunity for United die-hards to whip out their flags of Portugal.
As Ole Gunnar Solskjaer made his substitutions, United pushed on in injury time to add a fourth goal. Throughout the day, nearly every goal had great meaning, and Jesse Lingard's was no different. It was a beautiful moment as he scored his first home goal in the Premier League for United since 2018. And by now, many know the struggles Lingard has faced and how remarkable his career turnaround has been.
As the full-time whistle blew, 'Viva Ronaldo' came to life once again and continued as the players left the pitch. The effects of the global pandemic are still on show, meaning post-match interviews with players are still conducted on the pitch.
Fans stayed inside the stadium for up to an hour and there were chants of 'bring on Ronaldo'. He eventually came out and spoke to United's official media team where he admitted to being nervous beforehand and wants to build up the mentality to win the Premier League and maybe even the Champions League.
Oh and by the way, in case you were wondering, the pigs were returned off the M62 to safety.