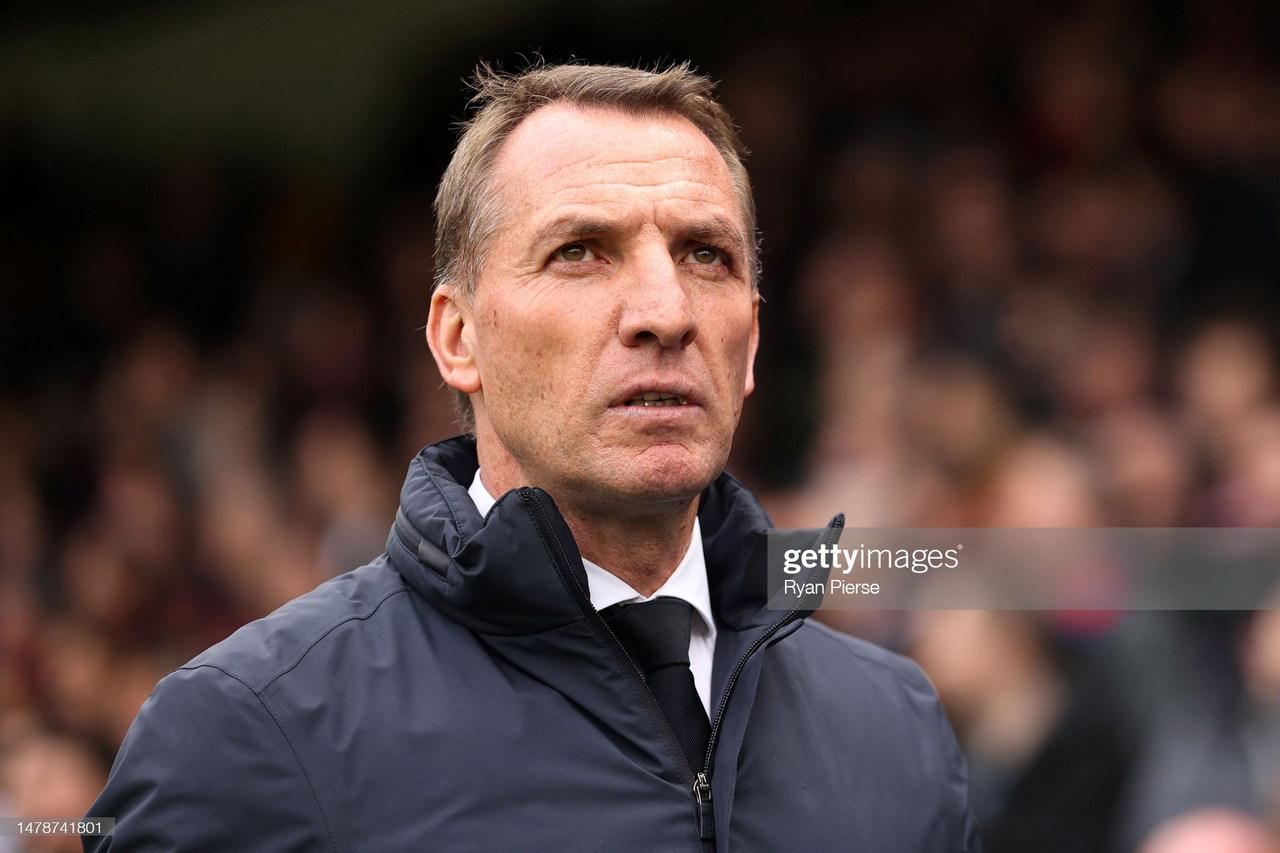 Brendan Rodgers has mutually agreed to leave Leicester City after a trophy-decorated four years in the East Midlands, with the Foxes lingering in the relegation zone.
Leicester City have been sub-par this season with the Foxes sitting second from bottom in 19th with relegation looking an increasingly likely prospect. The final nail in the coffin was a last-minute defeat to Crystal Palace yesterday when Jean-Philippe Mateta's 95th-minute winner succumbed Leicester to one point from six.
But his tenure at Leicester has not always been dull and gloomy, instead, it has been littered with success, with Leicester venturing out across Europe and lifting their first-ever FA Cup in 2021.
The 1-0 win over Chelsea in the FA Cup final two years ago will have etched the Northern Irishman's name into the Leicester history books on an emotionally charged day for the club.
For two seasons it looked like Leicester were going to make the top four but on the final game in both seasons they were edged out by Manchester United and Chelsea respectively, but Rodgers achieved 5th place finishes in both seasons, qualifying for the Europa League.
Following their success in the final in May, Rodgers' side followed it up with another trophy a couple of months later when his side beat Manchester City to lift the Community Shield.
In that same season, Leicester took part in the inaugural Europa Conference League where they managed to reach their first-ever European semi-final when they took on AS Roma. However, his side were narrowly beaten 2-1 on aggregate by the Italian giants.
But it all began to unravel for Rodgers as he struggled to contend with big injuries to key players, lack of funds, and ineffective tactics. His relationship with the fans has turned sour this season and many were calling for his head much earlier in the season.
Leicester City Chairman Aiyawatt Srivaddhanaprabha said: "The achievements of the team under Brendan's management speak for themselves – we've experienced some of our finest footballing moments under his guidance and will always be grateful to him and his staff for the heights they helped us to reach on the pitch.
"However, performances and results during the current season have been below our shared expectations. It had been our belief that continuity and stability would be key to correcting our course, particularly given our previous achievements under Brendan's management. Regrettably, the desired improvement has not been forthcoming and, with 10 games of the season remaining, the Board is compelled to take alternative action to protect our Premier League status.
"The task ahead of us in our final 10 games is clear. We now need to come together – fans, players and staff – and show the poise, quality and fight to secure our position as a Premier League club."
He leaves behind a long-lasting legacy, but Rodgers' time at Leicester was up.
The Foxes are still deep into one of the most enthralling relegation battles the Premier League has ever seen, so will be hoping that the new manager can come in and drag them away from the drop and secure survival.
However, they cannot afford to get this managerial appointment wrong. The new manager will have to instantly get a tune out of this squad and put some points on the board in the final ten games of the season.
The likelihood of a new manager coming into the club before their fixture against Aston Villa on Tuesday is slim, which will leave long-term coaches Mike Stowell and Adam Sadler in interim charge.
But it is likely that Leicester will be looking for a manager to come in before the game against Bournemouth on Saturday, here are a few options.
Rafael Benitez (Unemployed)
At the time of writing, the Spaniard is the favourite for the Leicester job. The manager has journeyed to all corners of Europe and has managed some of the continent's biggest clubs. Inter Milan, Liverpool, Real Madrid, and Napoli are all part of a glittering CV but his most recent job was at Everton where he struggled to create a relationship with the fans as a result of his allegiance to the red side of Liverpool.
Benitez would give Leicester every chance of staying in the division and his tactics and style of play would bring much-needed invention to a stale Leicester side.
Thomas Frank (Brentford)
It would likely be an impossible task to prise the Danish manager away from high-flying Brentford who are still in contention for the European spots, but he may question whether he has taken Brentford as far as possible.
The Danish manager seems like the perfect manager to revolutionise this Leicester side and kickstart the rebuild in the East Midlands, but can they tempt Frank with the project at the King Power Stadium.
Graham Potter (Chelsea)
The ownership at Leicester may have to bide their time if they are to land Potter with the Chelsea manager hanging on by the skin of his teeth at Stamford Bridge.
It was not long ago when Potter was lauded as one of the best managers in the country, but his time at Chelsea has not gone as planned and it has been a rocky tenure, but at a side like Leicester, he can find his feet and rebuild his reputation at a club with European ambitions.
Despite a disappointing season in the East midlands this season, the Northern Irishman is still a reputable Premier League manager and will likely be top on the list of many clubs when looking for a new manager.
In his time at Leicester, he was constantly linked with teams in the 'big six' with Tottenham and Arsenal holding an interest. While a move to Arsenal is now off the cards, he may be a manager that Tottenham look at to replace Antonio Conte.
Rodgers is a manager that enjoys his first two or three years at a new club but struggles beyond the third season, but his success at Leicester will not have gone unnoticed.
Outside of Tottenham, he could be a long-term option for Crystal Palace who have a young, talented squad that he could get a grip of and help to develop which he did when he first arrived at Leicester.
Leicester face Aston Villa on Tuesday night where Stowell and Sadler will take charge of an important fixture for the home side.