For the first time in the Premier League era, Liverpool suffered defeat having led 2-0 at half time, going down 3-2 in heart-breaking fashion away to Southampton.
Evoking shades of the 3-3 collapse against Crystal Palace back in 2014, albeit in a game of far less significance, Liverpool continued to showcase their soft underbelly which most fans had hoped had been eradicated by now.
However, the Reds have struggled to hold onto leads all season – 2-2 draws against West Brom and Sunderland and a 2-1 reverse to Crystal Palace, all at Anfield, are just some of the examples where Liverpool have thrown points way.
For Jürgen Klopp, the Southampton loss will have reminded him just how much work needs to be done. The current crop are inconsistent and flaky, but there are many players carrying a huge amount of potential, which has been illustrated on a number of occasions this season, but not consistently enough.
Fantastic away victories against Chelsea and Manchester City demonstrated early the signs of what a Liverpool team could do under Klopp, while their recent good run of results since mid-February took this further, but their trip to the South Coast will have sent them crashing back down to earth.
Regarding Klopp's on-pitch message towards Christian Benteke, it may be that the German has reached his wits end with the 25-year-old, who also seems to have hit back recently in the press.
Benteke's time at Liverpool looks to be petering out, which is a shame, as the Belgian is a player of immense talent and quality, but did not suit Brendan Rodgers' possession-based style, let alone the ferocity and intensity of Klopp's system.
Benteke is a great asset, but it seemed an odd signing from the start by Rodgers, who effectively began his reign by jettisoning Andy Carroll and ended it by vigorously pursuing Benteke.
Klopp has not started Benteke often, but in fairness the manager has had little to go on from the player he previously looked at signing for Borussia Dortmund.
Benteke has struggled to convert clear chances, and with Daniel Sturridge back from injury and Divock Origi continuing to develop and impress through his work-rate, Benteke's days at Liverpool seem numbered – unless Klopp alters formation to a two-striker system, which appears unlikely.
Registering their first league defeat since the start of February, a 2-0 loss away to Leicester City, Liverpool's hopes for a late surge towards the top-four took a colossal hit with the Southampton defeat – and they did not even lose any ground.
With Manchester City continuing to stutter and slide, they were dragged into the top four fight further by losing 1-0 at home to Manchester United. Manuel Pellegrini's side have an awful record against the top sides, and look to be in freefall with Pep Guardiola imminent in the summer.
West Ham are also in the mix in this incredible Premier League campaign, as they look to provide their new Olympic Stadium with the monumental opening gift of Champions League football.
Even Southampton cannot be entirely ruled out, although they, like Liverpool, need to be almost perfect from now until the end of the season.
City remain favourites, with their run-in kind on paper, as they tend to brush aside the so-called smaller teams quite comfortably. While West Ham are reliant on Dimitri Payet, Manchester United still carry much uncertainty and wafer-thin confidence, especially given the furore over Louis Van Gaal and the rumours about Jose Mourinho and Ryan Giggs, and Southampton and Liverpool need to make up the points and games to stand any chance.
Europa the way forward for Reds this term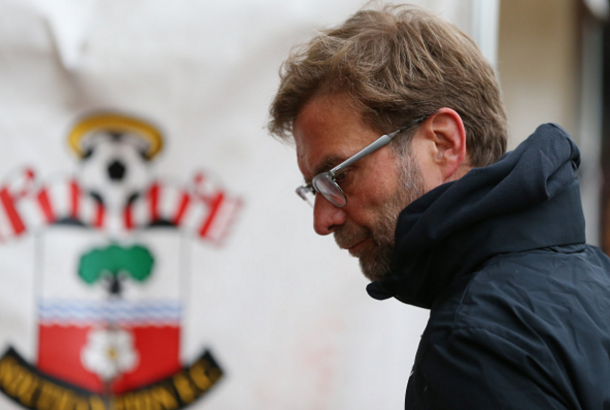 Compare this to the Europa League. The Reds are five matches away from greatness, to borrow from Gerard Houllier, and this competition could save Liverpool's season and kickstart Klopp's reign before his first full season at the club.
Nevertheless, Liverpool do not even need to win all five fixtures, only progress through the two remaining ties before emerging victorious in the final in Basel.
On the face of it, a far simpler task compared to reeling off eight wins from nine or another incredible equivalent to haul the Reds up from ninth to fourth in the Premier League.
However, the elephant in the room consists of Liverpool's quarter-final opponent – Borussia Dortmund.
A team that would not look out of place in the Champions League final eight, the German giants under Thomas Tuchel have continued their brilliant form post-Klopp, recovering from their finish of seventh last season to return to their peak, playing brilliant football with the likes of Pierre-Emerick Aubameyang, Marco Reus and Ilkay Gundogan.
They are the clear favourites to win the competition, while for the second tie in succession, Liverpool may well be in the showpiece clash, across both the Europa and Champions League.
Understandably the Klopp factor overshadows the occasion, and it will be emotional for the Liverpool manager, while there is plenty of respect between both sets of supporters.
Regardless, Liverpool have a job to do, and if they want to have any chance then they have to remain tight in the away leg and play on the counter to score an away goal, akin to their Chelsea and Manchester City victories.
If they can come away from Germany with a draw, then that will set them up well for an attack-minded gameplan at Anfield for the second leg.
Yet even if the Reds somehow progress, teams such as Shakhtar Donetsk and two-time defending champions Sevilla will be lying in wait.
Overall though, these are two-legged European ties, which Liverpool fans become excited about more than any standard league fixture. European nights are special, especially when the second leg is at Anfield and the tie is in the balance, which hopefully will at least be the case against Dortmund, barring an incredible victory in Germany.
There are too many teams in the way for Liverpool to overhaul for a top-four spot. Therefore, whilst they should win as many league games as possible to apply maximum pressure on those above in the league, winning the Europa League remains Liverpool's best chance of Champions League football next season, and their main focus should once again rest on Europe.
Southampton ensured that.