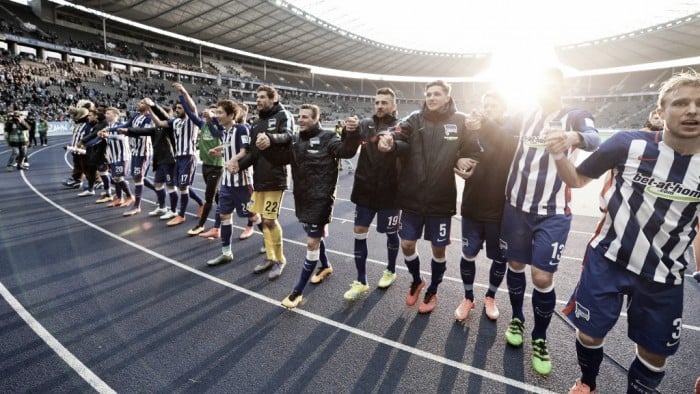 Sitting amongst the gods in the most impressive stadium in Europe, watching Die Blau Weißen battle their way to another hard-fought victory over a robust Eintracht Frankfurt side, a murmour of chat begins to spread throughout the attending Berliners filling the Ostkurve; can the team really do it? As their team solidifies their firm grip on third spot and an automatic place in next season's Champions League, many Berliners who have been through thick and thin with their team cannot believe it. But after years of mediocrity, Berlin finally has a team befitting the capital.
Hertha's success long overdue for the capital
Things have not always been so good for a city containing over 3 millions citizens and situated within the heartland of Europe. Instead of tapping into the untold talent within, the cities premier football teams, Hertha along with eastern rivals Union Berlin, have often found themselves flirting between 1. Bundesliga, 2. Bundesliga, and in Union's case the even lower leagues. Rather than rival the likes of Bayern Munich and Borussia Dortmund, they have found themselves more intent on wrestling it out with MSV Duisburg, Hannover 96 and Frankfurt, both FSV and Eintracht. To put the predicament into perspective, Berlin's population outnumbers all of the places mentioned above combined.
Why has a city like this failed to produce a team capable of competing consistently with the best in Germany and the best of Europe? Hertha last played in Europe during the 2009/10 season, where they failed to make it past the Europa League Round of 32, trounced 5-1 over two legs by Benfica. They have only played in the Champions League group stages once, during the 1999/00 after finishing third the season before; where the club sit nicely now. Union have only played in one European season, whereas the now disputed BFC Dynamo, champions of East Germany but now toiling in the fourth tier, played in ten consecutive European Cups up until the beginning of their demise in 1989.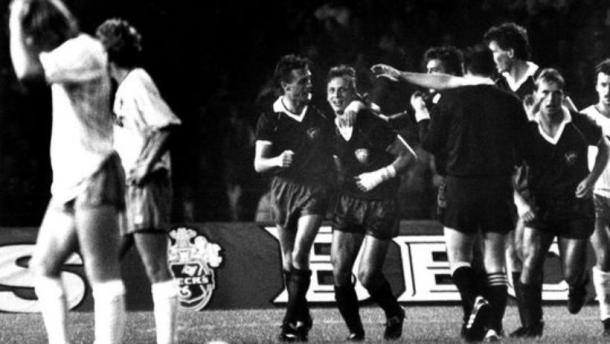 For a city with over 6 Amateur leagues, arranged through the Kreisliga Berlin, and over 29 major football clubs, including Hertha, Union and Berliner AK, the lack of consistent success is puzzling. Hertha BSC have been the leading club for generations, if one excludes BFC Dynamos' disputed league success, yet they themselves have failed to win the league since 1931, before Dynamos or Union existed, and have never won the German Cup, played in their own stadium since 1985, a major sore point for Berliners.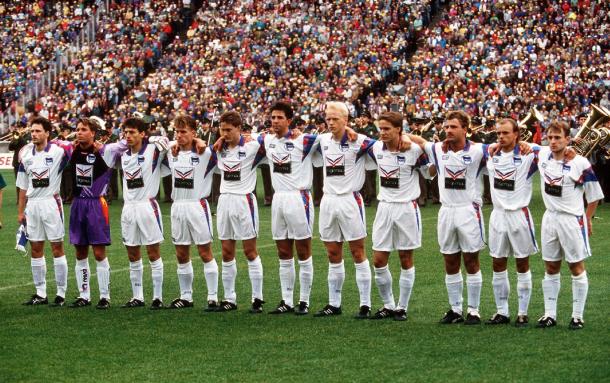 In fact, the closest any Hertha team have come to winning the German Cup was their Amateur team in 1993 when they lost in the final to Bayer Leverkusen. The only amateur team to have ever reached the final, Hertha's Little Boys failed to do it that day, losing 1-0 to the most unpopular winner in German football history, but that this defeat represents the greatest success of any Hertha team since 1931 speaks volumes.
However, the long suffering Hertha fans may finally get their wish, with the team poised to finally make the DFB-Pokal final, should they find a way past a very impressive Dortmund side. It is the first time in three generations that Hertha have reached the semi-finals, their professional side that is, and a win would take them to their first final since 1979 and their first ever inside their Olympic cauldron. With Hertha's head coach Pal Dardai expressing his wishes to play the final in their own stadium and tickets for the crucial Dortmund game selling out within two hours of going on sale, an expectant city awaits.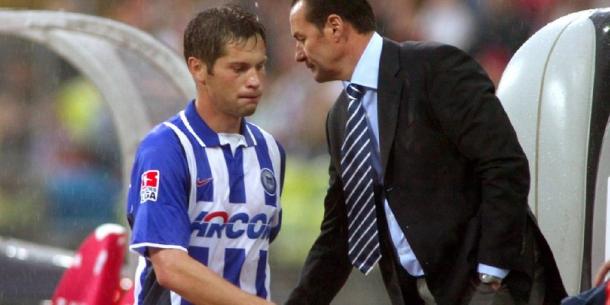 Lack of fan appetite could cost Hertha
It really is a shame then, than more often than not, the Olympic Stadium is more empty than full, with Hertha's average attendance paling in comparison to those of nearest Champions League rivals FC Schalke 04. With an average of 40,000, their attendance remain less than 12 other German clubs including 2. Bundesliga side Fortuna Düsseldorf, and recent crunch matches against Frankfurt and 1FC Mainz 05 brought in less than 40,000. The lack of appetite of more Berliners to join the good fight could prove crucial, with Hertha needing the support if they are to get over the line.
Not only that, but an average attendance of say 70,000, the stadium holds just shy of 75,000, would be the difference between Hertha being a big club and becoming a massive club.
However, for those fans who do make the trip to the south-west of the city every other week, their reward has been a well-built and well-managed team who have only lost once at home all season; although this was a 4-1 embarrassment to near rivals Borussia Mönchengladbach.
Strong foundations built under Dardai
When appointed on the back of the club's turbulent 2014/15 season, not much was expected of Dardai, the coach who had struggled with the Hungarian National Team job, and was in his first senior club role. But, bringing in experience in the likes of Soloman Kalou and Vedad Ibisevic, mixed with the energetic legs in midfield of Vladimir Darida and Mitchell Weiser, Dardai has proved his critics wrong.
Hertha have become an extremely well knit bunch, united in playing for one goal, hard to break down but with enough flair from the likes of Kalou to find the crucial goals when they matter. Their recent sequence of winning to nil in three of their last five matches is testament to a team built on solid foundations. No more so than Rune Jarstein, often the bridesmaid but never the bride in his first season, he has taken his chance in the abscence of Thomas Kraft to become one of the most revered goalkeepers in the Bundesliga.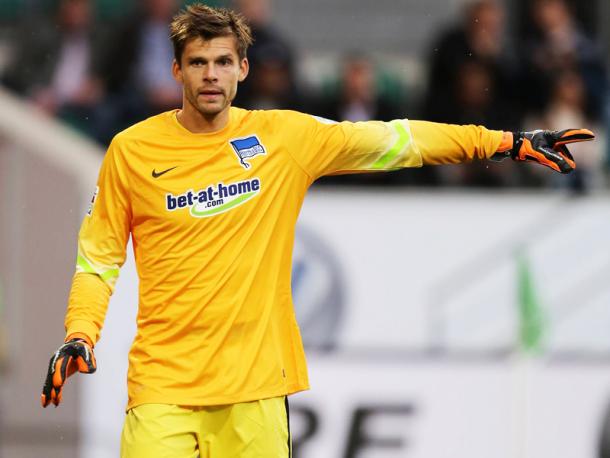 If Hertha are to finally secure a European spot, they will be reliant on Jarstein and his backline to continue their good record of five cleansheets in ten games, and with near rivals Borussia Mönchengladbach, 1FC Mainz 05 and Bayer Leverkusen to come, they will need to be as clinical as they were against fourth placed Schalke in their recent 2-0 win.
For Hertha to be in a position they are now with cup glory and Europe just over the horizon, this season already represents a success, especially given last season's struggles. Sitting pretty in third spot, four points ahead of Schalke and a further two ahead of Gladbach, there is a very real chance Dardai's dreams will come true.
But what of Berlin?
If Hertha finally achieve what is within their reach, they will lift a city into the European spotlight which for its size and might will feel it has a right to be there. Berlin has a proud footballing past and with the form Hertha are showing, they may have a proud future.
Perhaps the city has gone through so much turmoil, both sportingly and historically, that the lack of success has less to do with the football teams themselves but instead with factors beyond their control, and hence the underachievement.
However, the signs are good for Dardai's men and hopefully they will remain good for the city as a whole.