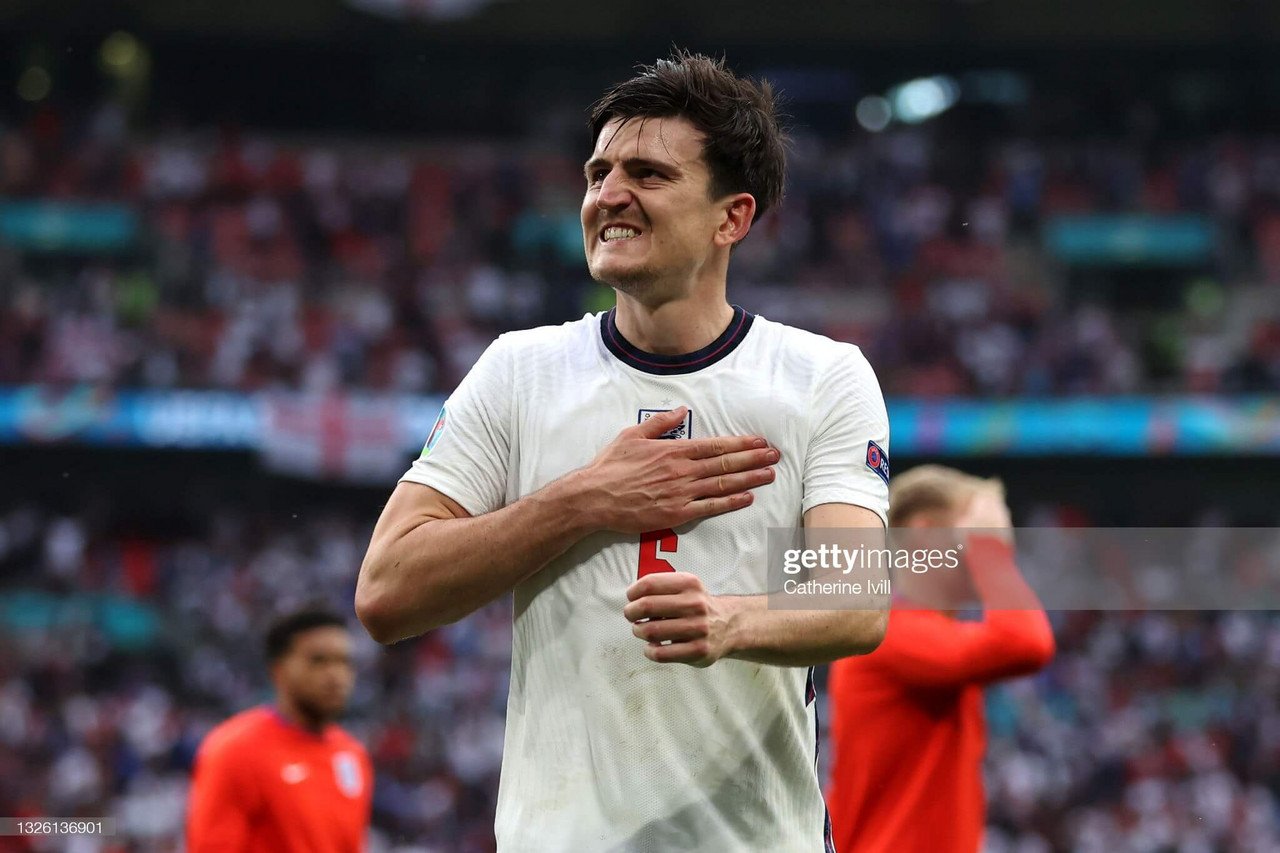 On a day that those who follow the fortunes of the England national team will never forget, the name that was sung the loudest and most often inside and outside Wembley stadium was not that of goalscorers Harry Kane or Raheem Sterling, but instead defensive linchpin Harry Maguire.
The England centre-back has become somewhat of a cult hero for the supporters. It was only five years ago that Maguire travelled over to France for Euro 2016, not to be a part of England's tournament squad, but rather as part of the England support. He was there in Nice as that disappointing of games unfolded.
His rise on the pitch from then to now is well known and recognised. From Sheffield United to Hull City, with a loan spell at Wigan Athletic, before moving to Leicester City and then Manchester United where he is now captain. Furthermore, since England's last venture in a European Championship, the 28-year-old has accumulated 34 appearances for the national team. Yet none will have been as exhilarating as this one.
This was only Maguire's second start of the tournament and, in fact, only his second piece of game-time since going off injured on May 9 after damaging ankle ligaments in a Premier League game against Aston Villa. Maguire fought to be a part of United's Europa League final but didn't make it and United lost to Villarreal. Then he stepped up his recuperation even further in an attempt to recover in time to make a meaningful impression on this European Championship.
Maguire led from the back
Maguire's performance against Germany, with this backdrop, is, therefore, all the more impressive. His quality is undisputed but the way in which he formed a formidable barrier in a revamped back three marked him out as the man of this landmark match. It was like he had never been away.
Whether it be tackles, headers or just general leadership, Maguire shone at the back and set England up for victory. It must be said that the attacking threat they faced was not as challenging as one might expect from a German side. Apart from Kai Havertz, who was lively throughout and tried to extend every sinew to torment the England backline, it was only one effort for Thomas Muller, who slotted wide, and another for Timo Werner, who was smothered by Jordan Pickford.
Still, England managed the game from a defensive position. It could, and did at times, look overly conservative the way in which Southgate set up his team. With Maguire, John Stones and Kyle Walker forming the back three, Luke Shaw and Kieran Tripper as deep wing-backs, and defensive midfielders in Declan Rice and Kalvin Phillips; it did resemble a back seven on occasions. But, in the end, it proved inspired.
Such resolve at the back wasn't predicted. Going into the tournament there were suggestions that defence was England's weakest spot. However, now, four games into the tournament, England are still yet to concede a goal. Switching from a back four to a three-man defence worked in keeping Germany away from goal, in part thanks to the sheer numbers back there, but it also paved the way for England to grab the win in the final 15 minutes.
Defence set platform for late winners
It could have been very different, England had to weather an early storm in the first 10 minutes whereby Germany started far more confidently. Yet, by establishing a foothold in the match, England were able to start feeding Sterling and Bukayo Saka on either flank. It was then when Jack Grealish came on that England inflicted the damage.
"I think we had to be brave, on and off the ball," Maguire said. "It was really important. Take the ball under pressure, be brave. We changed formation to try and get great pressure on them, as we know they like to play possession-based football. We wanted to go man for man all over the pitch, executed it brilliantly apart from the first ten minutes where we were a little bit nervy, a little bit shaky."
Maguire's influence was also telling at the other end when he had two of England's best chances of scoring; both came from deliveries which the centre-back headed straight at Manuel Neuer and over his crossbar respectively. Still, his presence was felt. As was Pickford in goal who is shining in this tournament. The goalkeeper is an integral part of England's defence and pulled off one tremendously acrobatic save to push over a Havertz effort. His poise is also much improved.
"Sometimes with all the scrutiny that the Premier League gets, every goal gets analysed and people pick up on the slightest things," Maguire added. "But I think we have excellent defenders, we have a magnificent goalkeeper behind us who every time he has put on the shirt for England he's been magnificent. The goalkeeping No 1 spot for England is probably the most scrutinised position in world football.
"We've got excellent players, excellent defenders and it's a unit, it comes from Gareth, the way it sets us up, and the forward lads, the way they press. How many times you saw Raheem [Sterling] coming back and tackling the full backs. It starts at the front, it finishes with us, and keeping clean sheets is always nice, a big bonus for us defenders, but the main thing is winning football matches."
Of course, England wouldn't have been celebrating had Sterling not steered in Shaw's cross and Kane not stooped to head home a Grealish delivery, but possibly they wouldn't have been in that position in the first place had the defence not been so sturdy. One thing is for certain: the defence that was supposed to be a weakness continues to hold firm.