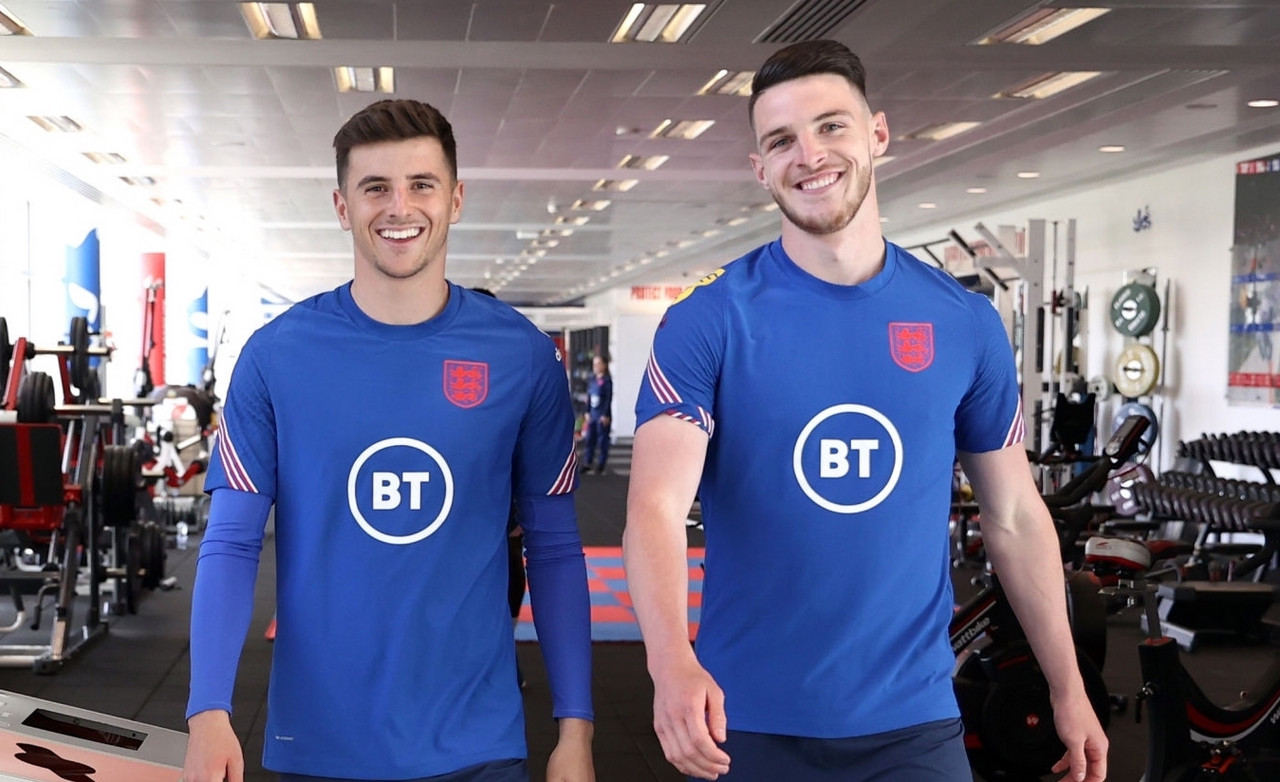 'Mase & Dec' may sound like a celebrity double-act but instead they are the nicknames of two childhood mates ready to conquer Euro 2020 with England. It is fair to say that Mason Mount and Declan Rice have had a whirlwind few years and the culmination could come on Sunday when, as expected, they both take to the Wembley pitch for their first taste of tournament football with the national team.
Their story, however, goes back to training on Tuesday evenings at Chelsea's youth academy. Mount was there from the under-sixes while Rice joined when he was eight. Rice was the local, albeit new, lad at the academy and Mount used to travel up from the family home in Portsmouth. It was on the training pitches, but equally on the sidelines after training, when the pair struck up a friendship.
From there their friendship blossomed. They grew up together. Their parents became close too. "Dumb and dumber they used to call us," Mount once said, "we were joined at the hip". Observing the pair so at ease in each other's company highlights how close they have become as pals.
Chelsea youth teamers
The duo, both midfielders, played for Chelsea's youth teams in tournaments around Europe as well. Friends on the road, and the travelling provided even more time to bond as well as collecting various trophies.
Even then, Rice saw first hand Mount's work rate. "Even in training as a kid, my dad always used to describe him like a bumblebee in a jar, just buzzing about everywhere, wanting to get out. That's exactly what he's like on the pitch," he said.
It was a few years later that aged 14 Rice was told by his father that Chelsea were letting him go, he burst into tears. "Chelsea was all that I knew," he says. In some ways, it was the end of an era for the pair as Rice moved to West Ham United, not knowing what to expect in the East End away from home.
😂❤️ soon back on the pitch together bro😉 https://t.co/Dj2HfwYQNb

— Declan Rice (@_DeclanRice) June 3, 2019
Despite early unease, Rice has developed wonderfully at West Ham and taken on further responsibilities under manager David Moyes, who has given the 22-year-old the captain's armband in the absence of Mark Noble this season. The supporters love him and he is now an established and admired Premier League performer.
All of this has aided his England career too. "I feel like I have come out of my shell playing for England," he says. "As I've got more confident, like with the armband at West Ham, I took it into England to have no fear, like I am at club level. On the pitch I'm vocal. I try to help my team-mates out, City boys, Liverpool boys."
Mount, on the other hand, has just experienced the best night of his life when he starred in Chelsea's Champions League triumph in Porto last month. His career has far from stalled either and following loans at Vitesse Arnhem in the Netherlands and Derby County in the Championship, he has been one of Chelsea's best players for the past 18 months and was named their Player of the Season last week.
"I always want to step up in the next season that I play in," he explains. "Over the past few months, I've felt myself growing as a person, not just on the pitch but off the pitch as well. My role in the team has changed, being a big player and wanting to step up in big moments and really push the boys.
"A Champions League final is different to most other games you play in. You don't get to experience it very often and some players even with long careers in the game never get the opportunity to be involved in one"
"I've tried to nick his medal," Rice adds, laughing. "There are so many greats that have never won the Champions League, but he has so I'm buzzing for him. We are so close. Last year he came under so much criticism — I don't know why. There was the debate with [Frank] Lampard and [Gareth] Southgate playing him. Now he's taken his game to another level.
"Straight after the game he was on FaceTime with me, buzzing, in the changing room. But we've got to be a bit careful because people will say we're in love. Every time we FaceTime all his team-mates jump in and say, 'You two need to stop talking to each other.'
"He actually is next door [at England's St George's Park base]. I can't even go down to dinner without him messaging me, 'When are you going down?' There are a few friendship groups here. Stonesy [John Stones] and Kyle Walker are really close, obviously [as Manchester City team-mates and Yorkshiremen]. Chilly [Chelsea's Ben Chilwell] is really close with Mase as well. Everyone's really close."
England starters
Playing for England is now the only chance that Mount and Rice get to line up alongside each other, although there has been talk of Rice making a return to Chelsea in the future. There must be no better feeling than playing for your country with a childhood friend, it's something most people don't get the chance to think of let alone experience.
There is the possibility that both will start against Croatia on Sunday in England's opening group game. Rice is expected to start in the defensive midfield role, in either a 4-3-3 or 4-2-3-1 formation, while Mount is likely to be deployed in a more advanced position but could play next to his friend in a two-man midfield.
"Absolutely, we played in the midfield against Iceland [in the Nations League]," Rice says. "In Poland we played in midfield together. It is definitely something we are familiar with and we are ready to do if called upon."
Croatia will provide a stern test, especially in the central areas of the pitch. "[In] this tournament there will be some world-class players we can come up against and I am really relishing that chance," Rice says. "Our first game we've got [Luka] Modric, who's a four-time Champions League winner and a Ballon d'Or winner. So that will be a great one to come up against. I really want to go and put myself up against him and try and stop him.
"I was speaking about it yesterday to Mase when we got handed the legacy caps, the journey we have both been on together. It is incredible. We are 22 and about to represent our country at a major tournament. We both cannot wait for it to come around."
"It's weird because we're just boys," Mount adds, "we've grown up together. We've both been on our different journeys and now [we're] coming back together, playing against each other and playing with each other. It's mad really."
Those Tuesday evenings at the Chelsea academy marked the beginning of a friendship which may see another milestone achieved at Wembley on Sunday.