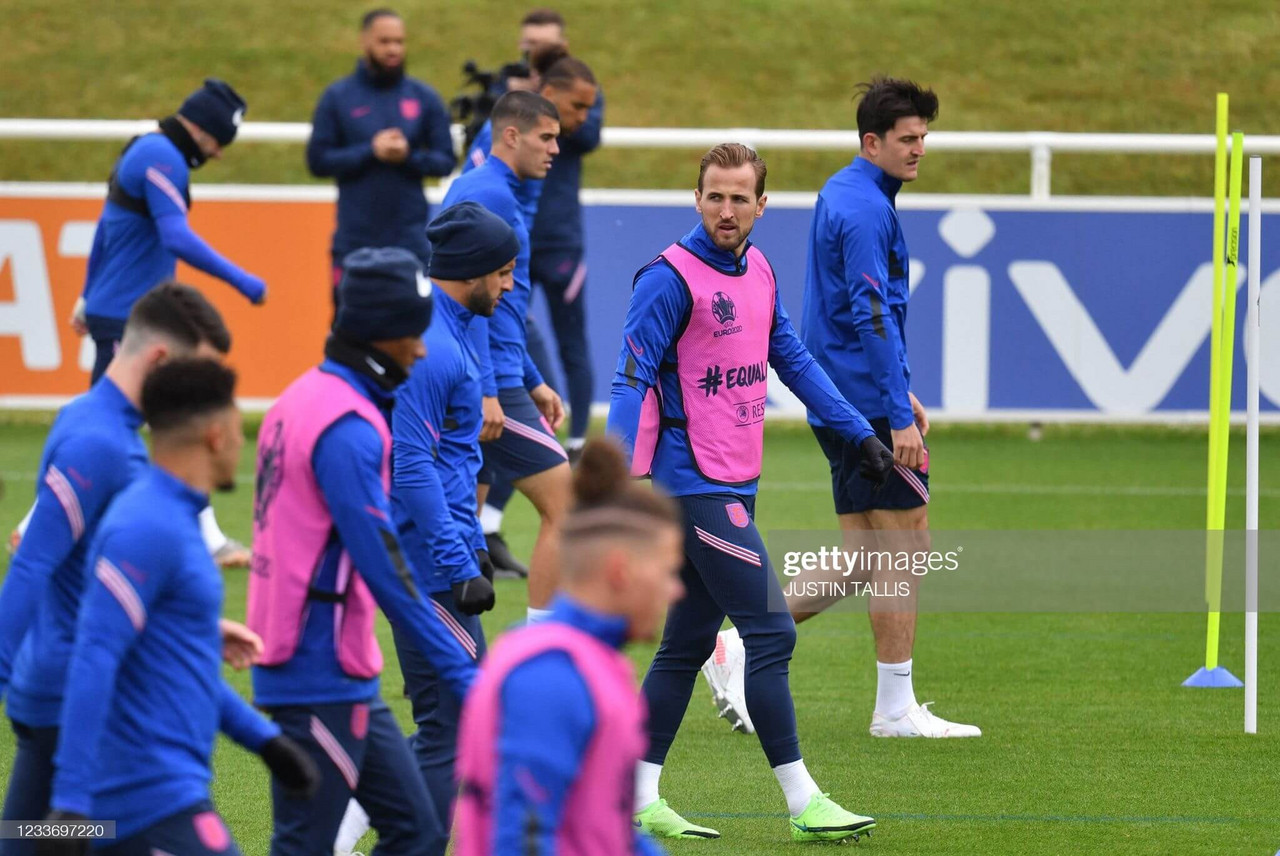 England rarely pull results out of the bag. It only takes a brief look at the fortunes of the national team in the past half-decade to decipher the pattern. In competitive games, England tend to defeat the teams worse than them and lose to those better than them. It is exceptionally rare for England to beat a team who are deemed favourites.
The usual tournament pattern ensues: all of the lower-ranking nations in the group are dealt with to bring progression from the group-stages and, subject to the draw, a quarter-final or semi-final may even be reached before coming up against a higher-ranking team who knock England out. That's the usual story and it's remarkably consistent.
Whether it was losing to (West) Germany in 1970, 1990, 1996 and 2010, Argentina in 1986 and 1998, Brazil in 2002, or Portugal in 2004 and 2006 - England normally come unstuck against teams that have a bit more about them.
When Gareth Southgate led England to the semi-finals of the 2018 World Cup it was somewhat different but still very similar because after advancing from a group containing Panama, Tunisia and Belgium - who, as expected, won their game with England - they faced Colombia and Denmark before Croatia in the last-four. The only difference here being that England didn't face an overly 'difficult' opponent until the semi-finals, which they lost.
That is why England's 3-2 win against Spain in the Uefa Nations League in 2018 is regarded as not only one of the best displays during Southgate's tenure thus far, but also one of the best results. They went toe-to-toe with a top nation and won: an accolade that hasn't been bestowed on England too often.
It is with this background that the biggest game of Southgate's reign arrives this evening. Unlike 2018, England face a top nation early in the knockout rounds. History suggests that this is the occasion in which England buckle - Southgate and his players must continue to show their evident progression by knocking that on its head. A win here would, remarkably, only be England's second in a European Championship knockout match.
"It's an incredible record that, really," Southgate admits. "It's something we've talked about a lot as a team for the last four years. In previous eras we've always talked about past teams and their records and their baggage. There's no reason for these boys to feel that way. Most weren't born when a lot of those games happened it's an irrelevance for them.
"You can make these things as big in your head as you want really. It's a game of football and these boys have played hundreds of them. There is of course great excitement [amongst] the fans and people tuning into the game.
"But we've got to trust in the way we prepare, transferring what we do in training into the game and focus on everything we can control. Everything outside brings excitement and enjoyment but it's a game of football and an opportunity to get to a quarter-final and that's what we're focused on."
The reasons for England's inability to advance past a higher-ranking nation are manifold but this current crop are rightly lauded as one of the most talented, adaptable and hard-working there's been. That is why Germany view England as favourites for this evening's game.
Joachim Low's team are not as devastating as they were five or so years ago but they are still very dangerous, however; they have a 'big game mentality' as Southgate points out. It only takes a look at the respective squads to see that Germany have a combined tally of 915 Champions League appearances amongst them compared to England's 363.
Germany are a big and tough opponent, for anyone. Furthermore, they have already had a baptism of fire at Euro 2020: winning, drawing and losing a game in the group of death. England, meanwhile, treaded water in group C at best.
A win over a great rival and booking a place in the quarter-finals would then ironically play into England's hands and history by pitting either Ukraine or Sweden as their next opponents before a possible semi-final with Czech Republic or Denmark. Therefore, on paper, this is their biggest obstacle to reaching the final that the FA have been targeting ever since Wembley was chosen as the host venue.
"Every time you pull an England shirt on you have an opportunity to score a goal that will be shown forever and to create a bit of skill or to be involved in a match that lives in the memory and that's the beauty of playing for your country," the England manager added.
"When you think of all the big players in history, of course [in] club European football there are significant memories but when you picture those great players, it's normally in an international shirt that their biggest memories are formed and that's the case every time you pull on an England shirt. It's an opportunity that few get and these lads have earned it and I'm sure they're going to relish that."
The immediate build-up hasn't been easy for Southgate to manage, either, with Mason Mount and Ben Chilwell being in self-isolation for the past ten days and having to travel separately down to London yesterday away from the rest of the team. It would be a big call for the England manager to start Mount without him having taking part in team training during the week-long build-up.
"They've had, as you know, individual training programmes this week," Southgate explained. "The only sessions they've been able to join in with us are when there's not full team training, so that's the basis on which we've got to make the decision.
"They're young players who can get on with things pretty well. It is a decision I've got to take when we're looking at how they've been able to train and everything else. There is a lot wrapped up in that call."
Another call must be made on whether England should match Germany and set up with a back three rather than the four-man defence that was deployed for the group games and didn't concede a goal. Further decisions surround Jack Grealish and Bukayo Saka who both impressed in the last game against Czech Republic on what was their first starts of the tournament.
These choices all form part of Southgate's planning. For fifty-five years, no England manager has got his team to deliver when it really matters. There has been clear progress under current incumbent but this would be a huge physiological triumph as well as a sporting one. It's time for England to show that they can handle the big occasion.